Toronto mosques are using part of the  donations they receive through zakat and sadaqah – the traditional forms of muslim giving — to  provide some immediate relief to those in flooded Pakistan. Relief organizations and even families are also stepping in to help.
Pakistan has been hit with deadly monsoon rains that started in June, the worst the area has seen  in decades.
UN Secretary-General António Guterres, who visited the area on September 9 and 10, 2022, said  the damage could be  "about $30 billion [US] and counting".
More than 1,300 people have died, 12,700 have been injured, and more than 600,000 have been displaced and are living in camps, according to Pakistan's National Disaster Management Authority.
Jame Masjid in Mississauga, commonly referred to  as Cooper Mosque, added some of its operational funds to initial donations to transfer more than $200,000 dollars to Pakistan, its president, Wasim Ahmed told New Canadian Media.
Almsgiving or zakat, which is usually a fixed amount, is a religious obligation for Muslims and, by order of the Quran, is one of the pillars of Islam. Sadaqah or charity is another form of donation collected throughout the year on a more voluntary basis. Mosques are often the collection points for Muslim charities regardless of their ethnicities.
On the last Friday of August, in Juma (Friday prayers) a fund drive was called at the mosque.
"Within a week, we collected around $80,000,"  Ahmed said.
The funds were released in partnership with four prominent registered charitable organizations working on the ground in the affected areas of Pakistan: ICNA Relief Canada, Islamic Relief Canada, International Development and Relief Foundation and Human Concern International.
"We split it with different organizations to ensure that our funds reach as many affected communities in Pakistan [as possible]," Ahmed said.
According to Statistic Canada's most recent data, slightly more than one million people identified themselves as Muslim, representing about 3.2 per cent of Canada's population. In Pakistan, 96 per cent of the population is Muslim.
For years, mosques in Canada have been collecting and donating to disadvantaged people worldwide.
Having received from $10 to thousands of dollars from Muslims with varied backgrounds, Ahmed is now seeking to raise three million dollars and has collaborated with other mosques in the Greater Toronto Area to continue the collection drive.
"Right now it's the need for essential items like food, shelter and clothing," Ahmed said. "Later, with the water-borne disease, needs are likely to be different, and we aim to bring them back on their feet."
Southern and central Pakistan has been most affected, particularly Balochistan and Sindh provinces, but also Punjab and Khyber Pakhtunkhwa (KP) are badly hit having more than 6.4 million in dire need of humanitarian aid. The floods washed away millions of acres of farmland, including the main cotton crop in a country where the economy relies heavily on the agricultural sector.
Focussing on culturally appropriate needs
Shazia Farooqi, Director of The Power of Sharing — a not-for-profit whose work focuses, among other things, on education, medical expenses,  water wells and  micro-financing in rural and underdeveloped communities of Pakistan —  told New Canadian Media that it is important to use donated funds on culturally appropriate needs.
While she has contributed more than $25,000 towards flood relief efforts in the Southwest region of Pakistan, Farooqi has researched the affected population's lifestyle, customs and needs so that the donations are used appropriately.
For example, children, women and the sick are the vulnerable categories of the affected population. They reside in remote areas of the country and have not used diapers, sanitary napkins or wipes, nor do they want to use them now, Farooqi said.
"So we gave them large pieces of soft cloth for the purpose, which they wash and reuse, and it is eco friendly as well," Farooqi said.
The organization has also provided tents, women's kits, sleeping cots, water filters, utensils and rations to far-flung areas.
The efforts are supported by front-line workers and the residents of the affected areas, who speak the local language.
Farooqi plans to work with the US-based Kiran foundation on the "Hari Project" that aims at rehabilitating around 500 farm workers ( called Hari) in Southwest Pakistan (Balochistan). The group is believed to be the most neglected as major crops have been washed away, and they do not own lands or homes and travel for their livelihood. Their temporary shelters are built with wood, tree trunks and mud.
While a tent costs $110 and a canopy net is $5, it could serve as portable housing.
"Large tents that accommodate a family of six to eight members would be a sturdy shelter for them, and they can carry it as they go," Farooqi said.
In addition, medical needs are growing with infections caused by venomous snakes, lizards, and other creatures, as well as water-borne diseases.
"Recovery and rehabilitation of the families will be long and may take many years to bring them back to normality, Farooqi said.
Sabina Khatri, founder and chair of The Kiran Foundation is with farm workers in the hardest-hit Southwest region. Video credit: provided by Shazia Farooqi
Donation drives: not limited to organizations 
Besides organizations, families and individuals play a role in supporting people in their home country as well. Sobia Ahmad, a Pakistani mother of four, set up a lemonade stand outside her residential building in Mississauga and raised more than $1,000 in three days, with the help of her children, Manal, 15, Eishaal, 13 and Zain, 8.
Besides the Pakistani diaspora, she received "an excellent response from other communities," Ahmad said.
Part of her goal was to raise awareness of support and empathy among her children and to attract the attention of community members and get them  to come forward to support the relief efforts for affected Pakistanis.
"We cannot lose our connection to our homeland, and it hurts to see the devastation caused to my people," Ahmad said.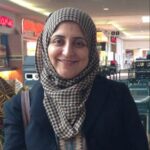 Tazeen is based in Mississauga and is a reporter with the New Canadian Media. Back in Pakistan where she comes from, she was a senior producer and editorial head in reputable news channels. She holds a master's degree in Media and Communication and a certificate in TV program production from Radio Netherlands Training Center. She is also the recipient of NCM's Top Story of 2022 award for her story a "A victim of torture, blogger continues fight for human rights in Pakistan"