Canadians are able to make  travel plans to India after the government resumed visa services, the Indian Embassy in Ottawa announced Wednesday. 
India still hasn't reinstated the e-visa program for Indians who have immigrated to Canada, which were issued within 48 hours of applying before India suspended the program. 
In September, India cancelled e-visa services due to the ongoing India-Canada political standoff. "Further decisions, as appropriate, would be intimated based on continuing evaluation of the situation," said the  Sept. 20 media release from the Indian High Commission in Ottawa.
The government said the move was due to the  "growing anti-Indian activities, politically condoned hate crimes and criminal violence in Canada." 
Since then, informal groups began lobbying on messaging platforms such as WhatsApp to have visa services reinstated. They also spoke out on Twitter and circulated an online petition demanding the restoration of e-visas. The approaching Hindu festivals, including Dasara and Diwali, which hold immense cultural significance for Indians and are often associated with homecoming, have amplified the issue.
Canadian citizens of Indian origin eager to obtain an entry visa face a waiting period of approximately 45 days. Additionally, presenting an Indian passport surrender certificate is a requisite for the application. This stipulation poses challenges for recent Canadian citizens who have not yet procured their surrender certificates.
Dhanashree Desai, who applied for a visa to travel to India to visit her ailing parents in Pune in western India, is now hopeful she will see them.
"I will go to the embassy tomorrow morning to apply for an emergency visa as I have to travel the day after tomorrow," said the Toronto-based bank employee. Desai applied for a visa on Sept. 19, a couple of days before India cancelled the program. 
Karthik Doddaballapura, a Toronto resident from the south Indian state of Karnataka, and his wife had plans to travel to India in December to attend a family wedding. He obtained his Canadian citizenship just a few months ago, but  hasn't yet applied for Overseas Citizen of India (OCI) and is unable to apply for an e-visa. OCI current processing time is about 6-8 weeks.
"I hope that the Indian government will start the e-visa soon as well," he said.
Meanwhile, Canada's Immigration Minister Marc Miller confirmed  Oct. 19, that the ongoing diplomatic dispute between Canada and India will result in slower visa processing of Indians planning to travel  to Canada. 
When NCM asked Sanjay Verma, Indian High Commissioner at Ottawa for more information about the reasons for India reducing the number of Canadian diplomats in the country, he said in an emailed response. "…(Discussions) are in the nature of ongoing diplomatic interactions. 
"You may agree that diplomacy between two friendly nations can not and should not be conducted through the media."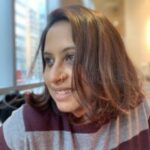 Shilpashree Jagannathan is a journalist from India. She now lives in Toronto and has worked as a business reporter for leading newspapers in India. She has tracked telecom, infrastructure, and real estate news developments and has produced podcast series. She currently focuses on human rights, feminist movements, and other related issues in Canada and India. Her weekends are spent bird watching in one of the Toronto birding hotspots; she loves trails, biking, and a lot of sun.