The family of a Canadian doctor, who was killed in Mumbai 19 years ago, is hoping that the appointment of a special prosecutor in India to lead the case, will reopen the stalled investigation in Canada.
Dr. Asha Goel, a 62-year-old obstetrician from Orangeville, Ont. was killed by hired assassins at her family's ancestral home in Mumbai, Maharashtra on August 23, 2003
Since then, family members have made more than 100 trips to Mumbai and Ottawa seeking justice for Dr. Goel, who during a 40-year tenure in Ontario and Saskatchewan delivered about 10,000 babies.
Earlier this month, the Maharashtra State Government announced that Ujjwal Nikam, a decorated and internationally renowned criminal law specialist, who has secured about 40 death penalties and more than 300 life imprisonments in India, will lead the case for the prosecution.
The case is scheduled to go before a judge of the Mumbai Sessions Court on August 24, 2022.
According to Indian police, one of the key suspects in Dr Goel's murder is her brother, Subhash Agrawal, a Canadian citizen who lives in the Toronto area.
He is a wanted accused in India and is the subject of an outstanding Interpol Red Notice for murder, robbery and other charges. Agrawal has denied any involvement with the murder of his sister and allegations have not been proven in court.
"The appointment of Mr. Ujjwal Nikam as Special Public Prosecutor is a significant step forward in our 19-year fight for justice for our mother" Dr. Goel's son, Sanjay Goel, a Vancouver-based businessmen said. "We couldn't ask for anyone more skilled and dedicated to lead the prosecution in India.
"While India is helping us seek justice, Canada has stalled in helping resolve the murder of our mother, a Canadian citizen." Sanjay added. "They keep saying it is an Indian matter."
As the family marked the sombre 19th anniversary of Dr. Goel's murder, they issued a statement to New Canadian Media, saying: "We have seen swift and decisive RCMP action in many other cases involving Canadians killed in Mexico, the United States and Europe. But when it comes to Indo-Canadians being killed in India, there seems to be a different standard.
"Subhash Agrawal is wanted in India in connection with the murder of our mother. After 19-years, he remains free in Toronto, and Canada has done nothing to answer the charges, despite an Interpol Red Notice for him that has been outstanding for over a decade."
"Justice delayed is justice denied," said Daljit Kaur, a Non-Resident Indian (NRI) legal case specialist and social activist. "It is a travesty of justice both in Canada and India that this case has taken almost 19 years to go to trial."
Kaur said there have been dozens of contract killings of overseas-based Indians in the State of Punjab, where most of the Indo-Canadian immigrants hail from. Most of them involve land-disputes and dowry cases, she said.
"In many of the cases where the hired killers get caught, the alleged architects of the crime remain out of reach in their new country of residence," Kaur said.
"Bringing back offenders and wanted persons from foreign countries is essential for providing timely justice especially in these so-called supari or contract killings of Non-Resident Indians," she said. "We will be closely watching the developments in this case to ensure the family gets justice in India and Canada."
Charlotte MacLeod, a spokesperson for Global Affairs Canada, said the department is aware of the trial taking place this week.
"Canadian consular officials are monitoring this case closely and are providing consular services to the family. Due to privacy considerations, no further information can be provided," she told NCM. "Global Affairs Canada is committed to providing effective and efficient consular service to Canadians around the world."
Dr. Goel's son in Vancouver, Sanjay, said the actions taken so far by Global Affairs Canada has "neither been active nor efficient."
"Canada needs to investigate the involvement of the key suspect in Canada – Subash Agrawal – and charge him with conspiracy in Canada, if the case merits it," he said.
Investigators in India state that Dr. Goel was in Mumbai to visit another of her brothers, Suresh Agrawal, when she was murdered.  They allege Suresh conspired with his brother Subhash in Toronto to kill their sister over a disputed inheritance worth $12 million.
Suresh has since died.
Mumbai police also arrested four others and charged them with murder.
Three of them were employees of the Agrawal brothers – Pradeep Parab, Pawankumar Goenka and Manohar Shinde. The fourth was Suresh Agrawal's son-in-law — Narendra Goel (no relation of Dr. Asha Goel).
Shinde has also since died.  But Parab has provided a confession to police and turned state's witness while Goenka and Narendra Goel go before the courts this week.
In his confession, which is central to the case, Parab describes in gruesome detail the roles of the various accused in the case, saying he was to be paid about C$150 to help kill Dr. Goel.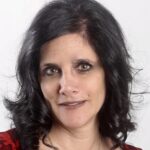 Paula Arab is the founder and principal strategist of Calgary and Vancouver-based Paula Arab & Associates Inc. She is an acclaimed writer and award-winning PR practitioner. Prior to starting her own company, she spent 30 years working in Canada's largest newsrooms. She was best known as an opinion columnist and staff editorial writer for the Calgary Herald. Today she continues to write columns under her own name and those of her clients, which have appeared in the Globe and Mail, National Post, Financial Post, Calgary Herald, Troy Media, The Orca and the Postmedia network, to name a few. Paula is working on her first book, Hockey Daughter; Bonding With My Lebanese-Born Biyah.