A recent panel discussion on immigrant children provided interesting insights into how school-going kids cope when their families move home from one country to another.   
Monica Valencia, a Master's graduate on immigration and settlement studies from Ryerson University, did something uncommon. A lot of her key research interviewees were aged between 9 and 11 years old.
Ms. Valencia set out to study the reasons for poor academic performance among Latin American youth in Ontario schools and its connection with the experiences of new immigrant children.
She researched the adaptation process of a group of Latin American children who had arrived in Canada less than five years ago. Her project "Yo Cuento," which translates in Spanish to either "I narrate" or "I count," aimed to find out how children truly felt after moving countries.  
Leaving folks behind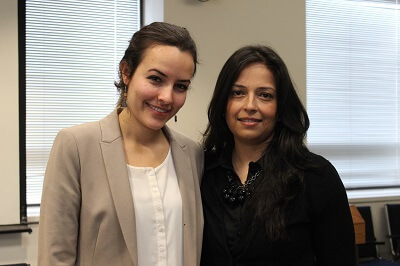 To gain insight into what they experienced, Ms. Valencia gave them paper to draw and write.
"A lot of their significant experiences were getting separated from their grandparents as well as cultural and language barriers at school," she said.
She showed a slide of a child who drew himself crying and holding on to a house while being dragged by his mother into a car.
As for the interviews, she had to improvise methods to make the children talk more freely. "I told them my story and then let them say theirs," she said.
She said her hypothesis changed as the investigation advanced. "A lot of them talked about the help they received from classmates."
Ms. Valencia found that those children who had already gone through the process of learning English and fitting into a classroom often helped and taught language skills to new ones.  
She said having children as participants was a vital key part of her research. "People rarely ask children how they feel or encourage them to tell their stories."
"Participation of children in research is limited," she explained to the audience. Limitations can arise from having to obtain parental consent, but also because children are rarely viewed as credible sources of information.
"English mania"
Valencia was followed by Eunjung Lee and Marjorie Johnstone, who discussed the South Korean student migration experience and the effects it has on families.  
Ms. Johnstone provided a historical account of Canadian government policies that, she said, have consistently and successfully fostered and promoted the arrival of South Korean students to generate revenue for Ontario schools suffering budget cuts, since the 90s. "Immigrant policies were suited to allow students to come here to study," said Ms. Johnstone. "They didn't even ask [South Koreans] for visas."
A move towards the North Americanization of education through an international high school system helped make it easier for youth to come to Canada for school, the team explained
The team said half of all South Korean parents want to send their children to study in North America. They explained this may be linked to the "English mania" in South Korean culture.
The final presenter, Aamna Ashraf, encouraged the audience to become involved in neighborhood organizations working with new immigrants. She is part of the Peel Newcomer Strategy Group.
The group works with local government agencies, the settlement sector, as well as community leaders to help arriving families in the Peel region.
This CERIS panel took place on Jan. 31 at the Factor-Inwentash Faculty of Social Work, University of Toronto.