Twelve tables of mahjong (Chinese tile game) in Vancouver's Chinatown Memorial Square fill up with fervent game-goers within 15 minutes. Silence quickly turns into chatter mixed with the clickety clack of tiles. A diverse pocket in British Columbia's largest city comes to life.
Last Saturday, a local group called the Youth Collaborative of Chinatown (YCC) hosted a public games night titled, 'Chinatown Mahjong Social: A Hot and Noisy Night'. The games night was the first to kick off a series of events to regenerate public spaces in Chinatown.
'Hot and noisy' is a play on the Cantonese word yitnaau and the Mandarin word renao and loosely translates into a measure of liveliness in an atmosphere.
Mahjong is a game played between four players with a set of 144 tiles inscribed with Chinese characters and symbols. The game is one of skill, strategy and calculation. It also involves a degree of chance – or what some seniors would call luck.
'Bring Your Own Poh Poh'
'BYOPP – Bring your own poh poh (grandmother)' called out the youth group's Facebook post advertising the June 20 event.
Mark Lee did more than that. Along with his grandmother, he brought his boyfriend, his sister and her husband.
The 24-year-old is half-Chinese and half-British; his connection to Chinatown stems from a deep connection to his grandmother.
"When I was little, she'd pick me up from preschool. When we were sick, she was there to make us feel better … and also, make us drink soups."
As a kid, Lee would ask her to teach him how to write Chinese and she showed him simple words. When he asked her to teach him Cantonese, she told him to go learn Mandarin. So he did.
The University of British Columbia graduate now has a major in linguistics and a minor in Chinese. He's also fluent in Mandarin and has a basic understanding of Cantonese.
"The whole reason I'm involved with Chinese was to communicate with Grandma," Lee says. "It's been nine years and I still can't."
"This is ideal … seeing old folks with young people learning how to play mahjong." – Mark Lee
One of his goals is to learn Cantonese. Another one is to be part of the revitalization effort of Chinatown and to prevent gentrification.
"I hear stories about people with family in Chinatown, but [they] never come here," he says.
Lee wants to do more than organize just social events with the YCC. He wants an intergenerational connection. He admits the language barrier can be an obstacle, but points out that there are others who can translate – and that it's an opportunity to learn the language. All that's required, he says, is for people to show up to their events.
"This is ideal … seeing old folks with young people learning how to play mahjong."
Players of All Ages and Ethnicities
Colourful paper lanterns hang on the trees next to where local artist Yule Ken Lum has set up his cart doubling as a makeshift studio. He invites the public to finish decorating the last tiles of his 300-piece mosaic. It depicts the words 'CHINATOWN' in a giant heart stencil.
Lum says he is surprised by the age and diversity of the turnout. "At the Chinese chess table, it was good to see a poh poh sitting by a Caucasian girl, like a team."
"Our goal is to engage youth to take part and do what they'd like to see instead of listening to the 'doom and gloom' about Chinatown in the media." – Doris Chow, Youth Collaborative of Chinatown
Meanwhile, on a board with neon sticky notes, participants write suggestions for future events. Some ideas include: tai chi, line dancing and outdoor film screenings.
As all the tables of mahjong fill up, passersby appear disappointed so event organizer Kathryn Gwun-Yeen Lennon (pictured above on the right) offers to set them up with Chinese chess and Chinese checkers. They choose to watch instead.
Resisting Chinatown's 'Doom and Gloom'
Vancouver's Chinatown spans about a nine-block radius, not including the residential area. It is part of the downtown eastside, one of the city's oldest neighbourhoods and is commonly referred to as 'Canada's poorest postal code'.
In recent years, Chinatown has undergone large and rapid development projects, including sky-high condominiums occupied with young urbanites that don't speak Chinese, construction plans for water main upgrades along Pender Street, located near the centre of Chinatown and the end of the Chinatown Night Market. But there is still more work to be done.
"Our goal is to engage youth to take part and do what they'd like to see instead of listening to the 'doom and gloom' about Chinatown in the media," explains YCC member Doris Chow (pictured above on the left).
Seniors often want to communicate their history with youth, but don't know how to go about it, she adds. "The YCC can work as translators to help shrink the intergenerational gap."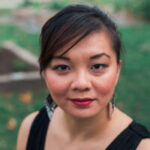 Deanna Cheng is a freelance journalist who has been published in various publications such as Vancouver Courier and Asian Pacific Post. She often covers culture, intersectionality and Vancouver.