Hazel Anne Carranza brings a special flair to her workspace, doling out sweet treats like ice cream and hot chocolate to inspire her colleagues and share even sweeter perks. She set up this weekly ritual called "Get the Scoop" as part of a Toronto program at the Centre for Social Innovation with tasty rewards for newcomers and refugees to Canada. 
"Our role is to figure out more innovative ways to get people to come together," said Carranza, whose job title is Desk Exchange Community Animator — DECA for short. 
Carranza is part of a program available to newcomers and refugees who trade one eight-hour shift per week over the course of six months in exchange for free use of the centre's facilities including trendy workspaces, networking opportunities, and meeting rooms.
Participants "provide support to staff in exchange for membership benefits and personal and professional support from the community," said CSI community director, Gonzalo Duarte. 
"Hazel (Carranza) is super positive," he said. "She is a productive and communicative person — exemplary of the participants we seek." 
Going into its 11th year, he says the program was a solution to reduce financial barriers more diverse members faced accessing the centre.
CSI is dedicated to expanding on the models of how we work, including free-flowing office spaces meant to connect users with each other's business ideas, and over 2,000 members at three locations in the GTA including CSI Annex, CSI Spadina, and the CSI Community Living Room in Regent Park."
In a 2021 demographic survey of its members, the Centre for Social Innovation found a growing need to embed newcomers, refugees and displaced peoples into the community of social innovation. 
The focus shifted to foster belonging and help new migrants develop transferable skills that can be used to transition into related areas of work or entrepreneurship in Canada. DECA aims to find work or spark this journey for 80 per cent of its participants within six months of completing the program. 
For Carranza, being a DECA has become an essential part of transitioning to her new life in Canada and has provided a space to foster her creativity. 
"CSI has been a safe space where I am discovering myself creatively. I think that's why it's important for people like me who are new to Canada to connect with CSI," she said. "Finding that spot where you feel like you belong definitely helps with the transition." 
Back-to-back journeys and finding belonging
Carranza is no stranger to changing countries or careers, working now as a full-time content creator and online influencer. When she was 13, Carranza moved to California from the Philippines, where she lived for almost 20 years before moving to Canada at age 31. 
She spent her formative years in Glendale, near an historic neighbourhood dedicated to Filipino migrants in Los Angeles. Later in life Carranza worked at skin clinics and advocated for international and domestic rights to education for survivors of human trafficking as a co-director with Children of the Night.  
"I'm very people-service oriented," she said, adding that the energy at CSI was a perfect fit for her. 
Shortly after moving to Canada, Carranza encountered an unexpected layer of identity politics to untangle, with the intersection of her twice-over migration. 
"I think it was my second or third week here," she said, when someone asked her, "You're not from the Philippines?" 
"I'm an American. But I am also Filipino," Carranza said, highlighting the intersections of her identity, impacted by her tenure in the U.S. and her national heritage. 
"I feel like when I was young, it was very easy to just assimilate," she said, expanding on the different experiences of moving as an early teenager and again eight years later. "I was definitely not as aware of the implications of looking Filipino in an American place." 
On her social media page, "All About Haze" Carranza produces video segments to "break the cycle of silence" on mental health issues in Asian communities, as well as the impact of racism.
Under her persona Tita Celing (tita meaning aunt in Tagalog) Carranza offers advice on how to respond to familial jabs and culturally-specific phrases with a dry humour that will make any audience laugh. She hopes to foster a peer support community to approach traditionally untouched but necessary conversations, deconstructing toxic relationships and healing that is relatable to Filipino communities. 
"Her name is Tita Celing, because there is no ceiling to the healing," she said laughing. 
Carranza's comedic back-and-forth with familial archetypes caught the attention of news organizations in the U.S., including SoCal Filipinos and international makeup guru Patrick Starr.
Although the reach and insider insights are great, what Carranza feels most proud of is the supportive reaction from the community. She says this has been a journey to help others feel less alone, inspired by her own journey with mental health issues.
She says the goal is to foster connection, and to expand on the tools available to all generations who, like her, have had to go at it alone. 
"Let there be a lesson, and one we can laugh about later."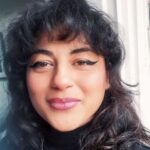 Keitlyn (they/them) is a multi-media journalist residing in Scarborough, Ont. They are interested in long-form journalism that highlights the visibility of BIPOC expression. True to millennial form, they are a small business owner, carpenter and freelance photographer. They were interested in NCM as it understands the "big picture." Journalists are dedicated to truth and democracy. Our communities have not always had access to these privileges. NCM is filling in a large gap that North American media has long neglected.