When Ukraine International Airlines flight PS752 was shot down in Iran on Jan. 8, 2020 killing 176 people, Iranian-Canadian filmmaker Babak Payami knew what he had to do.
"When news of the tragedy hit our community, I joined many other people to go and help in any way we could," said Payami, who migrated to Canada more than three decades ago. 
The best way he could help was to produce a film.
He was introduced by a friend to author and activist Hamed Esmaeilion who lost his wife, Parisa Eghbalian, and his nine-year-old daughter, Reera, in the crash. The documentary chronicles Esmaeilion's journey and determination as he looks for the truth about what actually happened when the plane was shot down by Iran's Revolutionary Guards air defence unit.
The documentary, 752 is Not a Number was screened in Vancouver at an event organized by the nSun Collective Society last month.
In an interview with NCM, Payami said the power of documentaries is in shaping public opinion and influencing policy.
"It is a very effective medium as long as the filmmaker and the artist do not become politicians or get involved in ideological discourse, but instead maintain their purity and dedication as artists to touch the human core of stories," he said. 
"I am a participant in the humanitarian endeavour as an artist, and I will never be a participant in the ideological discourse. That balance, and maintaining it, determines the effectiveness of a work of art in relation to tragedies such as the downing of Flight PS752."
When asked about the documentary and its role in seeking justice and raising awareness about the tragedy, Payami said: "An artist is definitely a humanitarian activist who has a duty to use their craft and abilities, in this case as a filmmaker, to participate in the human endeavour and be connected to the human dimensions of one's surrounding. 
"I felt a duty to use my craft and experience as a filmmaker to help the families document and memorialize their struggles and share it with the world so the world will never forget the tragedy of this scale and magnitude." 
The documentary, which premiered at the 2022 Toronto International Film Festival, has now been launched globally on streaming platforms.
For Esmaeilion, a former spokesperson for the Association of Families of Flight PS752 Victims whose wife daughter were killed in the crash, the film is a powerful way to draw attention to the incident. He also supports other actions to highlight injustice in Iran.
Another demonstration is planned for Sept. 16 when the association will join others in demonstrating support for Iran's Woman, Life, Freedom movement. The date marks the first anniversary of the death in detention of 22-year-old Mahsa Amini, who had been arrested by the country's morality police which enforces dress codes for women.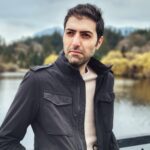 A Vancouver B.C based journalist who writes about the Iranian community in Canada, art, culture and social media trends.