On January 10, Nicolas Maduro began his second term as president following a widely boycotted election. Many Venezuelans and several foreign governments, like Canada and the United States, refused to recognize Maduro's re-election. Some governments have gone so far as to place sanctions on Venezuela in an effort to force Maduro to step down. On January 23, the leader of the opposition-controlled National Assembly, Juan Guaido, invoked the constitution and declared himself interim president on the basis that Maduro's victory was illegitimate.
The political crisis gripping Venezuela is now in its fourth month, and the events happening almost 4000 kilometres away has divided opinions here in Canada. The social, political and economic effects of the crisis have been carefully observed by Canadian-Venezuelan immigrants, and have been met with differing perspectives. Some support Guaido's opposition movement against Maduro because they believe the political crisis has also lead to a humanitarian crisis. Others who support Maduro have taken to the streets with banners reading: "USA-Canada hands off Venezuela."
In the eyes of Canadians
Rebeca Sarfatti is the founder of the Canada Venezuela Democracy Forum, a not-for-profit organization she created in 2014. The goal of the Canada Venezuela Democracy Forum is "to promote democracy, human rights, social justice and good governance in Venezuela," according to its website. Sarfatti says that Canadians are eager to volunteer and want to help provide humanitarian aid for Venezuela's people. "The solidarity form Canadians and Latin Americans has grown," she said. "Everybody is helping us in this mission. From Toronto, Montreal, Sherbrooke, Ottawa," she added.
Sarfatti and other volunteers have packaged hundreds of relief boxes with items like emergency first aid kits, medical instruments and hygiene products to be sent to hospitals. For Sarfatti, volunteering her time and ensuring Maduro's departure from office is only "part of the solution." She referred to data from the United Nations High Commissioner for Refugees (UNHCR) which states that every day around five thousand Venezuelans cross the border into Colombia. Due to hyperinflation, frequent power shortages, political turmoil, and violence and persecution, more than 2.7 million Venezuelans have fled the country as refugees or migrants since 2015.
In the other corner, some Venezuelan-Canadians are convinced of the legitimacy of the Maduro presidency. Late last year and in the beginning of this year, a delegation of Canadian election observers was on the ground in Venezuela to witness the election. The group unanimously reported that the Venezuelan presidential elections were "fair, transparent and represented the will of the Venezuelan people," according to the Common Frontiers report.
Maria Paez Victor is a sociologist and the chair of the board of directors of the Canadian Latin American & Caribbean Policy Centre, a think tank for Latin American studies. She argues that the real focus for the Venezuela crisis is the United States' interest in oil and natural resources."If Venezuela was rich in potatoes neither USA nor Canada [would be] interested in what is happening in that country."
"If Venezuela was rich in potatoes neither USA nor Canada [would be] interested in what is happening in that country," says Victor.
According to the Organization of the Petroleum Exporting Countries (OPEC), Venezuela has the largest proven oil reserves in the world. "This is the same economic war that the USA orchestrated in Guatemala, El Salvador, and Chile in the '70s and ´80s," Paez Victor added.
Paez also argues that part of the US's interest in Venezuela's crisis is their desire to dismantle a socialist government that does not toe the line with its beliefs. "I am ashamed of Canada and Lima Group, and some Venezuelans that don't see the supremacist vision that is trashing the international law of respect of sovereignty," she said.
[bctt tweet="The illegitimate and dictatorial Maduro regime is an ongoing threat to regional peace and security, said Canadian Foreign Affairs Minister, Chrystia Freeland." username="NewCdnMedia"]
The Venezuelan immigrants who support the National Assembly of Venezuela and interim president, Juan Guaidó, support Canada's condemning of Maduro's regime. Participating at the meeting of Lima Group in Chile on April 15, Canadian Foreign Affairs Minister, Chrystia Freeland, Tweeted that the crisis in Venezuela was "created by the illegitimate and dictatorial Maduro regime," calling it "an ongoing threat to regional peace and security."
That same day, Canada announced its fourth round of sanctions against 43 individuals "responsible for the deteriorating situation in Venezuela," in a statement released by the Foreign Affairs Ministry. These new sanctions were added to the 70 already in place. The Lima Group's 12 representatives of the region, exhorted China, Cuba, Russia, and Turkey to contribute to the peaceful resolution on the situation in Venezuela.
On April 13, a group of Venezuelan and Canadian Maduro supporters organized a rally in central Toronto, a few steps from Freeland's office, to protest Canada's and the US's intromission on Venezuela's sovereignty. With yellow, blue, and red flags waving, protesters shouting, people held signs that said "Hands off Venezuela", "Chrystia Freeland go out of Venezuela", and "Chavez is not dead."
One of the attendees, educator Beatriz Santiago, argued that the economic war against Venezuela has affected all people. She believes president Maduro was "legitimately elected" and lamented that the opposition party has highlighted that a humanitarian crisis is the only way to knock down the president.
Zaida Colmenares, from Venezuela's capital Caracas, explained that she doesn't chat with other Venezuelans that support Guaidó. "They don't have a historical vision of the situation, they see just one part of the problem but not in the whole context. It is very difficult to debate with them," she said.
The political differences among Venezuelans in Canada who support Guido and those who support Maduro may appear irreconcilable but they do have things in common. At the core of both their beliefs is the importance of respect, the value of democracy, a shared concern for the well-being of their loved ones who've been affected by the crisis and the hope that a quick and peaceful solution can be reached.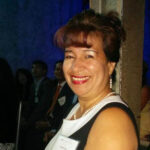 Isabel Inclan has worked as a journalist for more than 20 years, in both Mexico and Canada. She began working as a foreign correspondent in Canada in 1999 for Mexican media. She has been a New Canadian Media contributor since 2018. Her main areas of interest are politics, migration, women, community, and cultural issues. In 2015, Isabel was honoured as one of the "10 most influential Hispanic Canadians." She is a graduate of Masters in Communication and Culture at TMU-York University. She is a member of CAJ and a member of the BEMC´s Advisory Committee.