Deanna has lived in North Surrey for 21 years. She lives with her family in the Guildford area, but she doesn't send her kids to the local public school and tries to do most of her personal business in other communities.
"I chose private school mainly for safety reasons," explains Deanna, a psychiatric nurse, who did not want her last name to be used. "I wanted to minimize the exposure to gangs and drugs, etc. Admittedly, I don't see this on the streets, but heard that Guildford Park [school] does not have a great reputation."
Deanna is not the only area resident with these concerns; every resident interviewed for this article mentioned safety, gangs and reputation.
Still, everybody also agreed with Deanna on the fact that Surrey has a bad reputation despite being full of wonderful, caring families.
Surrey is the second largest city in British Columbia, with a population that exceeds 468,000. It is set to become the most populated city in Metro Vancouver by 2020.
"Surrey seems very divided by culture and neighbourhood."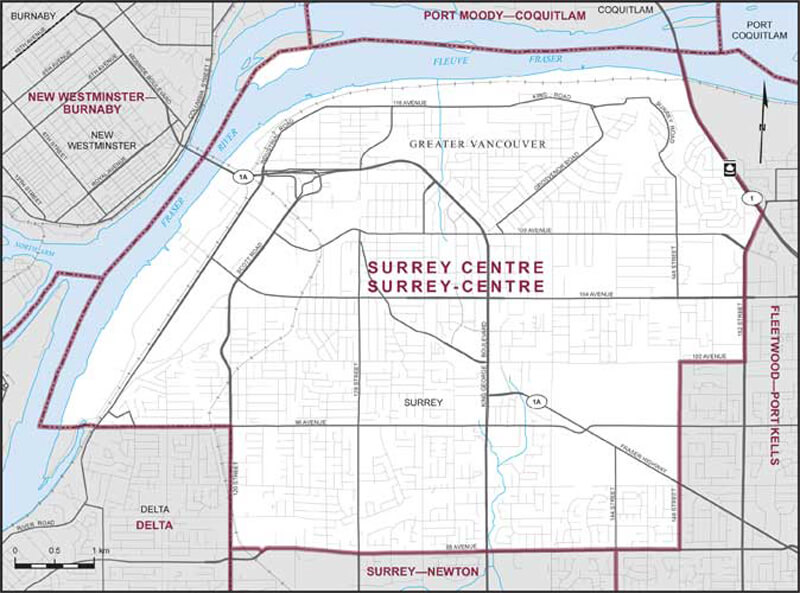 The riding where Deanna lives, Surrey Centre, comprises the "downtown" riding of Surrey's five electoral districts. It includes all of Surrey north of 88th Avenue and west of 148th Street.
In mid September, the Surrey Centre riding and nearby areas experienced three shootings in four days, one of them outside an elementary school.
Even though by mid 2015 the murder rate in Surrey had actually gone down by 14 per cent compared to the previous year, violent crime is up 36 per cent compared to last year. The RCMP attributes most of the violence to a gang turf war.
"The recent gang related crime is very public. Surrey seems very divided by culture and neighbourhood," explains Deanna. "Most of [the] gang violence we hear about is noted to be related to the South Asian population, and fuelled by the drug trade. This creates a misperception about the culture and leads to further division."
Fighting crime
As would be expected, New Democratic Party (NDP) candidate and incumbent member of Parliament (MP) for Surrey Centre, Jasbir Sandhu, considers crime his number one concern.
In an interview with local publication, The Leader, Sandhu said he's asked the government to fund youth gang prevention programs as well as deliver 100 additional police officers to city streets.
"They say they've hired more police, but I don't see it."
Sandhu said the Conservative government cut funding for police officers in 2014, only to reinstate it in 2015.
Conservative candidate Sucha Thind has said his focus is on tougher jail sentences for offenders, from drug dealers to sexual offenders.
But not everyone thinks harsher punishment is the way to go. "I think the increased RCMP (Royal Canadian Mounted Police) presence will help with the perception of safety, but not the increased jail time," says Deanna.
For Belynda Cooper, a 42-year-old resident of the area, the lack of policemen makes her feel unsafe and less likely to take transit to work.
"I haven't seen any changes on the ground level," she explains while discussing policemen in heavily transited areas like the Surrey Central station. "They say they've hired more police, but I don't see it."
Diverse, young demographic
Surrey Centre is the second most diverse riding in the province. In 2011, 32.8 per cent of residents identified as South Asian, the same year Sandhu, who moved to Canada from India to study, was elected with 40 per cent of the vote. Back then the riding was known as Surrey North.
Like Sandhu, Thind also came here from India. The well-known businessman arrived in Canada in his 20s, "with only a few dollars to my name, determined to start a new life," according to his campaign site.
But there is one more defining factor for this riding besides ethnic diversity. This riding is one of the youngest in the province; over 27 per cent of Surrey's population is under 19 years old.
"I think some people realize there is more money in illegal jobs like selling drugs than working minimum wage."
Katherine Detlor is one of the riding's many young residents. The 24 year old moved to Surrey in search of more affordable housing.
"I avoided living here from all of the things I heard," explains Detlor, "but I moved here with my girlfriend in August and the rent is much cheaper here than Vancouver."
Detlor agrees that the biggest issue in Surrey is violence, but says the best solution is to help the struggling middle class.
"The problem that I see is the middle class working 40 plus hours a week to make ends' meet," says Detlor. "I think some people realize there is more money in illegal jobs like selling drugs than working minimum wage."
'Money is the problem'
The riding's Liberal candidate, Randeep Sarai, seems to be addressing crime from this perspective.
Sarai is a lawyer whose campaign page says he's "committed to helping those that are less fortunate." According to his site, Sarai often provides pro bono services. He also helped start the South Asian Community Coalition Against Youth Violence.
"My aim is to bring prosperity to the region," Sarai commented in an interview with the Asian Journal. "If [the] economy is stable and prosperous, then crime goes down, gang involvement goes down."
Detlor would like to think that having a candidate who can actually help the middle class might reduce the number of young people being tempted by gangs. "Money is the problem," she explains.
For Detlor the Liberals seem to be the strongest candidates for making positive changes for the middle class. "However, I don't know for sure if it will really impact the gang violence," she adds. "I just hope."