As the New Year kicks off there is a lot to keep abreast of within the Latin American diaspora. Here's a look at some of the headlines that made the most waves in recent weeks within the Latin American media.
New Canadian Migration Rules May Lead to Fraud and Racism
One of the purposes of Canada's new migration rules, specifically the Express Entry system, is to hand out more permanent residencies and to reduce the time applicants need to wait. The country is expected to admit 285,000 permanent residents this year, as opposed to last year's 265,000.
While some may laud the Conservative government's policies – which favour those who have job offers or are already working – others think the new model can easily lead to racism and fraud, since they consider it gives all the power to Canadian companies.
The news portal La Portada (a site for Hispanics living in Canada) says that the new policies will benefit professional migrants by helping them land a job… but the downside might be greater, as the site claims the biggest losers of the new system are refugees, families, men and women over the age of 35 and those that don't speak English or French fluently.
The news portal La Portada (a site for Hispanics living in Canada) says that the new policies will benefit professional migrants by helping them land a job – statistics show that the unemployment rate for professional migrants is 50 per cent higher than that of native Canadians.
But the downside might be greater, as the site claims the biggest losers of the new system are refugees, families, men and women over the age of 35 and those that don't speak English or French fluently. The new point-based system will benefit those who are younger, single, educated and fluent in English or French, leaving out many migrants from economically developing countries, many of which are in Latin America.
New policies have also diminished health care for refugee claimants and made it harder for migrants to bring their parents to Canada. Some critics say racism is an issue and point to the strict finance checks required for citizens of "poorer" countries – who must prove they are "wealthy enough" even if they just want to visit Canada as tourists.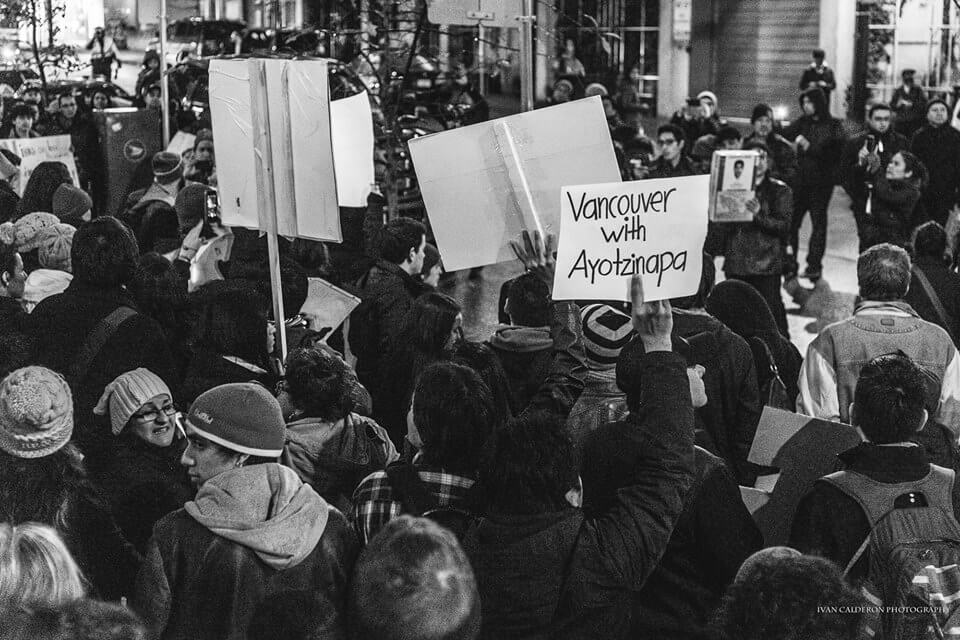 Rallying for Student Murders in Mexico
This past fall, members of the Mexican communities in Toronto, Montreal and Vancouver organized demonstrations and sit-ins to denounce the Mexican government and demand the safe return of 43 rural students who went missing at the hands of police last September. Most of the demonstrations, which were attended by students, activists and members of several Latin American countries, were staged outside Mexican consulates during the months of October and November.
On September 26, following a confrontation between local police and student demonstrators outside of the Raul Isidro Burgos Rural Teachers' College of Ayotzinapa, six students were killed and 43 were taken by police. The officers were allegedly following an order from the mayor of the town of Iguala in the southern state of Guerrero. According to Mexican federal authorities, the police then handed the students over to a local drug cartel. During the search for their bodies, mass graves were found. Current police investigations point to a nearby dumpster where it appears a large number of bodies had been incinerated, but so far the government hasn't been able to prove whether the bodies are those of the missing students.
Less than two per cent of crimes are prosecuted in Mexico, where violence has increased dramatically since Felipe Calderón's presidency. Eighty thousand people have been murdered and more than 22,000 have gone missing since 2006.
https://www.youtube.com/watch?v=yGpjKpzrf5I
Footage from one of the rallies held in Vancouver.
Latin America Soccer Cup Comes to Toronto
Eglinton Flats hosted the first Latin American soccer cup held in Toronto after eight consulates –Argentina, Chile, Colombia, Ecuador, El Salvador, México, Uruguay and Brazil – decided to organize the sporting event as one of the activities for the Latin American health week.
The tournament, geared toward men over 18, took place in August, and proceeds went to help promote health among Toronto's Latin American community. The purpose of Latin American health week is to offer free medical consults in Spanish, as well as services that aren't usually offered by Ontario's provincial health system.
Mexicans Migrating to Canada: Safety Over Economics
Mexico's rise of violence and criminal activity is pushing young, educated residents and middle class families out of the country. For years the stereotypical image of the Mexican migrants was that of men and women who often risked their lives to move to the U.S. and Canada to help support their families back home, even though their migration status often meant that job offers were reduced to construction, agriculture and domestic services.
But Mexico is starting to breed a different type of migrant, one that isn't leaving the country for economic reasons. According to La Portada, the Mexican government is refusing to release hard data, but studies done by Mexico's National Autonomous University (UNAM) show that northern states are the most affected by this new trend, which unfortunately for Mexico is mostly made up of highly qualified and educated young men and women.
Canada currently asks Mexican nationals for a visa, even if they're just visiting the country. The Latin American country is considered safe by the Canada Border Services Agency, which means it's virtually impossible for a Mexican to be granted refugee status, even though the country is suffering from extreme violence and travel warnings to certain states are not rare. 
Diplomatic Relations Between Canada and Colombia at All-Time Best
Colombia's president Juan Manuel Santos and the Governor General of Canada, David Johnston, held a meeting in Colombia to broaden cooperation and strengthen the relationship between both countries.
President Santos assured journalists that diplomatic relations between both countries are at their best moment in history and mentioned specific areas they hope to work on.
The areas President Santos spoke of were education and technology, whereas Governor General Johnston spoke about natural resources in Colombia and more educational opportunities for Colombian nationals in Canada.
Other subjects that were discussed include culture, mining investments, energy and oil. For over 40 years, Canada has invested more than $137 million in Colombia; most of the money is destined to protect children, create better access to education and to protect human rights, among other things.
When it comes to education, Johnston also spoke about expanding scholarship offers to Colombian students through a young-leaders-of-America program.
---
Aurora Tejeida is a Vancouver-based multimedia journalist who's originally from Mexico. She has a master's degree in journalism from the University of British Columbia and she's written stories for The Tyee, Vice and The Toronto Star, among other publications. When she's not writing about culture, the environment or migration, she's wandering around the city trying to find a decent place for tacos.