Reza is a busy commercial pilot these days who hops across multiple destinations, mainly in the Americas. But it took him five years to resume working as a pilot and revive his dream career after relocating to Canada.
He wanted to grow in his profession as a pilot and left Iran in 2017, believing Canada would offer him better career prospects. Little did he know that "immigration is really tough for people in regulated jobs."
For a whole year in 2018, Reza, who doesn't wish to reveal his full name, used all his savings to prepare for the licensing exams. Eventually, he had to look for work, "trying to just use every talent of mine that I had to earn money."
To start, he began offering French tutoring, applying his similar experience from back home, and then as technical support.
All this while Reza volunteered as a French conversation circle tutor with the Catholic Community Services of York Region. Soon after landing, he went to the Welcome Centre of CCSYR for its settlement services. That's when he was invited to be a French tutor.
"I was lucky because I got to work in a professional environment in Canada right after landing. I could connect with lots of people and learn about the work culture."
The pandemic stalled his prospects further, though he got his licence in 2020. "All hopes were gone now. Nobody had a job and everybody's home," he recollected.
He survived the ordeal with another bilingual technical support job during this time. As the market started opening up post-COVID, Reza's career took off last summer as he bagged a pilot's job with a private airline.
Mona of Richmond Hill has a similar story of struggle, grit and the indomitable spirit of hope. Five years and 15 odd jobs later, she managed to get a role similar to the one she had back home.
She landed in Canada in February 2018 from Iran. Mona had gathered basic knowledge of the Canadian job market during her visit to her sister before moving here in 2018. Even then, she had no idea that she would have to start from scratch to reset her managerial career in sales.
"I tried applying for colleges and even took IELTS, the proficiency test in English. But I couldn't enrol into any course because it required me to quit the job," Mona, who had to send money home to support her husband, said. Her predicament worsened during the pandemic when she even lost her job as a tutor.
She began working as a salesperson and always had to work two jobs to survive. "During the pandemic, I started tutoring in French. Despite working five days full time and two days part time, I couldn't afford my bills," Mona recollected.
Regardless of her personal struggles, Mona volunteered as a French tutor at CCSYR for a year and made life-long friends at the Welcome Centre. Just three months ago, she got hired for a bilingual customer service role and is now united with her husband.
CCSYR is set to release a coffee-style book sharing the success stories of about 30 newcomers like Reza and Mona. The layout of this booklet will include a photograph of the person, a summary of their journey, and then a QR code to lead readers to a video of them speaking about their story.
"We want to launch this book as our impact book for September and transform what would normally have been like an annual general meeting into an Impact Night while celebrating all of those resiliency stories."
CCSYR's marketing team is busy interviewing its clients and capturing their stories for print and digital versions. "I can't even tell you how beautiful the impact is that we're having in people's lives every day. Let's recognize and celebrate that," executive director Leonilda (Nee) Bastone-Patey shared.
I can't even tell you how beautiful the impact is that we're having in people's lives every day."
This exercise will help newcomers have a sense of belonging in the community and highlight the impact the settlement agency continues to have in people's lives, Bastone-Patey added.
_________________________________________
This article was originally published on NewMarketToday.ca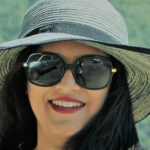 Amrita is an NCM-CAJ Collective Member, journalist and content writer, with nearly a decade of experience in content development and journalism in three countries. She started her career as a journalist with a leading daily, The Statesman, in India. She has also led content and editorial teams for several web content management firms. Amrita served as a Communications and Content specialist for some non-profit organizations like the American Red Cross after her move to the U.S. Based out of Toronto, she continues to follow her passion by reporting on human rights violations, education, crimes, inequality and community engagement. Amrita holds a Post Graduate Diploma in Print Journalism from Chennai, India.