The World University Service of Canada (WUSC) will double the number of refugee students it will sponsor in the coming academic year, which is good news for Syrian refugees seeking post-secondary education in Canada.
Michelle Manks, manager of the Student Refugee Program and Campus Engagement at WUSC says the number has been raised to accommodate students affected by the Syrian crisis.
"Each year, we usually sponsor about 80 students, but next year we are expecting over 160 students. Half of them will be coming from Middle East," she says.
One of the challenges in bringing Syrian refugees into the Canadian school system is that their academic strengths and needs are not the same. A majority of refugees have been living in camps for decades or were born in camps, whereas most Syrian students have been displaced more recently and as such have often spent more years in school.
Reem Alhaj, a WUSC sponsored student at York University in Toronto, feels fortunate that she was accepted into the program after escaping Syria six years ago, while her brother was trapped by the regime forces.
"I wanted to get my education. I have all my documents with me and my English is good," she says, commenting on why she was accepted to the program.
Universities' collaboration with WUSC
WUSC is a non-profit agency with headquarters in Ottawa that partners with dozens of Canadian universities and colleges. It has sponsored over 1,500 refugee students since 1978 from refugee camps all over the world.
Since 2010, it has worked with camps in Jordan and Lebanon, taking in students from Iraq, Palestine, Sudan and Somalia. It plans to target asylum-seekers in Malaysia and expand its services for Syrian students over the next few years.
"Syrian nationals are not from camps necessarily, because they are largely in urban contexts," Manks clarifies.
In response to the Syrian displacement, York University has agreed to contribute its own resources to sponsor an additional five WUSC refugee students starting in September 2016.
"Next year we are expecting over 160 students. Half of them will be coming from Middle East."
"It is a significant increase and likely to match the historic commitment of [the] University of British Colombia," says Don Dippo, faculty member and local adviser to the WUSC committee at York University.
At Ryerson University, these students are called "WUSC Scholars" says Abu Arif, coordinator for international student support at Ryerson University.
"We do not lower our academic standard to accept the students because if we do that they won't be successful here," says Arif.
Every year, Ryerson University absorbs one or two WUSC sponsored students. Next year it plans to accept more students from Syria.
"It depends on how much levy we have in our funds. It has to make financial sense," he adds.
Syrian students more prepared for higher education
After the finalization of applications, these students are invited to take a language test — either in English or French — and an interview to gauge their strengths.
"People studying in universities, for instance living in Damascus, are more prepared to begin studies here," says Dippo.
In terms of language, it's relatively tough for Syrian students who followed Arabic language curriculum to transition to school in Canada, but easier for students coming from camps that teach English or French.
"We do not lower our academic standard to accept the students."
For Syrians coming from an urban background, the transition process for them is often less jarring since they likely have attended school more recently and might already have university experiences.
In addition to upholding tough academic standards, the program does not have much leniency when it comes to missing documentation such as transcripts.
"Unfortunately, we are not able to accept students who don't have documents. It's the requirement of institutions," added Manks.
Support for students upon arrival
Universities and colleges have their own structures to provide academic support for arriving refugees. Faculty members and student committees often help them throughout their transition to Canada, meeting them at the airport and assisting them during their settlement period both on and off the campus.
"We also offer various programming and workshops for the students' transition period," says Arif.
This scholarship is unique in the sense that these students come in as permanent residents who are allowed to work in Canada or opt for student loans. This is important for those who hope to send money back to their families. Other international students require work visas to earn money in Canada and often return home after completing their studies.
While these refugee students do receive significant support, many still face challenges settling down at the institutions and in a new country.
For Syrians coming from an urban background, the transition process for them is often less jarring.
After arriving in Canada in August 2014, Alhaj appreciated the WUSC team and says that they made her feel accepted; however, her fellow students struggled to understand her experiences.
"They have over-generalized the diverse crisis of Syria," she says.
"I had to face classification. I had lots of sympathetic responses, which are sometimes humiliating and lack empathy," Alhaj says.
Now in Canada without her family, Alhaj is working towards self-healing and is motivated to become involved in international affairs. Her dream is to become a member of a decision making body that can help her people back in Syria.
"I will try to do something about it. Syrians have suffered and fought too much for democracy," she concludes.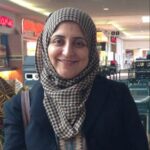 Tazeen is based in Mississauga and is a reporter with the New Canadian Media. Back in Pakistan where she comes from, she was a senior producer and editorial head in reputable news channels. She holds a master's degree in Media and Communication and a certificate in TV program production from Radio Netherlands Training Center. She is also the recipient of NCM's Top Story of 2022 award for her story a "A victim of torture, blogger continues fight for human rights in Pakistan"