Canada's plan to open its doors to hundreds of thousands of immigrants will be a "trainwreck" if the Trudeau Liberal government does not come up with a comprehensive housing solution for the newcomers who are needed to fill jobs in the country, experts say.
Housing affordability and availability are the key issues of concern for Canadians, who are generally in favour of immigration, said pollster Nik Nanos. The results of his organization's latest survey shows over half of Canadians polled believe an increase in immigrants as permanent residents will have a positive or somewhat positive impact on the economy.
The same Nanos Research/Bloomberg poll found residents of Ontario and B.C. are more likely to say that the impact will be positive or somewhat positive on the Canadian economy, while residents of the Prairies are more likely to say the impact will be negative or somewhat negative.
Analysing the data for New Canadian Media, Nanos said the relatively high public support for increased immigration gives the Trudeau government space to boost immigration targets. 
The federal government is planning to increase the annual target of immigrants from 465,000 in 2023 to 485,000 in 2024, and 500,000 in 2025, primarily to ease a crippling labour crisis that has left Canada with over one million unfulfilled job vacancies. Immigration Canada also has a historical visa processing backlog with more than two million applications stuck in the pipeline.
However, soaring rents in urban centres have forced many Canadians to search for affordable housing elsewhere, leading many to question where new immigrants will live. According to Nanos, the affordable housing crisis across the country is "a train wreck that's coming our way."
"It's a valid point for Canadians to say that 'I can't even afford my own rent and I'm struggling to pay my mortgage and think we're bringing more people into the country, where do they get to live?" Nanos said. "I think that's more of a political risk for the Liberals than anything else…because if we bring in more immigrants into the country and it puts even greater pressure on the housing market, people will be frustrated, and they'll probably point fingers at the Liberals for not being prepared."
"It's not about the immigrants coming into the country…it's about how the government handles immigration and its policies," Nanos added. "We need to make sure that they have jobs, and they have a place to live… Canada has jobs for immigrants, but it doesn't have the housing."
'One of the most unaffordable places in the world'
A recent risk-factor analysis by Century Initiative, a non-partisan charity that advocates for more immigration, also cites access to affordable housing as a risk that could negatively impact immigration. 
The report, published in February, said strong public support for immigration is predicated on Canadians' perception that newcomers are contributing to prosperity and well-being rather than competing for scarce resources or services. 
"While Canada is one of the world's most attractive countries for immigrants, there are growing concerns that some immigrants believe Canada has promised more than it has delivered. These concerns come at a time of growing global competition for talent," the report reads. 
"Immigration processing times, high costs of living and housing, and the inability to have one's professional experiences recognized all must be addressed to maintain Canada's brand and attractiveness – and to ensure prosperity and fairness for newcomers and current Canadians alike."
Since access to affordable and suitable housing is already a crisis in many Canadian communities, the report concludes that some people worry that immigration targets could worsen the problem. 
A 2022 poll by Leger also found that 75 per cent of Canadians are "concerned the immigration plan will result in excessive demand for housing." More than half of Canadians younger than 29 are already "very concerned about their ability to afford housing." Meanwhile,  Real Estate Magazine reported that Canada can expect 1.45 million new homebuyers by 2025 based on StatsCan numbers.
Yousaf Iqbal, director of IQI Canada, the Canadian arm of real estate group Juwai IQI, wrote in the latest issue of Real Estate Magazine that in January 2023, the national average home price was $612,000— 10 times the median household income after taxes. 
"We saw the biggest price boom during the pandemic — even though immigration, population growth, and foreign buying plummeted," Iqbal wrote. "Yes, prices have fallen since the pandemic boom, but have they fallen enough for markets to accommodate nearly 1.5 million new residents? I would argue not."
The article suggests that Canada has all the preconditions it needs for property prices to soar out of reach of the typical buyer, even without a single foreign buyer or new permanent resident. 
"Our stringent zoning rules and cheap financing pushed household debt levels higher and higher, year after year, ultimately making Canada one of the most unaffordable places in the world," Iqbal wrote.
In spite of these dire housing constraints, a working paper by researchers at Toronto Metropolitan University published last year supports the Nanos/Bloomberg poll findings about attitudes towards immigration. The study, which analyses federal immigration survey data from 1998 to 2021, found that Canadians have been viewing immigration more and more favourably over the past three decades, particularly in times of financial crisis. 
"Canadians are quite supportive of immigration policies and basically want an immigration policy that's orderly," Nanos said. "And they get worried when there's a perception of a lack of orderliness …this is when the problem arises and this is a situation that could be a significant risk for the Liberals."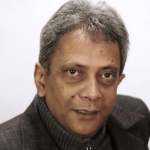 A multiple-award winning journalist, Fabian Dawson is an internationally acclaimed author, filmmaker and media expert. His work over the last four decades spans the globe and he also serves as a consultant/strategic advisor to a variety of international companies. As deputy editor-in-chief of The Province, part of the Postmedia chain, Dawson led initiatives within a special publications group to provide directed content for a variety of organisations. He was named the 2019 recipient of the Bruce Hutchison Lifetime Achievement Award at Jack Webster Awards. Dawson has been invited by the governments of India, Malaysia, Taiwan, China, Hong Kong and the United States to act as a media observer/advisor on a variety of Asian-Canada issues. Dawson, now operates FD Media, which specializes in harnessing editorial assets to revenue generating opportunities.