For aspiring international students, Canada is one of the most sought-after destinations. The Great White North is a fixture in the Top 10 of U.S. News' Study Abroad Rankings, and in countries like India, surveys position the nation at the top of prospective scholars' preferences.
One region that is actively looking to capitalize on this is Atlantic Canada. According to The PIE (Professionals in International Education) News, full-time international enrollment in the Maritime provinces has surged by 15.5 per cent. While this is a relevant indicator, there is work to be done.
Out of more than 800,000 active study permit holders in the country, only about 42,900 reside in Atlantic Canada. As the official IRCC data reveals, Nova Scotia leads the pack with 20,845 international students in the province, followed by New Brunswick (11,405) and Newfoundland and Labrador (6,175), with Prince Edward Island coming last with 4,475.
Despite having prominent higher education institutions, like Dalhousie University, Memorial University, and the University of New Brunswick, the stats show that students tend to opt for more populous provinces, with Ontario having 411,920 active permit holders, Québec having 93,425 and British Columbia having 164,945.
However, for Himanshu Barthwal, founder and CEO of St. John's-based startup Admission Overseas and its online platform Admit Offer, the relatively low Atlantic Canada numbers mean nothing but opportunity.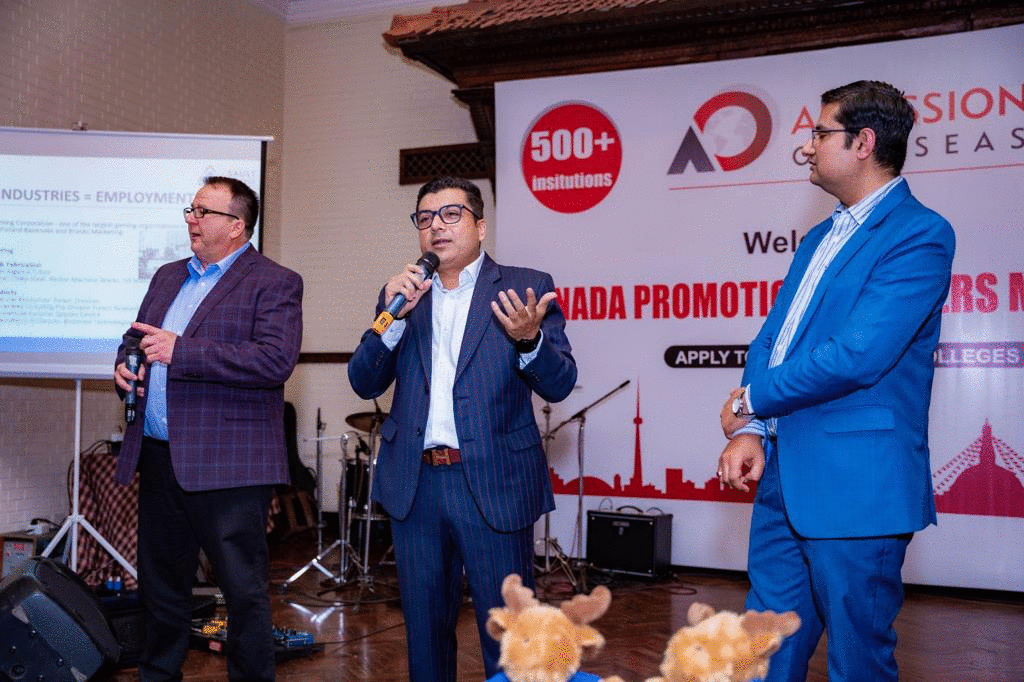 "I believe that the Atlantic provinces are going to be a very popular education destination in the future," Barthwal said.
"They are underexplored, because there is not much awareness about these provinces in international markets. Many students do not know about these provinces, but they have very welcoming policies, and they need more immigrants so that they can stay and contribute to the economy," added Barthwal, who, before his present venture, worked for more than 20 years in the international student recruitment industry in India.
It was his experiences as a recruitment agent that influenced Barthwal, and that, over time, helped him develop the idea to branch out on his own.
"I helped over 25,000 students on their journeys to study abroad, and I realized how fragmented the process was," Barthwal said. "It is very challenging for students to find the right university. However, for the recruitment agent, it is also a very tough process, because they need to do a lot of manual research."
The core value proposition of Admit Offer comes from its cutting-edge technology, which leverages one of the most disruptive innovations of recent times: generative AI. "The world is slowly moving from text-based searches – think Google – to generative-AI-based searches, especially as the use of ChatGPT grows at a very substantial rate," Barthwal said.
"Generative AI, if it is trained for accuracy with the right LLM (Large Language Model) on a relevant vector database, can revolutionize this industry by matching the student academics and predicting where the student is admissible and where their background matches. It will do that by asking you two questions: What your GPA is and your background, and it will give you an immediate answer of where you could go."
According to IBM's official definition, generative AI "refers to deep-learning models that can generate high-quality text, images, and other content based on the data they were trained on." And the important part here is that the models can do it very fast, which is why Barthwal believes they will transform the way the college recruitment process is structured.
"Students I have worked with in the past have come to me with a degree in botany, zoology, and chemistry. So if they go to any counsellor, and they say, I want you to find a school for me in Canada or the US to further my studies, well, conventionally, nobody has any immediate answer to this. First, you need to find the right course, then see if the student is admissible or not, and then make the application process," he said, adding that sometimes the time it takes a student to do the necessary research to make a decision takes longer than the program itself.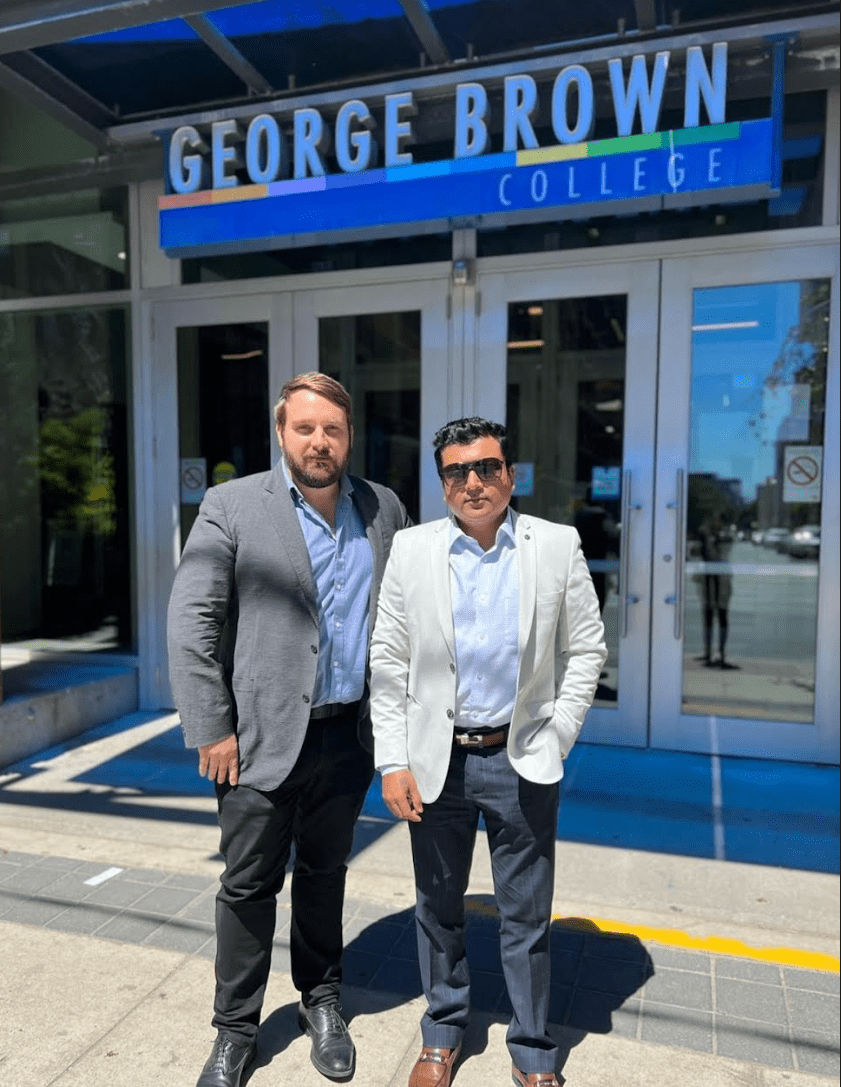 "A member of our team comes from Mexico. She came to George Brown College (in Toronto) to study a post-grad in Project Management. To do the research and choose a program to enroll in, it took her one year. And the program is only eight months long!"
Ironically, for a company that is thriving by making processes faster, it was the slowness of a bureaucratic hurdle that compromised its initial stage of operations. "I applied for a Startup Visa in 2019, and I am still waiting for approval, however, my work permit was finally approved in 2022. In the meantime, I had to pivot and form a company in Singapore to manage my revenues, because I could not come to Canada," said Barthwal, who suggests this is a call to action to improve the programs that are targeting international entrepreneurs.
"Canada has been advertising for many years that they are the best destinations for startups, so they need to take international entrepreneurs seriously. I see a lot of international entrepreneurs who are struggling with money because a lot of the funding programs only apply for Canadians, who can raise capital with just an idea," he says.
Despite the initial roadblocks, the landscape changed once Barthwal was able to land in Canada and hit the ground running, powered by the country's supportive entrepreneurial ecosystem.
"We are grateful to be supported by world-class incubators and accelerators. The people at Genesis in St. Johns believed in my idea and sponsored me to come to Canada. Altitude Accelerator in Brampton has provided us invaluable mentorship through their Entrepreneur-in-Residence, and then, institutions like Keyin College, in Newfoundland, had faith in us from the get-go."
Now, Admit Offer, which has revenues of $3 million, is going through a pre-seed investment program in Toronto operated by Techstars, one of the globe's leading accelerators, and Barthwal is optimistic that, as they keep honing their technology, the company's impact on the education system will only reverberate further.
"Right now, our generative AI tool has more than 95 per cent accuracy for two colleges. But it is just a matter of time for us to train it with thousands of college courses. It will revolutionize the way education recruitment is conducted."
_______________________________________
This story and photo are part of a partnership between SaltWire and New Canadian Media.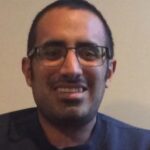 Javier Ortega-Araiza has multiple global experiences as a storyteller and social entrepreneur having travelled to over 30 countries. Now based in Toronto, he is a published author in both English and Spanish."