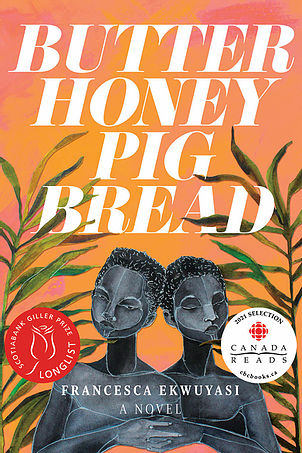 A child is born and welcomed, only to die in infancy. A mother gives birth to a stillborn baby or miscarries in late pregnancy. The cycle is repeated several times. Such is the work of ọgbanje, translated as "children who come and go," an evil spirit believed to haunt mothers, bringing sorrow and despair. This and other traditional Nigerian beliefs blend with the contemporary world in Francesca Ekwuyasi's sensual debut novel, Butter Honey Pig Bread.
Kambirinachi, the first character we are introduced to in Ekwuyasi's book, is an ọgbanje who fights to stay in the world of the living, an ọgbanje "that would stay bound to its body." This choice, we soon learn, is one that will haunt Kambirinachi throughout her life, as her kin – the spirits – will relentlessly torture her to beckon her back to their realm.
The protagonist becomes a mother to twin girls – ibeji – which in Yoruba mythology means "the sisters share one soul." The novel centers around the complicated relationship between Kambirinachi and her twin daughters, Taiye and Kehinde, as the characters move between Lagos, Nigeria; London, England; and Halifax and Montreal; Canada.
Fiercely contemporary, Butter Honey Pig Bread is nonetheless rooted in the ancient myths of the Igbo and Yoruba traditions, which Ekwuyasi skillfully weaves into a complex multi-generational family story.
A sensuous thirst for life
Told through a non-linear narrative that spans at least 50 years, the story mostly takes place between the early 2000s and 2010s, as we follow Taiye and Kehinde into their early adult lives. After an uneventful childhood, the twins' lives are suddenly disrupted by a death in the family and then by a traumatic event that breaks their sacred siblings' bond. It is this bond that the sisters will seek to repair throughout the rest of the novel.
If at its core Butter Honey Pig Bread is a story of the aftermath of Taiye and Kehinde's childhood trauma, Ekwuyasi's narrative defies darkness, becoming, in every sense, life-affirming.
An early but unforgettable scene shows Taiye preparing an elaborate meal for Kehinde and her new husband, Farouq. The sisters will be reunited at their mother's house in Lagos after spending several years away from their country and from each other. On the menu: "jollof rice with smoked fish, curried chicken, and soft-boiled eggs," in addition to a salted caramel chocolate cake, whose preparation Ekwuyasi describes in luscious, vivid detail.
Food, its preparation, sharing, and degustation become intimately associated with Taiye's sense of self. After working at a posh London restaurant, she decides to pursue formal culinary training in the south of France. This passion ultimately takes her to Halifax, Nova Scotia, where her mastery of food blossoms alongside her queer identity and sensuality: Taiye loves women as much as food, and she throws herself at both with tenderness and abandon, subconsciously seeking the love of her estranged sister.
Thriving through the pain
Kehinde's character is more subdued, perhaps because she is the sister bearing the heaviest weight of the trauma. Still, her inner world finds expression in the creation of beauty. After suffering an unexpected heartbreak, Kehinde, now living in Montreal, begins painting and drawing, eventually becoming an emerging visual artist.
Her story, told in the first person as opposed to Taiye's (narrated in the third person), is more matter-of-fact, though no less vivid. Upon arriving back home in Nigeria from Canada, Kehinde observes, "In Lagos, there is no bubble thick enough to protect you from the truth of your privilege or your disadvantage; you see it everywhere, every day."
In another passage, describing the international development program she moved to Montreal to complete, she says "I was focused. It didn't matter that the program was revealing itself to be rooted in neocolonialism. Or that there seemed to be no solutions for issues like child labour, human trafficking, or environmental degradation."
For Kambirinachi, trapped in a constant fight between her earthy presence and the deadly pull of the spirits, it is her daughters, as well as the small, everyday pleasures, that keep her tethered to life: "There were lovely things about being alive, she had to remember, like the taste of guavas," the narrator explains at one point. But it's only by the layered ending of Butter Honey Pig Bread that we understand the extent of her fight and sacrifice to be alive for the sake of her twin daughters.
A bright new Canadian voice
Francesca Ekwuyasi is a young writer whose artistic expression extends beyond the page: she is a filmmaker and visual artist as well. Born in Lagos, she moved to Canada in 2013 to pursue graduate studies at Saint Mary's University in Halifax. Before moving to Canada, she lived in New York while she completed her undergraduate degree at the University of Albany.
It is maybe Ekwuyasi's personal experience as an international student that helps give Butter Honey Pig Bread its cosmopolitan, contemporary ease as the narrative moves effortlessly between Yoruba mythology and modern Lagos, between a Catalan cooking class in the south of France and fun but impersonal London, between conservative Nigerian society and a vibrant, supportive queer sub-culture.
Most striking is that despite the sense of dislocation the sisters feel because of their separation – loneliness is a heavy presence throughout – Taiye and Kehinde move with significant confidence through the world and whether in Lagos, London, Halifax or Montreal, the characters have a refreshing worldly sense of belonging.
For Taiye, Nigeria is ever-present through her longing for her sister, yet the Nova Scotia that Ekwuyasi portrays around her is a place of love, activism, experimentation, and food in abundance. Winter in Montreal is a "wretched season" for Kehinde, but the city is also the place where she finds a promise of love, self-realization and escape.
In the end, we understand that the real place where Kehinde, Taiye and Kambirinachi belong is not a place at all; it is, of course, with each other. The journey they follow to get there is full of pleasure but also pain – the price we pay, really, for the miraculous feat of being alive.
Butter Honey Pig Bread was published in September 2020 by Arsenal Pulp Press. The book was longlisted for the 2020 Scotia Bank Giller Prize and was a finalist in the 2021 edition of Canada Reads, the popular CBC book club competition.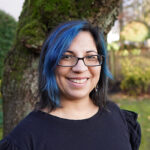 French Editor - Born in Venezuela, Andreina Romero is a freelance writer with New Canadian Media. Prior to writing for New Canadian Media, Andreina was a bilingual contributor at The Source Newspaper, also known in French as La Source, an intercultural newspaper in Vancouver. She is also the creator and host of the podcast Girls Talk About Music and Wigs and Candles which explore music and period films from a uniquely female and Latin American lens. In 2020, Romero also co-founded Identity Pages, a youth writing mentorship program.