Rising eviction rates in B.C. and tenant-landlord disputes are causing stress and insecurity for tenants, especially immigrants.
At the Dispute Resolution Office in Burnaby, Borhan Moradi waited in line to challenge his landlord's one-month eviction notice. Holding his file in one hand and ticket Number 31 in the other, he was among 30 tenants waiting to file disputes with their landlords.
Moradi was stressed; he spoke to NCM briefly because he had taken time off work to dispute and needed to return. He said he couldn't believe his landlord's "strange behaviour."
"I have nowhere to go. It's not easy to find a house," Moradi said. "I am looking for justice." 
According to a new report, renters in B.C. have the highest eviction rates in Canada. The University of B.C. report used the 2021 Canadian Housing Survey — the most recent statistics available — to estimate eviction rates across Canada. 
The statistics show that B.C. had a 10-10.5 per cent rate of  eviction between 2016 and 2021 compared to the national rate of 5.9 per cent. 
Eighty-five per cent of these evictions were initiated by landlords. 
Moradi and his wife and two children, have resided in the same house for four years without any major issues. He said a problem with an e-transfer of his rent led to a single late payment and the landlord evicted the family.
In B.C., landlords have the legal right to evict tenants if they, or a close family member, is planning to move into the home. However, approximately nine percent of tenants in B.C. have faced eviction due to unit sales or renovation, according to the report, which was funded by the SSHRC-CMHC Balanced Supply of Housing Node based out of UBC's Housing Research Collaborative.
New Canadian Media contacted the B.C. Ministry of Housing about eviction data, but the province only tracks disputed evictions, not their frequency or the reason for the move.
Newcomers and refugees say their landlords want them to vacate their rental properties in order to bring in new tenants and increase rental income. 
Vancouver resident Nancy Fulcker has been renting a three-bedroom house for her family since the spring of 2018. Last April, her landlord informed her they were selling the house, and a "For Sale" sign was planted outside. Later, Fulcker said the landlord called to say she and her husband want to move into the house. 
When the landlord changed her story, Fulcker said she decided to apply to the Dispute Resolution Office.
"It was not clear to me whether she was actually planning to move into the residence or continue to sell it — both intended actions contradict each other," she said.
In a report released in May 2023, Vancouver's First United Church surveyed 443 people who had recently been evicted for everything from cause to "landlord use," a legal provision for cases where the landlord claims they or a close family member intends to move in.
Twenty-seven per cent of those surveyed said they hadn't found a new home after they were evicted. Among people of colour, 31 per cent said they hadn't yet found housing, and 34 per cent of people with disabilities said they couldn't find a new home. For  Indigenous people, the number was highest, at 45 per cent.
On Sept. 20, Fulcker said the landlord texted her to say she had to vacate the house by Oct. 31 — 40 days from the date she was told to leave. But the province's Residential Tenancy Act states that  landlords with reasons to occupy their residence must provide two months' notice to tenants.
"My landlord and I had always maintained a formally respectful relationship," Fulcker said. "I was upset by the unthoughtful and careless way she had informed me about ending my tenancy, through a WhatsApp text message. 
"A few days later, she informed me that her son was starting his studies in college and he needed to move into the house I was currently renting."
Due to the ongoing tension, Fulcker said she's been feeling hesitant and stressed, uncertain about whether she will ultimately decide to move out or stay and fight the eviction notice.
Landlords in B.C. can increase rent whenever a new tenant moves in. Once a tenant moves in, landlords are only allowed to increase rents by a maximum specified amount annually.
East Vancouver renter Dilan Qadir  is facing a similar problem. 
Qadir said  his problems began at the end of June when his landlord said he must pay $50 on top of the rent for using air-conditioning.
When he refused to pay the additional $50, he said the landlord told him he had to move out. 
"She gave me two illegal eviction notices in the following days," Qadir said. "Then she gave me a two-month eviction notice for the landlord's use of the property. 
"I have applied for a dispute resolution and a hearing is scheduled for the end of October." 
A national rental report released in September indicates the average monthly rent for a one-bedroom apartment in Vancouver has surpassed $3,000. As a result, the report says some landlords are choosing to evict their current tenants and rent the properties at higher amounts.
Qadir said his landlords claim they want his room and the whole apartment back so that they move in. But he said since July, the landlords have rented out the two other bedrooms to new tenants.
"I asked the new tenants to provide their leases and noticed the landlord had raised the rent for both bedrooms by a couple of hundred dollars," Qadir said. "The leases stipulated a minimum three-month stay. For one tenant, that period ended in September, and their lease has transitioned to month-to-month without an eviction notice."
Qadir said the difficulties with his landlord are troubling.
"I feel stressed out and frustrated. I've been living at my current place for two years now. If a decision is made that I need to move out, I might end up on the street."
Ravi Kahlon, B.C.'s Minister of Housing announced that for 2024, rent increases will be capped at 3.5 per cent, which is below the inflation rate of 5.6 per cent. This applies to any rent increases beginning Jan. 1.
"We want to ensure renters can afford a home and we also want to ensure landlords can make necessary repairs and maintain their rental properties so they can continue to provide rental housing for years to come," Kahlon said in a press release.
Kahlon said he knows that evictions  still happen under false pretences. 
"We'll be examining other ways to cut down on unlawful evictions and strengthen the security of tenants," he said. "Solving renter-landlord disputes faster and getting tougher on bad-faith evictions is one of the initiatives in our Homes for People action plan."
Tenants' rights advocates in B.C. support renters and have urged the provincial government to enforce a complete ban on evictions to protect tenants.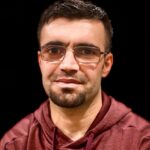 Diary Marif is an Iraqi Kurdish journalist based in Vancouver, Canada. His writing has appeared in the Awene weekly, Livin, and on KNNC TV as a documentary researcher by the name Diary Khalid. Diary earned a master's degree in History from Pune University, in India, in 2013. He moved to Vancouver in 2017, where he has been focusing on nonfiction writing. He can be found on Twitter: @diary_khalid.