It is difficult to replicate how an immigrant feels when they arrive in the country of their adoption. Imagine wearing summer clothing all year long and then being plopped on to a snowbank the next second. How would you feel when everything from the aroma of your food and the sound of your prayers, to the clothing on your back to your very employment status is re-arranged? How do women cope when their language is a barrier?
Across Ontario, women are making adjustments to ensure they are in a position to succeed in a new land.
For Hedaya AlDaleel who immigrated from Singapore in April 2016, her family found the weather quite daunting. Wearing winter gear was not something they were familiar with coming from warmer climates. "Our first winter was tough, the kids loved the snow, but I dreaded walking or driving in it," admits AlDaleel.
In addition, upon arrival financial limitations also proved a challenge as they looked to adapt to their new lives. "The first few months are the hardest, with total uncertainty and no clear vision of the future, it was a very stressful period," she says. "We were blessed that my husband found a job a few months after we arrived, but the idea of a career 'downgrade' will continue to be a struggle."
Initially, AlDaleel set out by renting a space within a Hair Salon & Spa so she could open her own massage practice. Using the Dorn-Method she treated patients with neck, shoulder and back pain. Although the approach is safe and pain-free, it is not covered by most insurance policies and is very uncommon in Canada. Thus, through various struggles, the business eventually closed within months.
"Having no network or connections, social circle or support group around me, made it hard to grow a customer base," recalls AlDaleel. Unfazed, she enrolled in a Global Business course at the Newcomer's Centre of Peel to familiarize herself with different strategies.
The material helped her in "understanding the economy, taxation, resource management, marketing and business communication as well as networking." Working with three advisors, she was able to go over content that was applicable to her interests. "[It] was a great learning experience [which] gave me the foundation to build on," AlDaleel continues.
Cultural Barriers
Discrimination has also been cited by some academics as a key cultural barrier for newcomers. free slots no download no registration & other casino games to play for fun with no deposit in our free casino games list with bonus rounds & no sign up. Play free pokies with free spins right now! Dr. Soma Chatterjee is an Assistant Professor of Social Work at York University, she explains, "The idea that mainstream Canadian ways are more progressive than [the] rest of the world's. Many immigrant women I know of are under pressure to 'measure up' to the dominant standards."
She notes that newcomers may face discrimination when they are refused housing or asked offensive questions about the kind of food they cook when applying for rent. This type of experience may force new immigrants to change some of their most deeply held cultural values.
Furthermore, not all immigrants have an easy time adjusting, especially if language is a barrier. As was the case with Esraa Ali whose biggest challenge, upon arrival from Iraq, was learning English. An issue that is only magnified with statistics that show over 70 per cent of immigrants as having a mother tongue other than English or French.
While Ali has a Bachelor of Science in Biology back in Iraq, her current part-time jobs include working as a lunchroom monitor and supply teacher in a private school. She prefers the reduced hours so that she is able to spend more time with her kids. Joining the 32 per cent of middle-aged women that have made the same decision to care for their children.
Difficult Adjustments
Sadaf Hussain, a Pakistani native who immigrated to Toronto in August 2016 from Dubai found the adjustment particularly challenging. She came alone with her two children because her husband was still working in the Emirates.
Hussain mentions that one of the greatest challenge she faced was leaving behind her loved ones. The busy bustle of life in Canada, lead to loneliness within the first few months. A feeling that only intensified in winters that offered shorter days and less to do outdoors.
She also grew frustrated with the constant searches for basic amenities, often travelling to multiple destinations before finding what she needed.
"We spent hours going through every single supermarket before we figured out where things were sold," she explains. In addition, making it even harder, she would often evaluate the value of goods by converting local prices into the currency used in her native land.
Even routine activities such as driving in the snow presented challenges, having never lived in a region with snow.
She misses the stronger sense of community she found elsewhere. "I miss the sound of the call to prayers five times a day. I miss the way Ramadan (Islamic month of fasting) was so festive and how the entire United Emirates seemed to break their fast together (a cannon would sound)."
Slowly, she has learned to overcome her initial difficulties but continues to adjust as she spends more time in the country she now calls home.
Sense of community
For many immigrants, retaining their sense of cultural identity is essential.
Having lived in a number of countries, AlDaleel was prepared for the diversity that exists in Canada. She constantly educates her children about their cultural roots. "It's important for our children to maintain their identity, as they learn to navigate their way into their new Canadian life," she says.
Despite the adjustments they have been forced to make, both women are grateful for the opportunity they are now presented with.
Al Daleel goes on, "there's so much room for personal growth and career change. I have learnt that in Canada, the job you do, doesn't define who you are, or who you are striving to be. Unlike many other places around the world, you can dream big here…"
---
This piece is part of the "Ethnic Women as Active Participants in Ontario" series.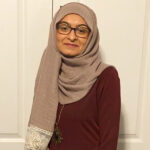 Sukaina Jaffer holds a Master's degree in International Journalism. As a freelance journalist, she has written for New Canadian Media, The Guardian, Guardian Unlimited and The Independent.