A petition to stop the federal government from allowing new Canadians to take their citizenship oath by clicking a button online is set to be tabled in Parliament.
The petition (Petition (e-4511), which was launched in July of this year, garnered more than 1,500 signatures. It was backed by the Conservative Party's Critic for Immigration, Refugees and Citizenship, Tom Kmiec.
In a statement released last month, Kmiec said the measure would "cheapen" the citizenship oath by reducing it "to a click on a website or an app as if citizenship were no more than consenting to terms in a contract."
In February, the Liberal government announced it was planning to allow for self-administered citizenship oaths. The proposed process would permit aspiring new Canadians to log onto a secure online portal to administer their citizenship instead of attending an in-person or virtual ceremony with other successful citizenship applicants.
Andrew Griffith, a former director general at Immigration, Refugees and Citizenship Canada (IRCC), started the petition to maintain the citizenship ceremony as an important milestone in the Canadian immigration journey. Griffith, who attended many ceremonies as part of his previous role, says they are an important way of marking a critical step for new citizens. "Citizenship is not just a mechanical process of getting a driver's licence. It's making a decision to come to Canada, to contribute to Canada and to vote in Canadian elections. [Citizenship ceremonies] really give a sense of belonging and inclusion."
The petition further called on the government to "revert to in-person ceremonies as the default", limiting virtual ceremonies to only 10 per cent of the overall total. It also urged the government to explore more evening and weekend ceremonies to make them more accessible and flexible for attendees.
A special moment
Claudio Chalom, who recently became a Canadian citizen after arriving from Brazil six years ago, said while he would have preferred having his citizenship ceremony in person, he still appreciated the chance to do it online and thinks other new Canadians should have the opportunity to do the same. "I think we should still have some sort of ceremony to mark the celebration of this special moment," he said, describing his own experience as "emotional". "It was a moment we won't forget in our lives."
The one-click citizenship proposal was initially introduced by former Minister of Immigration, Refugees and Citizenship, Sean Fraser, to reduce backlogs in the immigration system. The government said the move to self-administered citizenship would cut processing time by three months and eliminate the need to take time off work to attend ceremonies. The new minister Marc Miller said the government is still considering moving forward with the proposal.
Canada's immigration system has recently seen record numbers of new immigration and visa applications, rising to nearly 2.3 million in July. The latest IRRC data from September shows citizenship and spousal sponsorship applications currently face a 19 to 24 per cent backlog. IRCC aims to keep backlog at 20 per cent or less.
IRCC projections suggest backlogs are expected to drop over the coming months, although there is a chance they could continue into 2024.
Jenny Kwan, the New Democratic Party's Critic for Housing, Immigration, Refugees and Citizenship, said her party supports the Liberal government's proposal as it allows for more flexibility for new immigrants with different needs. Attending the ceremony, she said, can be hard to schedule for some.
She pointed to her own family's experience. Her family came to Canada from Hong Kong when she was a child and lost income as a result of having to take the day off to take their citizenship oath in person. "When we became citizens, both my parents had to take time off work, and we were a low-income family. And that was a very stressful situation that my parents were faced with."
She said this is why she supports moving to a move flexible system: "Everybody's circumstances are different. What is important is to ensure that there is flexibility and options made available for people so that they can choose the most appropriate option for themselves. I don't think there is strictly one way to do it."
The federal government solicited feedback on the proposed amendments to the citizenship regulations earlier this year, and almost 700 people responded. Two-thirds of those who voiced their opinions disagreed with the government's proposal. Opposition was particularly strong among Canadian-born citizens and immigrants.
However, strong support for the proposed changes came from citizenship applicants facing delays in the system, with at least 66 per cent indicating they would prefer to allow for citizenship online.
The petition (e-4511) is set to be debated in the coming months.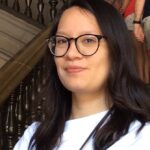 Katrya Bolger is a Thai-Canadian journalist. She writes about how national politics and policy impact Canada's immigrant communities. Since starting her career as a sub-editor for the Bangkok Post, she has spent over seven years writing and editing for various newspapers, magazines and non-profit organizations in Canada and abroad. Her written work has appeared in publications such as The Globe and Mail, Montreal Gazette and The Walrus.