Ahmed didn't want to go to the media. But when the refugee sponsorship application for his sick mother got rejected for the second time after a three-year wait, and his repeated calls for help to his local MP went unanswered, he decided he had nothing to lose.
A permanent resident of Canada since 2016, Ahmed (name changed due to the sensitive nature of his case) is a very well-known person in the Afghan community in Ontario and a volunteer with an umbrella organization supporting refugees.
The year when he arrived in Canada, 2014, was the same year that his youngest sister was murdered by the Taliban — punishment for the fact that Ahmed had been working at the Afghan embassy in Beijing, China. Fearing more violence from the Taliban, Ahmed's mother, now 62, and his other sister escaped to Tajikistan in 2018.
Refugee sponsorship: a long and opaque process?
Now, Ahmed is trying to bring them to safety in Canada. Three years ago, he applied to sponsor them under the Private Sponsorship of Refugees (PSR) program, but only his sister's application has been approved.
"My mom's application was refused, even though we met the financial and other requirements of the PSR," he says.
Ahmed's mother is paralyzed from the waist down and fully depends on her daughter to take care of her. The vision of separation is causing her and the whole family enormous stress and anxiety.
"I am really afraid that if my mom is left behind, since there is nobody to look after her in Tajikistan and she is unable to even move without someone's support, she will lose her life. This would be the biggest disaster to our family," Ahmed wrote in a recent letter to his local MP's office shared with New Canadian Media.
The immigration organization supporting Ahmed in the sponsorship process had pledged funds to cover his mother's settlement costs during her first year in Canada. Ahmed and other family members also pledged to take full responsibility for her, including paying for private health insurance.
Still, the appeal filed on his behalf was denied after only a few days, even though the officer processing it knew that "my mom's application is linked with my sister's application," Ahmed says.
"Why has my mom's application been refused?"
When Canadian values clash with bureaucracy
According to Janet Dench, executive director at the Canadian Council for Refugees, processing visa and sponsorship applications is a "bureaucratic process." So, while Ahmed's circumstances are regrettable, there is no way around the established rules.
"In sponsorship applications, sometimes applicants are refused due to missing documents, not completing the application process on time, unconfirmed documents, criminal record, and inability to clearly explain family relationships," she told New Canadian Media. "Visa and sponsorship applications are not excluded from the legal perspective."
For Ahmed, who insists that the application met all the requirements, the values that Canada prides itself on, and simple humanity, get lost along the way.
He says his mother worked for a Canadian foundation for Afghan refugees in Pakistan for many years. After his father passed away when Ahmed was just a kid, "my mom was the person who took care of us and made us who we are."
"What do I need to do to bring my mother [to Canada]? Who will be responsible if something happens to her? Am I not a resident of this country?"
He stresses that one of the biggest problems of refugees and immigrants in Canada is not being able to get together with their families. "I want to see my mother and siblings; I want to be there for them in their difficult times. This is a human demand."
Ahmed says he first sought help from the Liberal MP in his riding in 2020, but he never got any proper response. He says he was patient during the pandemic, but the situation is no longer as severe as it was last year.
"I have no time to lose. My last hope is to make my voice heard by the people and the government through the media."
Editor's note: Professional and ethical journalism guidelines state that all claims must be corroborated and backed up by evidence and credible sources who are clearly identified. However, this isn't always possible to do when security and safety issues, for instance, are at play. Please, take a look at this guide published by NCM to learn more about the ethics behind naming sources and using anonymous ones.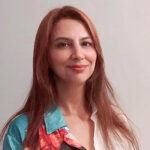 Arzu Yildiz graduated from Istanbul Bilgi University in TV Journalism Department and has worked as a journalist, editor and senior reporter. She has written critical pieces of investigative journalism about unresolved murder cases in the Southeast against Kurdish businessmen and illegal weapons supply to Syria. She has four books published and writes for New Canadian Media.