With the winter semester underway, many recently arrived international students may find themselves not only facing a brisk and snowy Canadian winter, but also the unexpected costs associated with it. This is especially true for students arriving from countries with milder climates.
A recent RBC survey reports that 42 per cent of international students are overwhelmed when it comes to money and need help, and 41 per cent admit they struggle with creating and maintaining a budget. Supporting international students at this critical time is paramount to their success here in Canada. 
Winter costs to count on
Setting aside a budget for one-off winter staples is essential. For example, a winter coat or warm and waterproof winter boots for trudging through slush will go a long way during the freezing months. Shop for quality, lasting pieces at a discount by visiting thrift shops, outlet stores or waiting for seasonal sales.
Also take into consideration recurring monthly costs associated with winter living. Residential heating costs are typically charged separately on top of rental fees, and their costs range based on usage and time of day. Heating is essential in the winter and should be built into a monthly budget, as bills can climb to over $100/month until spring arrives in March.
Transit is another factor. During summer months, international students can save on transit costs by walking or riding a bike, but this may not be a feasible option between November and March.
Success on an international student budget
It's important to understand and plan for expenses to ensure you have enough money before you arrive. Here are some tips to help you handle your finances successfully: 
Improve your financial literacy –

According to the RBC survey, only a quarter (26 per cent) of international students know a credit score is important, but don't know what it is, and 58 per cent believe paying the monthly minimum on a credit card means they don't pay interest. Resources such as the

McGill Personal Finance Essentials

, a free online program, can teach you how to create a budget, manage your finances and save for the future. 

Meet with a financial advisor –

A financial advisor is often a good starting point when arriving in Canada, as opening a bank account is essential. Financial advisors can recommend accounts that cater to your needs and include valuable, money-saving features such as no monthly account fees. A financial advisor can also direct you to the appropriate banking solutions that will help prepare you for a successful financial future. 

Build a credit history –

A good credit score is often needed for many things – from renting to getting a cell phone or a loan – even as a student. Opening a credit card will help to build your credit score, but be sure to pay off the bill each month to avoid late payment fees and penalties.

Find Cost-Saving Solutions –

Applying for scholarships and grants, taking on a part-time job or taking advantage of student discounts offered at many stores throughout Canada are just a few effective ways to keep your costs down, allowing you more breathing room (and savings) in your budget.
Developing an effective budget and tracking expenses is important as it will provide valuable insight into your spending patterns. A budget helps you stay on track, avoid potential student debt, and can help you save at the same time, all of which are vital all year round.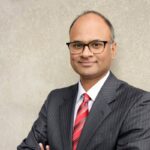 Amit Brahme is currently the senior director of RBC's newcomer and cultural client segment strategy team. An immigrant himself, he has over 25 years of professional experience in banking, technology, manufacturing and educational sectors. Outside of work, Amit is an active volunteer with Junior Achievement and DECA, participating in mentoring and coaching programs designed to empower young people. He is also an instructor at York University in Toronto.