International Women's Day is typically a moment to celebrate female heroes, well-known leaders and community activists. Yet there are tens of thousands of immigrant women who have overcome untold challenges simply to survive and guide their families to safety.
One of those women is my wife, Betul Ergun, who remained in Turkey, after I was forced to flee in June 2016. I was a journalist who supported a corruption investigation of government officials. I was afraid the government would imprison me for speaking out, so I sought asylum in Canada, leaving my family behind. 
Here's my conversation with Betul about the events that followed.
Q: What was it like when I left you to come to Canada?
After you left there was an attempt to overthrow the government in July. Two weeks after the failed coup, our house was raided by armed police. The children and I were so scared. Later, I was among the tens of thousands of government officials who were fired under a special law and my passport was cancelled. I was officially deemed "suspicious." I could not find another job. I faced arrest or a future sentenced to social death with my two children.
Q: What were you most worried about?
I was afraid because if I was arrested, the government would capture our children and put them in an orphanage. This was happening to some families.
Q: What did you realize you needed to do next?
I understood that we would no longer be able to continue our lives in Turkey. We had to go to Canada, but how? It was impossible to leave the country legally for me, even though I had a Canadian Visa, so I decided to secretly escape.. I did not want my two sons, who were 5 and 9 years-old to experience the risky escape. Fortunately, the government did not impose a ban on children, so we made plans to send our kids to Canada first.
Q: What was the hardest thing about sending the boys to Canada without being with them?
In September, I sent the kids from the airport in Istanbul to Montreal. As they passed through police control, I was watching them from far away. I encouraged them to not cry and to be brave.
I was afraid that the police might take them, or something could happen on the plane. I couldn't sleep during their trip. I was very worried that the children were traveling alone over continents.
Q: What happened after the kids arrived in Canada?
There were no obstacles for me anymore. I contacted the smugglers, who you found for me through your friends. When I received their call, I left Istanbul and travelled to the Turkey-Greece border. One month after I took the kids to the airport, I left Turkey without even saying goodbye to my parents.
Q: Describe one of the most challenging moments in your journey?
The human traffickers were male. Myself and two other women and two kids got on the boat at the coast of the Evros River. We were not given a life jacket. It was a dark night and it was raining. Once we crossed the river, we walked for about three or four hours in the forest. Finally, we reached a town, where I boarded a bus – wet and cold. I travelled for 12 hours alone on that bus. I got off in Athens at midnight. I did not speak Greek or English. But on the bus, I met a young man from Rome who spoke Turkish. I believe God brought him to me. He told me how to get to the airport. I was questioned by the Greek police, but they did not stop me from getting on the plane to Toronto.
Q: How did you feel when you arrived in Canada?
I felt relieved that I had escaped my fears. I was happy to have my children and to get back to you after five months apart.
Q: What challenges did you face here?
I had a good job, friends, home and family in Turkey. I lost all of them. We spent the last of our savings to reach Canada. We rebuilt our lives in a small apartment suite in Ottawa from scratch. The children found school difficult. My youngest son did not want to go to school in the first months and was often crying. Learning English was the biggest challenge for me as well.
Q: How did you overcome these challenges?
The motivation to establish a better future for our children kept us alive. Also, the best answer to persecution is to stand upright.
Q: How are you doing these days?
I have been attending ESL courses since 2017 and my English has improved. My first job was cleaning houses. Then I started working at a cafe called Luna, where I helped prepare crepes. In 2018, a friend and I created an online company- zenithfashion.ca.
We sell modern Turkish fashion for Muslim women. But I still work at the cafe three days a week.
Things are getting better. My younger son has not only learned English, but also French.
However, I am worried and upset about my friends who are still jailed in Turkey.
Q: What has it meant for you and your family to be able to start a new life in Canada?
We found a new culture and beautiful people. We came here as refugees but we are excited to take our Canadian citizenship test next year. We have a safe home. My children are getting a good education. I am grateful to the Canadian government, which offered us the opportunity to establish a new life. It's hard to start life again, but it's not impossible.
The interview has been edited and condensed for clarity.
This story was produced under NCM's mentorship program, mentored by Amira Elghawaby.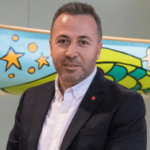 Seckin Ergun is a Turkish-Canadian journalist and author living in Ottawa.