One woman is murdered in Canada every six days, according to the Canadian Women's Foundation. This statistic belies what's been happening in the Greater Toronto Area (GTA) since the beginning of 2018: there has been a dramatic increase in female homicides, with five women killed in a span of six days.
Three were from the Peel Region, one from Halton and another from the Hamilton Region; all at the hands of their male partners.
Sharon Floyd, Executive Director of Interim Place in Mississauga, calls it "horrific" and says that there is "no specific cookie cutter that can tell what abuse looks like."
"Women are murdered because they are women, they are not valued in their families and their voices are not heard," she added.
In the midst of volatile situations, many women often turn to the shelter system which provides a safe haven for thousands annually. And although it may seem like a viable option for many, a lack of resources can force many shelters to turn away prospective residents in need.
The thought can be alarming, considering that in Ontario, 65 per cent of female shelter residents were fleeing emotional abuse and 46 per cent were escaping physical abuse.
Immigrant women more vulnerable

For women who have immigrated from countries that do not share the same gender-neutral values, abuse can manifest itself at even more alarming rates. Studies show that "immigrant women may be more vulnerable to domestic violence due to economic dependence, language barriers, and a lack of knowledge about community resources."
Canada is fraught with examples of this exact scenario and Samira Farah (name changed to protect victim's identity), a Bengali immigrant, endured many forms of abuse before finally finding access to the resources needed to remove herself from a potentially dangerous situation. Following an arranged marriage in Bangladesh, Farah immediately migrated to the U. S. before settling in Canada with her husband. Throughout their 10-year marriage, she was bombarded with emotional, physical, sexual and financial abuse.
Her husband asked Farah to obtain money ($50,000) from her father to pay-off his own debt, but she refused. Instead, she resorted to jobs as a salon worker in a failed attempt to raise money.
Even through emotional abuse and intimidation by her in-laws, Farah gave birth to a baby boy in 2003. Despite the trauma she had experienced, which included multiple miscarriages, positive thinking allowed her to find solace in her newborn.
Seeking help
However, her husband did not share her joy. With an eye on Farah's inheritance, he tortured her with threats of murder in isolated barren areas. Going as far as physical abuse with a knife in the presence of their then three-year-old son, she knew she had to make a change.
Farah struggled in silence to improve her marriage by opting for marriage counselling. Her counsellor suggested she call the police and later referred her to a shelter home.
"I didn't want my son to grow in this violent environment, I want to teach him respect for women and that's when I decided for divorce," Farah says bravely.
Canadians spend roughly $7.4 billion annually to deal with the aftermath of spousal violence alone
Every victim is different, however, their aspirations are revived when "they hear that they are not alone", explains Floyd, who runs a crisis centre for women. "With some initial counselling they learn that it's not their fault and women are not to blame; this is more of a societal issue."
Raising Awareness
Farah initially started her mobile beauty spa to make ends meet. But in the process, she has met women from diverse cultures who have been through varied kinds of trauma inflicted by their intimate partners.
She believes that sharing stories with others has helped many alleviate the trauma they have endured.
"I am not the only person who has gone through this, [there are] worse stories out there, but that little bit [of] light of hope can change a lot of things," Farah says.
Working in different sales and marketing departments, she has now been able to gradually regain her self-esteem. With the support of her co-workers, instructors and mentors she has even followed through on previous plans to further her studies by enrolling in a College program.
"Besides taking action on divorce and get[ting] out of that relationship, I am capable of doing anything that is possible in life," she says with new confidence.
A woman's self-worth
Generally, it takes a woman 6-7 attempts before she actually pulls away from a relationship because they are not sure of the abuse.Especially when the perpetrator is controlling, it's important to note that a woman's security risk doubles when she decides to leave.
Nancy Gibbs, a professor of Community Social Work at triOS College, suggests that education, information and a safety plan must be readily available. Working with victims for over 25 years, she maintains that only through greater public awareness will there be more consistency on what actually constitutes abuse.
"Advertising, blasting social media with what is available to women and what abuse looks like," she explains, are great ways to spread the word. "It's important to educate [a] woman [on] her own personal value." 
What one person would call abuse, another may refer to as just normal behaviour. Gibbs concludes that creating consistency in what is considered acceptable behaviour, stands as one of the first steps to eliminating abuse and ensuring a safer Canada for all.
---
This piece is part of the "Ethnic Women as Active Participants in Ontario" series. Writers interested in participating are encouraged to join the NCM Collective for an opportunity.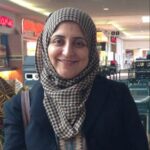 Tazeen is based in Mississauga and is a reporter with the New Canadian Media. Back in Pakistan where she comes from, she was a senior producer and editorial head in reputable news channels. She holds a master's degree in Media and Communication and a certificate in TV program production from Radio Netherlands Training Center. She is also the recipient of NCM's Top Story of 2022 award for her story a "A victim of torture, blogger continues fight for human rights in Pakistan"