About a year ago when I was preparing to move to Saskatoon, SK from Cape Town, South Africa, a crippling fear of the unknown gripped my mind. I had been living in South Africa as a Zimbabwean immigrant for about 9 years. The cultural similarities between the two countries and the fact that home was only a two-hour flight away had made that transition easy. But moving to Canada from Africa was a different story altogether.
I am a firm believer in the notion that words create worlds. Reading the words of African immigrant authors helped shape my view of what my new world in Canada would look like, easing some of my fears. In many ways these pages have given me a home away from home when I have battled with overwhelming feelings of loneliness and displacement.
These are some authors that offer rich narratives of Africa and helped me settle in the land that I now call home.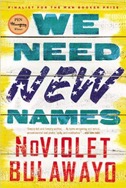 We Need New Names
by NoViolet Bulawayo
NoViolet Bulawayo is a Zimbabwean author and a Stegner Fellow at Stanford University.
The powerful novel that is shortlisted for the Man Booker Prize begins with an introduction into the thrilling yet mundane lives of Darling and her friends Bastard, Godknows, Stina and Chipo. The group of adolescents navigate the complexities of growing up in Robert Mugabe's Zimbabwe. Darling and her friends are forced to confront the life altering realities of suicide, HIV/AIDS, abortion, election violence and police brutality. Young Darling's dream of living with her aunt Fostalina in America comes true and her life is changed yet again.
Darling's struggle with feelings of guilt about leaving her friends and family behind in a volatile political and economic climate, mirror my own. In a strained conversation with her friend Chipo who is still in Zimbabwe, Darling realizes that the proverbial house was on fire and she had left it to others to put out the flame.
Living in Canada and keeping up with the worrying news from back home made me come to a similar realization. Although this is still an unresolved inner conflict, I have found comfort in knowing that I am not the only immigrant who struggles with it.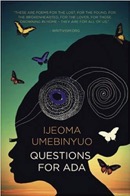 Questions for Ada
by Ijeoma Umebinyuo
Ijeoma Umebinyuo is a Nigerian poet whose work has been translated into French, Turkish, Portuguese and Russian. She is also known for her TEDx Talk titled Dismantling The Culture of Silence.
Questions for Ada is a powerful anthology that invites readers to brutal honesty and radical self-acceptance. In the poem Diaspora Blues, she paints a picture of the displacement experienced by immigrants "so, here you are, too foreign for home, too foreign for here, never enough for both."
My favorite lines in this anthology are in Immigrants, First Generation, where she pays a heartwarming tribute to immigrants "Here's to the taxi drivers from Nigeria, Ghana, Egypt and India who gossip amongst themselves…Here's to Western Union and MoneyGram. For never forgetting home."
Africans living in Canada and other Western countries are responsible for a significant portion of the continent's economy because of the money they send back home through remittance agencies like Western Union and MoneyGram. In my first few weeks of living in Canada, I could not help but notice the distinct African accents in the lines at my local Western Union. Their voices embodied the words of Umebinyuo and instantly brought back memories of this poem.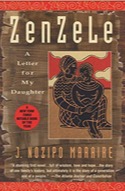 Zenzele: A Letter for My Daughter
by J. Nozipho Maraire
J. Nozipo Maraire is a Harvard educated Zimbabwean writer and neurosurgeon practicing in Oregon.
Zenzele is a lyrical collection of letters from a Zimbabwean mother to her daughter Zenzele, a student at Harvard. As a Zimbabwean reader, this collection reads much like the great advice, philosophies, anecdotes and history that I would expect to hear from my own mother.
The novel tells stories of how Zenzele's relatives shaped Zimbabwe's struggle for independence. Her cousin was a maid and a spy, her aunt a teacher and guerilla fighter, and her father an activist lawyer. The mother also expresses her disappointment in young Africans living abroad and choosing not to return to the country that her generation had fought for. This is the thought that I had to grapple with before deciding to immigrate as I feared feeling disconnected from my homeland. But for me, the answer lies in my version of an old adage- you can take me out of Africa but you can never take the African out of me!
Evolution of the African Narrative
The global understanding of the African narrative has evolved in recent years. The perception of Africa as a monolithic dark continent has shifted, partly thanks to writers shedding light on the various realities of the African experience. With millions of Africans living in the diaspora in general and thousands in Canada, the voices of African authors are a significant part of the Afro-Canadian tapestry. Modern African writers invite readers into the otherwise untold stories of resilience, innovation and endurance that exist in the midst of political and economic turmoil. All the above books are available for Canadian readers on Amazon.
This story was produced under NCM's mentorship program, mentored by Joyeeta Ray.

Lindiwe Mpofu is a freelance writer and content creator from Zimbabwe. She is currently based in Saskatoon.