Two Ukrainian artists will perform for the first time in their new country as principal dancers in The Nutcracker ballet in Toronto on Dec. 17.
Olga Posternak and Vladyslav Romashchenko will dance in a single performance at the Toronto International Ballet Theatre, and promise a fresh and fun perspective to the traditional tale about the innocence and purity of young love, transporting children and adults alike to a world of magic and wonder for the holiday season. At the same time, it will also point out that Ukraine is still under Russia's invasion.
"We are very excited to perform in Canada for the first time," the couple said with visible emotion.
For these professional dancers from Ukraine, ballet is their life, their oxygen and their art will be the link to Canadian society. From their new country, they will continue to fight for the freedom of the Ukrainian people.  
"This is a second life for us as ballet dancers. We have had support from Canadians and Ukrainians living here," they said in an interview with New Canadian Media after one of their rehearsals. 
"We love Canada very much. We have had great support here. People tried to help us, even bringing some stuff for us or saying good words or asking if we needed some help." 
Last April, the married couple left Ukraine to raise money for Ukrainian humanitarian aid. Along with a team of  dancers, they took part in multiple charity performances throughout Europe, Japan and the United States, collecting more than $800,000. 
They have now relocated to Toronto and continue their efforts to support Ukraine.
Before she left her home country, Posternak was a dancer with the Kyiv Municipal Academy Theatre Opera and Ballet. Romashchenko was a dancer with the National Opera House of Ukraine.
"Canada is a nice country. It supports Ukrainians. It is a good place to continue doing ballet dancing," said the couple, who highlighted Ottawa's role in the war through increasing sanctions against Russian individuals, helping financially and facilitating the immigration process.
Canada: Open doors for Ukrainians
Canada has harshly condemned the invasion of Russia while facilitating the arrival of Ukrainian immigrants.
According to Canada Border Services Agency, more than 128,000 Ukrainian citizens, and returning Canadian permanent residents of Ukraine have arrived in Canada by land or air between Jan. 1 and Dec. 4, 2022. 
Through the Canada-Ukraine Authorization for Emergency Travel (CUAET), Ukrainian nationals and their family members can apply for temporary resident visas.
Between March 17 and Dec. 6, Immigration officials received 724,494 applications from Ukrainian individuals and approved 451,258.
Dancing against the war
On  invasion day, Feb. 24, Posternak was on a business trip in Paris. Early in the morning, her husband called and said: "I think the war starts," she recalls, her voice breaking with emotion. "I suggested he take our cat, some documents and leave the capital because it is dangerous. And then I called my parents. It is difficult to explain. Everything changed every second. It was a shock."
Romashchenko described the first moment of the war as a "scary movie."
"Ukraine is still dangerous with missiles, plus there is no electricity or water. The winter makes the situation worse," he said.
The couple, who are in their 30s, have lost colleagues, ballet dancers even younger than they are. "A lot of dancers, musicians, artists now are fighting for us in the first line of duty. A few weeks ago, another dancer died on a front line. He was just 26 years old."
In April, since the war continued, the National Opera developed projects outside Ukraine to raise money to help Ukrainians In a single concert in Florida, the team of Ukrainian dancers collected $800,000 from American businesspeople.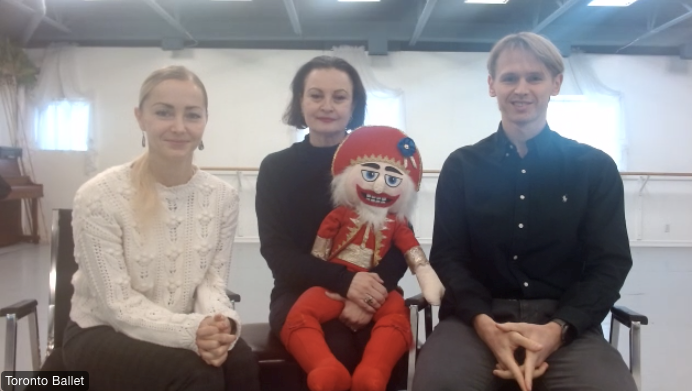 In Toronto, they met Tatiana Stepanova, Prima Ballerina for the Odessa State Ballet Company and choreographer of The Nutcracker, one of Tchaikovsky's most famous works. She is also the founder and director of the Toronto International Ballet Theatre, created in 2008 to promote classical ballet development in Canada and to promote young ballet dancers performing with professional dancers.
"I met Olga and Vladyslav this year, and I know they have performed at The Nutcracker, so I decided to give them this opportunity. They are beautiful dancers and very hard workers," said Stepanova, who was awarded the honorary title of People's Artist of Ukraine.  
"Why do we need this war?" asked Tatiana Stepanova, adding that a lot of people are suffering. 
"We represent our country. We fight on the stage. We will fight for our land, our country, and we will win."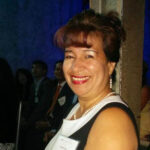 Isabel Inclan has worked as a journalist for more than 20 years, in both Mexico and Canada. She began working as a foreign correspondent in Canada in 1999 for Mexican media. She has been a New Canadian Media contributor since 2018. Her main areas of interest are politics, migration, women, community, and cultural issues. In 2015, Isabel was honoured as one of the "10 most influential Hispanic Canadians." She is a graduate of Masters in Communication and Culture at TMU-York University. She is a member of CAJ and a member of the BEMC´s Advisory Committee.