By: The Cost of Freedom Team
Award-winning filmmaker and journalist James Cullingham proposes the idea of a new documentary to focus on the stories of refugee journalists in Canada. The documentary, The Cost of Freedom, speaks to concerns that have grown more acute during director Cullingham's career. He states that many of his peers around the world do not benefit from the democratic rights and personal safety that he has generally experienced. Through this film, Cullingham wishes to honour them and raise the consciousness of their plight.
Journalism is under global siege
In recent years, an appalling number of journalists have been murdered or physically assaulted around the world. Press freedom is severely restricted in many countries, causing the practice of journalism to be dangerous in many places. Canada has become a safe haven for some refugee journalists. Among them in the greater Toronto area are Arzu Yildiz from Turkey, Luis Horacio Nájera Castillo from México and Abdulrahman Matar from Syria. Each has paid a dreadful price professionally and personally for fleeing their countries because of imprisonment and death threats. Through their stories, The Cost of Freedom will provide an intimate portrayal of one of the principal human rights and political crises of our time.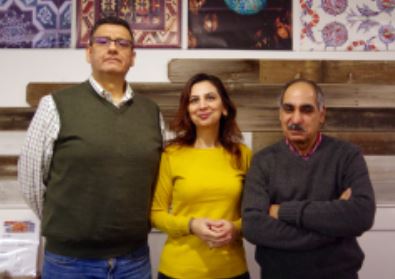 The documentary will be grounded in the individual stories of these three principal characters. Many refugees and immigrants to Canada face difficult transitions. However, this story contemplates the known but untold pipeline of journalists to refugees. There are films about journalism. There are films about refugees. This is a film about refugee journalists. 
Imprisoned for work as a journalist
Matar is from Raqqa, Syria. He worked in Damascus and in Tripoli, Libya as a journalist and sociologist. He was imprisoned five times for his work. Seeking refuge in Istanbul, he then made his way to Canada as a refugee.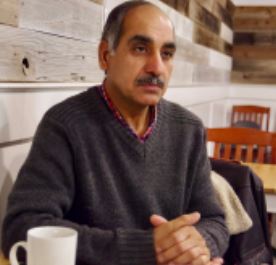 He arrived in Canada in January 2015. He had made his way from Istanbul. His wife Dr. Asrar Al-Omar was already in Canada. Matar made his way to Canada via Turkey, Saudi Arabia and the United States. He crossed the Peace Bridge near Buffalo New York in January 2015. He was assisted in getting to Germany and flew to the United States. His wife Dr. Asrar Al-Omar was already in  Canada. Matar made his way to Canada via Turkey, Saudi Arabia and the United States. He crossed the Peace Bridge near Buffalo New York in January 2015.  
Matar, Al-Omar, her son and her parents now live north of Toronto. He is employed on the night shift working the line at a Magna auto parts factory. He continues to write poetry and organizes literary and musical events highlighting the work of the Arabic diaspora in Canada.  
Fleeing from death threats
Nájera Castillo is from Juárez, México, a city which descended into hell  following an ill-advised 2006 army invasion ordered by then Mexican President Felipe Calderón in the name of a so-called 'war on drugs.' Calderón's blunder precipitated a turf war between rival cartels, the military and police forces. Some of Nájera Castillo's colleagues were among the murdered. After receiving a direct threat to his life, Nájera Castillo and his family fled to Vancouver.  
Nájera Castillo's situation in Juárez in 2008 was sufficiently dire that he barely said goodbye to his parents who now live in Monterrey. He remains in touch with them as well as colleagues and friends in Juárez.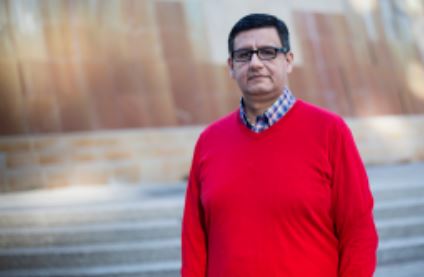 Now located in Toronto, Nájera Castillo is "reinventing" himself. He recently earned a Masters in Disaster & Emergency Management at York University. Once a  respected member of his profession in México, he has now been a house painter, janitor and camera salesperson in Canada.  
Nájera Castillo's wife Patricia is a cancer survivor. She became ill after leaving her  Mexican home. She and Nájera Castillo have three children. The family belongs to The Church of Jesus Christ of Latter-Day  Saints community which has provided them with support in Canada. Nájera Castillo is of Apache Indigenous descent. In 2015, the family became Canadian citizens. 
While seeking a new career path to support his family, Nájera Castillo has continued research on the negative impact of cartels, government, military and police on freedom of speech and journalism in his native land. In 2010, he received the Canadian Journalists for Free Expression (CJFE) Press Freedom Award. 
Witchhunt for journalists 
Yildiz was a respected national broadcast and print journalist in Turkey. She first ran into conflict with the Turkish government when she and colleagues exposed ties between the government and supporters of the Islamic State operating in Syria. She was forced to flee her country in 2016 when the regime of Recip Tayyip Erdoğan began a witch hunt of journalists following a failed coup. After several months of a hideout in an obscure home off the grid, she left her two children in the care of her parents to flee the country.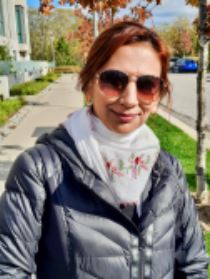 In the summer of 2018, Arzu's eldest daughter Emine, now eight years old,  was spirited to the United States by Turkish friends and has now joined her mother in Canada. Emine is adjusting well to Canada with good grades at school, steadily improving English and zeal for skateboarding. 
In the summer of 2019, Fatma, the younger daughter, arrived from Turkey with her grandmother. Yildiz had not seen Fatma since she was eight months old.  
Yildiz is busily raising her daughters, writing a memoir of her flight from Turkey and working on fiction about the lives of political journalists. 
The documentary is proposed to launch in the fall of 2021.