Abdullah Kurdi, father of the three-year old toddler who captured media attention when his body was discovered on the shores of Turkey, is not coming to Canada, despite the fact many of his relatives are already here.
He's not the only one who's hesitant to come to the country. Many refugees have refused an offer from the Canadian government, which is problematic for the Liberals' plan to resettle 25,000 refugees by the end of February.
Tima Kurdi, Abdullah's sister, shared her thoughts on his decision.
"It's the distance from [their family] that's bothering them," she says. She says that many refugees still have family members back in Syria. Several members of her own family, including Abdullah, have declined to come to Canada.
According to the latest updates by Immigration, Refugees and Citizenship Canada (IRCC), the number of landed Syrian refugees in Canada since November 4 has reached 16,215.
Dana Sleiman, a UNHCR spokesperson in Lebanon-Beirut, explained that many of these refugees are motivated to stay close to their family members in different parts of Syria.
"The majority of people our resettlement team has been in touch with indicated that they were reluctant to leave family behind in Lebanon" says Sleiman.
Proximity to family very important
Sleiman informs New Canadian Media that there are varied reasons that refugees refuse to settle in Canada. One is that, culturally, Syrians are accustomed to a nuclear family system.
As a result, when a small unit of a big family is offered passage to Canada, they'll decline it in favour of staying with other members of the family — for instance, siblings or parents who are not included in the referral.
Sleiman further states, "In some cases, if any one member of the family did not want to travel, the entire family will withdraw from the opportunity of leaving the camp and [settling] in Canada."
"If any one member of the family did not want to travel, the entire family will withdraw."
Kurdi, who resides in Vancouver, says that concerns over being able to return to Syria are also top of mind.
"They are afraid that how will they go back, its going to be expensive," she says.
"So for them Europe is fine they want to take temporary refuge so that they can go back once the war is over," she adds.
Desire to return home after the war
According to an article published in The Globe and Mail, some of the refugees make the decision to stay in the region because they hope to be at the forefront of rebuilding efforts when peace returns. Others would rather stay than adjust to a new culture and learn a new language.
The article tells the story of a law school graduate, Omayma al Kasim, who volunteers as a mental health worker in a camp in Jordan. Being the eldest sibling in the family, al-Kasim preferred to stay in Jordan because she would be close to her brother and his family, two of her sisters inside Syria and her other family members.
They hope to be at the forefront of rebuilding efforts when peace returns.
She's optimistic about being among the first to go back home to Syria if and when the civil war there ends.
Sleiman says this desire to return home is common among many refugees.
"In camps in Beirut, the top priority for families living here is the hope […] to one day safely return home," she adds.
"These refugees deem that fleeing away to Canada or other countries won't solve the problem. It can only be fixed if war ends," says Sleiman.
Misconceptions of immigration
According to Sleiman, declining resettlement in Canada is caused by a combination factors. One major contributor is the many misconceptions refugees have about coming to the country.
Some fear their children would be taken away from them upon arrival in Canada or that they'd be forced to convert to another religion, she says.
The Globe and Mail article also refers to the misconceptions and fear "which exist mainly among poorer, less-educated" refugees.
Emad al-Khlef, a father of four who was barely literate, turned down the opportunity because "he feared he wouldn't be able to learn enough English to support his family."
These kind of refugees doubted the commitment of Canadian government to helping them upon their arrival in the country. For instance, they fear that they might lose their UN food aid and cash assistance, worth about $290 each month.
Some fear their children would be taken away from them upon arrival.
Al-Khelf and many like him choose the poverty and isolation over perceived risks. "We are afraid of the unknown," says al-Khlef.
The Canadian government is aware of these elements, according to Sleiman. "It is strengthening their cultural orientation to respond to these concerns," she says.
Still, many refugees have chosen to make the journey to Canada, despite their concerns, rather than stay in the camps.
"Those who wish to give a better future and education to their children are accepting the calls and [are] ready to strive for new settlement," Sleiman says.
Kurdi says that a better future for his children prompted her brother Mohammad to come to Canada, but that she understands why Abdullah did not proceed.
"Get into his shoes of parenthood, who lost his family, then what will you say," she concludes.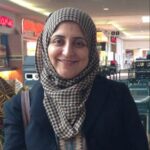 Tazeen is based in Mississauga and is a reporter with the New Canadian Media. Back in Pakistan where she comes from, she was a senior producer and editorial head in reputable news channels. She holds a master's degree in Media and Communication and a certificate in TV program production from Radio Netherlands Training Center. She is also the recipient of NCM's Top Story of 2022 award for her story a "A victim of torture, blogger continues fight for human rights in Pakistan"