As Rakan Almasri waited for his childhood friends to arrive in Canada last week, it seemed to him to mark yet another leg in a journey that has been years in the making.
After leaving his successful small business in the Syrian city of Homs behind to seek safety in Iskenderun, Turkey, he's now found himself in Toronto, hoping to find a job to feed his family of six.
Successful businessman back home
On December 10, Almasri, 44, welcomed Ziad Khabbaz and Mazen Khaabaz when they arrived at the Toronto Pearson International Airport as refugees. Feeling somewhat nostalgic as he waited, Almasri reflected on his life back home in Syria.
An electrical engineer by training, Almasri was a contractor who provided spare parts for industrial power plants and other facilities in the energy sector. "I was very comfortable. I had my own office, my own car and my own house," he says.
Almasri's wife, a trained teacher, taught primary school in a government school in Homs. The couple has five children.
He says when the war broke out, he had to move his family out of Homs to a safe place. While there, he heard his house had been burnt down and looted. "I lost everything. During the war, you can't do business, you can't do anything," Almasri says.
"I was very comfortable. I had my own office, my own car and my own house."
Since leaving in 2012, Almasri has not set eyes on his house or office. He says it might be difficult locating it since the area has always been at the centre of intense fighting.
Life in Iskenderun
When Almasri noticed things were becoming more difficult and his family's security was no longer guaranteed, he packed up their bags and left Syria. "We decided to leave because there was no security for us and we have to find a future for our children," he says.
The family got in touch with some friends in Iskenderun, Turkey who agreed to host them for two weeks. They rented a place afterwards.
Almasri that he could not work as an engineer like he use to back in Homs.
It was difficult staying in Turkey, according to the family. "We found a small house, not like ours back home," he says.
In this new country, the reality dawned on Almasri that he could not work as an engineer like he use to back in Homs. He had to work as a clerk at a company that imported automobile parts in Iskenderun. While he was away at work, his wife had to take care of their children, so she worked at a daycare to supplement the family's income.
Canada and the hope for a better future
Almasri and his family were eventually brought to Canada by the Ahmadiyya Muslim Jama'at, an organization that has sponsored a number of families and hopes to bring more.
"It was only a few decades ago that our community (Ahmadiyya Muslim Jama'at), also came to Canada as refugees seeking refuge because of the persecution in Pakistan," says Safwan Choudhry, spokesperson for the Ahmadiyya Muslim Jama'at. "Doing this to Syrian refugees is not only our responsibility as successful Canadians, but [it is important] to give to these Syrian refugees who desperately need our help."
"Whatever job, I will do [it] to support my family."
Almasri says he is happy to be in Canada because it's peaceful and will provide a better future for his children. Even though he's sad for his family, especially his children who had to leave their home and their friends behind, "at least, we are secured here."
Almasri may have succeeded in coming to Canada but he has other family back home. Two of his sisters live in Homs while another two are living in Turkey. He hopes they'll join him soon, but as long as they are safe he's happy. "I'll bring my mother and sisters from Turkey, inshallah [God willing]," he says.
Finding employment in Canada
On the evening the Khabbaz family arrived at the airport, Almasri translated for those in attendance. He says it's a job he's obligated to do because he was the only person who speaks the same language as the Khabbaz family.
While it wasn't a challenge for Almasri to help the reporters get their quotes, what is challenging is finding a job that will allow him to take care of his family in the long-term.
"Whatever job, I will do [it] to support my family," he says.
All he wants is for the war to be over so that those who might not be lucky like him can live happy lives back in Syria. "I hope there is justice," he says. "The world is very big, we can all fit in [it], why are we fighting?"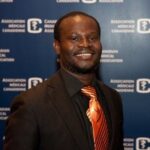 International Storyteller. Freelance Writer. Graduate, Carleton University Journalism School.