On the evening of June 6, five members of a South Asian Muslim family from London, Ontario went on a walk, presumably to enjoy the summer weather. As they waited to cross the street, a 20-year-old white man in a pickup truck rammed into them at full speed in an attack that police have said was a premeditated hate crime. The reason? The family's Muslim faith.
Sadly, news of attacks such as these have become all too common in a post-9/11 world, yet they are not any less shocking for Canada's Muslim community. An attack such as this one is a painful reminder that it could have been any one of us — our mother, our spouse, our kids. We are still not safe.
"Never again"
Across the country, there has been an outpouring of grief and support from Canadians in the form of vigils, donations and condolences for the victims' family members. The Muslim community has banded together as we always do in times such as these; the charity I work for, Islamic Relief Canada — together with the victims' family members, the London Muslim Mosque and the National Council of Canadian Muslims — has so far raised more than $1 million that will go toward supporting the nine-year-old survivor of the attack and a charitable project in the deceased family members' names.
Our Prime Minister and politicians have also expressed their sympathies and solidarity with the Muslim community in London and across the country, calling it a "terrorist attack." Once again we hear the echoes of "never again," but in reality, we aren't sure.
None of these responses will prevent a similar attack in the future. None of this will change the fact that a whole family was wiped out and a young boy has lost his parents, sister and grandmother all in one day.
That's because there hasn't been enough, or timely, change at all levels of government to address the root causes of Islamophobia, racism and white supremacy — ideologies that are all closely tied together.
We can see the effects of this lack of action in recent years: the Quebec mosque terrorist shooting in 2017 that killed six, the 2020 murder of a Toronto mosque caretaker by a neo-Nazi, and physical assaults on five black visibly Muslim women in Edmonton earlier this year. These are just the cases that are well known; there are likely hundreds of others that happen every year, some reported and many not.
The latest data backs up that the problem is only growing: according to Statistics Canada. While the number of faith-motivated hate crimes reported to police in 2019 decreased overall by seven per cent compared to the year before, anti-Muslim hate crimes actually increased by nine per cent from 166 to 181 incidents. It's a trend consistently seen over the last 10 years.
Creating real change requires meaningful action, and not words alone. We welcome the federal government's recent announcement that it will heed the calls of the Canadian Muslim community to hold a National Action Summit on Islamophobia in light of what happened in London. While this is a positive step, it should not just be lip service. Instead, federal, provincial and municipal leaders should use this opportunity to take meaningful action to dismantle both violent and systemic forms of Islamophobia.
Prioritize new legislation
These attacks don't happen in a vacuum; they are a result of deeply entrenched hate often normalized under the guise of free speech. We need to take a close look at the ways Islamophobia is being perpetuated by governments, organizations and individuals in their day-to-day lives.
One of the common avenues for white supremacists and hate-based groups to spread their ideologies is online. In fact, according to a U.K.-based study published in 2020, Canada surpasses other countries around the world — including the U.S. and the U.K. — when it comes to right-wing extremist content. At the same time, Statistics Canada data reveals Muslims are disproportionately the target of online hate; between 2010 and 2019,17 per cent of the 572 hate crimes also listed as cybercrimes were anti-Muslim.
While the federal government has recently introduced proposed "online harms" legislation to address terrorism, violence and hate speech, it is unclear when the bill will be voted on and actually come into effect. Now more than ever, it is crucial that this legislation is prioritized, with Muslim civil society organizations consulted in the process.
Tougher penalties for those who engage in Islamophobic hate — whether it be online, graffiti scribbled on a mosque, racial slurs directed at women in hijab, or violent attacks — need to be enacted. Currently, under Canadian law, hate-motivated incidents are often not labelled hate crimes or punished as such (if at all). Part of this is because the judgement of each case is left to the discretion of police officers and members of the criminal court system. There needs to be stricter, clearer definitions of what constitutes a hate crime for this to change.
We also need your help: I'm asking Canadians of all faiths and backgrounds to band together to fight Islamophobia when they see it in their daily lives. Stand up for your hijabi co-worker when you hear a discriminatory remark being made, teach your kids about respecting all religious faiths, become friends with your Muslim neighbour.
And when Muslims, or anyone, falls victim to hate crimes, show you stand with them. Attend vigils, write to your government representatives and take action for real change.
It took four years of pushing by my organization and others for the federal government to finally designate January 29 as a National Day of Remembrance of the Quebec City Mosque Attack and Action Against Islamophobia. While this symbolic gesture was appreciated by Muslim Canadians, let's not take another four years to take our next steps against Islamophobia. The London attack was a wake-up call, and the time for action is now.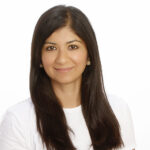 Islam is a communications coordinator at Islamic Relief Canada. She was previously a journalist, and her work has been published in outlets such as The Globe and Mail, Metro News Edmonton and the National Post.