Toronto-based organization Lifeline Syria is calling for the Canadian government to speed up the process of sponsoring refugees in this time of global crisis.
The organization, which has a goal of recruiting and training sponsor groups to bring 1,000 Syrian refugees to Canada in the next two years, recommends cutting down the paperwork and creating "flexible new immigration measures" in order to do this.
It is time to recognize Syrians outside of Syria as 'prima facie refugees', stated Lifeline Syria in a press release issued Thursday.
Many refugee and human rights advocates are on board with this approach.
"Without overriding the rules, take [Syrian refugees] outside the regular immigration, and make eligibility criteria easier by exempting the refugee recognition document from UNHCR (United Nations High Commissioner for Refugees)," says Yosief Araya, manager of the Refugee Sponsorship Training Program, which is funded by Citizenship and Immigration Canada and administered by Catholic Crosscultural Services.
The urgency surrounding the international refugee crisis increased dramatically here at home this week, after a photo of a child found dead on the shores of Turkey went viral.
Although it was reported that the child and five-year-old brother and mother (who were on a capsized boat) were trying to get to Canada and were refused, the government denied the family was seeking asylum here.
Seeking refuge
For a Syrian to cross the border, be smuggled to Europe and find a safe spot for survival – by foot, train, bus or sea – it could cost as much as $3,000.
The most dangerous way is fleeing over high tides in overly used, damaged boats. This is what results in many bodies – largely of children and women – being washed to shore.
"Why are people leaving and risking their lives? Because they are being banned from their simplest human needs such as water, food and electricity," says 18-year-old Rana Syed Yousef, who just arrived a week ago in Canada as an international student starting at Ryerson University.
"It's been four years and it only gets worse each day."
Yousef's parents joined her on a visiting visa to Canada. When that expires they are unsure of where they will go, because after 20 years of working in Saudi Arabia, her father – a civil engineer from Syria – was asked to leave the country or get a new sponsor. They do not want to return to Syria, as it is not safe.
"People lived for more than 40 years under the Assad family bloody dictatorship regime," continues Yousef.
"In 2011 when people spoke up for their simplest rights the regime answered with fire, guns and chemical weapons. Women were sitting in horror, fearing the door will open and soldiers from Bashar will come in to rape them."
Health care is virtually non-existent, Yousef adds, except for those wounded from battle. Hospitals are no longer eligible to take patients with serious conditions.
"I can go on and on," says Yousef. "It's been four years and it only gets worse each day."
Cutting of the red tape
Countries like Britain, Hungary and Greece are being condemned about their rigid rules in welcoming the brunt of refugees from Syria and as the pressure mounts attention is being put on countries like Canada to step up.
Toward the end of the week the global refugee crisis became a hot-button issue on the federal election campaign trail in Canada. The Conservative government continued to hear sharp criticism over its approach.
"It's my sense of humanity that I want to give them a new life here, close to me."
Meanwhile, more and more everyday Canadians are taking up the cause.
"They are not just the relatives of refugees here in Canada," Araya says of the people interested in becoming a sponsor, "but also ordinary Canadians are offering sponsorship to get the crisis under control."
Becoming a sponsor can be challenging though, as Malaz Sebai, a potential sponsor working with Lifeline Syria, knows.
"I want to sponsor my family [who is] in a Lebanese camp," Sebai explains. "They are not allowed to work there, they have lost jobs and homes. It's my sense of humanity that I want to give them a new life here, close to me."
But what Sebai says is most challenging is the extensive process involved.
"We work through the sponsorship agreement process and that takes too long to get materialized, we have to wait for years."
"Canada can do more … as it's in the history here."
Araya says that the government should invest in processing equipment and more human resources during this time of crisis to help alleviate this challenge.
"With so much applications, it's not humanly possible for a few officers to screen thousands of applications," Araya states.
Organizations across the country, including the Vancouver-based Canadian Immigrant Settlement Sector Alliance are on board with advocating for the removal of red tape in welcoming Syrians here.
"Process all Syrians in Europe who have direct family ties in Canada for emergency family reunification including if necessary, the issuance of a Minister's permit to expedite their immigration process," the organization asked of the government in a issued statement. "Family should be defined as it was during Kosovar refugee movement in 1999 as "extended family" members that include grandparents, uncles, aunts, parents, nephews."
For Sebai, it only makes sense that the government takes this action. "Canada can do more … as it's in the history here; our heritage is generous."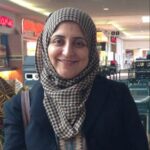 Tazeen is based in Mississauga and is a reporter with the New Canadian Media. Back in Pakistan where she comes from, she was a senior producer and editorial head in reputable news channels. She holds a master's degree in Media and Communication and a certificate in TV program production from Radio Netherlands Training Center. She is also the recipient of NCM's Top Story of 2022 award for her story a "A victim of torture, blogger continues fight for human rights in Pakistan"