As Canada's MPs navigate the political minefield of how to react to this summer's fresh outbreak of violence in the Middle East, a study by iPolitics reveals that sponsored travel may be helping Israel win the war for influence on Parliament Hill.
Between 2005 and 2013, 116 MPs have benefited from free airfare to Israel, stays in luxury hotels, visits and talks – most of it paid for by groups seeking to influence their position on Israel's conflict with the Palestinians and others.
One quarter of current MPs have taken one of the free trips to Israel.
The sponsored travel gives the pro-Israel lobby in Canada a clear advantage in the perpetual persuasion contest over public opinion in the intractable Middle East conflict — an edge in sympathy that some credit for a shift toward the Israeli position among Canada's political parties amid Israel's recent war with Hamas and its bombing of Gaza, known as Operation Protective Edge.
The price tag for the trips over the nine years totals more than $1 million. One group – the Centre for Israel and Jewish Affairs (CIJA) and its predecessors, the Canada Israel Committee and the Quebec Israel Committee – accounts for 96 per cent of the total spending.
The CIJA is registered to lobby Canadian government officials on 28 different subject areas and has filed communication reports on 424 separate meetings with MPs, ministers or government officials since 2008, including with MPs it has brought to Israel.
One quarter of current MPs have taken one of the free trips to Israel.
Some MPs have defended sponsored travel in the past, arguing that it allows them to gain first hand experience on the ground that then allows them to debate international issues more intelligently.
Groups like the CIJA argue that their trips include exposure to the views of both sides of the conflict.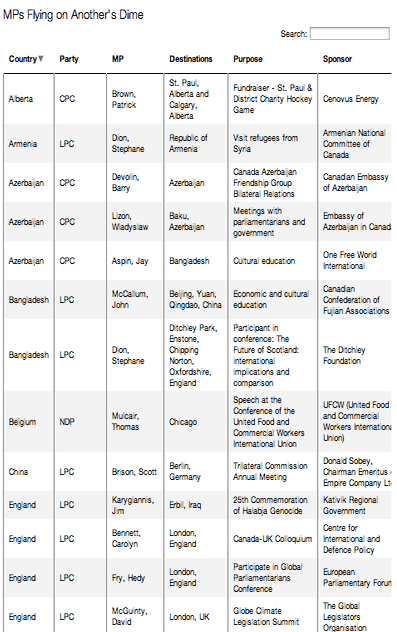 Independent MP Brent Rathgeber says he enthusiastically accepted the chance to visit Israel when he was invited in 2010.
"It was a fascinating trip. It was a great trip. I learned a great deal on all aspects of it. I grew up in a Christian home and it was fascinating to visit the holy sites."
Rathgeber says the trips deliver value for the CIJA and could be having an effect on the reaction of Canada's MPs to the current conflict.
"The sponsors of these trips, although in fairness they try to provide some balance on the conflict, obviously have a goal in mind in the education that they provide by taking you there. So, I am not surprised that all of the major parties seem to have a certain perspective with respect to this ongoing conflict in Gaza."
Norman Spector, a former Canadian ambassador to Israel, is among those who have met with MPs on trips sponsored at the time by the Canada Israel Committee.
Spector said he also set up meetings and tours for MPs when he was ambassador but his tours included elements he suspects the CIJA tours are lacking – like a wide range of Palestinian views including members of Hamas before it was declared a terrorist organization and some of the far right voices in Israel.
"I doubt that many MPs have been taken on these missions to a refugee camp in Nablus or if any has seen raw sewage flowing at Jabalya camp in Gaza."
Representatives of the Palestinian delegation in Ottawa could not be reached for comment on the sponsored travel to Israel and its impact on party positioning on the conflict.
Of the 76 current MPs who have been wined and dined and participated in briefings in Israel, 44 are Conservatives – roughly 27 per cent of the Conservative MPs in the House of Commons. The 20 New Democrats make up 20 per cent of the NDP caucus, including NDP Leader Tom Mulcair, who went on a trip in 2008 before he became leader. The 12 Liberal MPs account for 32 per cent of the party's caucus.
"I doubt that many MPs have been taken on these missions to a refugee camp in Nablus or if any has seen raw sewage flowing at Jabalya camp in Gaza."
Prime Minister Stephen Harper and Liberal Leader Justin Trudeau have both travelled to Israel but neither appears on the list of MPs who have accepted sponsored travel from an interest group. In Harper's case, taxpayers paid the estimated tab of more than $239,000 for his official trip to Israel in January at the head of a delegation of politicians, business people, Jewish leaders and representatives of Christian groups.
Harper shifted Canada's position on the Middle East shortly after become prime minister, adopting a much stronger pro-Israel stance.
Added to the tally are MPs who took part in two high profile trips to Israel this summer. One trip in early July, which included Conservative MP Ted Falk and Liberals Yvonne Jones and Gerry Byrne, resulted in MPs and senators forced to head to a bomb shelter during a rocket attack by Hamas.
At the time, Shimon Fogel, chief executive officer of the CIJA, which sponsored the trip, said parliamentarians learned firsthand what life is like for Israelis.
A second trip in late July, billed as a 48-hour "bi-partisan solidarity mission" was composed of parliamentarians who had already accepted trips to Israel in the past: Conservatives Randy Hoback, Ted Opitz and David Sweet as well as Liberals Carolyn Bennett and John McCallum and Senator Grant Mitchell.
The NDP did not participate in the trip, saying it was because it was a trip designed to support Israel rather than to collect information. As for future trips, "we will decide on the next mission based on the circumstances," said one NDP official.
A number of MPs have accepted more than one trip to Israel.
Sweet's trip to Israel this summer was the third trip he has accepted from the Centre for Israel and Jewish Affairs or its predecessor, the Canada Israel Committee. Conservative MP James Lunney has accepted three trips to Israel. While one trip was sponsored by the Canada Israel Committee, two others were sponsored by the Israel Allies Foundation – a separate group which works "with Congress and parliaments around the world to mobilize political support for Israel based on Judeo-Christian values."
Liberal MP Irwin Cotler has accepted five sponsored trips to Israel. All five trips, sponsored by different groups, universities or conferences, were to present speeches or lectures at conferences or at universities. None were sponsored by the CIC or the CIJA.
Under the Conflict of Interest Code that governs MPs, there is no restriction on accepting trips sponsored by groups – even if that group seeks to influence them.
The study found 74 of the 126 trips to Israel made by Canadian MPs – 58.7 per cent – included spouses, partners, one of their children or an assistant. MPs pick up the airfare and extra costs for those who accompany them, said Fogel.
Fogel says the CIJA or its predecessors first began taking MPs to Israel in the 1970's and has freely disclosed from the start which MPs have received sponsored travel. The budget has grown substantially since the beginning and the CIJA now hosts an estimated 50 trips a year to Israel, inviting a wide range of Canadians from political figures to academics, business leaders, cultural elites or Canadians with a particular interest such as food.
In an average year, the group will host two trips for groups of parliamentarians and sometimes a third for francophones, he said. Another trip is reserved for Parliament Hill staffers from various parties and two or three trips a year take political party insiders divided by party to Israel.
Fogel said there is no shortage of MPs who want to go on the trips. The next trip for MPs is scheduled for later this month.
Funding for the trips comes from Jewish groups in Canada and donations from individual Canadians, he said.
Fogel said he would like Canada to adopt the U.S. system where politicians have budgets that allow for international travel and don't have to turn to sponsored travel to visit a country like Israel.
Under the Conflict of Interest Code that governs MPs, there is no restriction on accepting trips sponsored by groups – even if that group seeks to influence them. The only requirement is to report the trip to the ethics commissioner within 60 days but there are no sanctions in the code for failing to disclose a trip or failing to meet reporting guidelines.
In recent years, the largest destination for sponsored travel has generally been Taiwan, with Israel usually coming in second.
Re-published from iPolitics.ca with permission.