Looking back to 2011, the decision to leave Syria was the best thing Fryal Alshami could have done.
Unlike the thousands of Syrians who've struggled to escape the civil war recently, Alshami acted early, leaving Damascus in August 2011 for Canada.
"The first year [in Canada] was hard, I felt alone, I didn't have work and it was hard," she said. "After a year or so I saw things clearer […] It was easier for me to be here."
When she arrived, Alshami, 46, barely spoke a word of English. Now that her children have comfortably integrated into Toronto schools, she's more focused on her own re-education and integration.
By learning English and eventually returning to school, Alshami hopes to ensure a better life for herself and her children.
Adjusting to life in Canada
Alshami, a successful criminal lawyer back home, had a sister already living in Toronto when she initially applied for a Canadian visa, but was denied. Fortunately, the U.S. granted the family visas that allowed Alshami to make the first leg of her trip to Detroit before coming to Canada.
As a single mother, she focused on her children's education and integration first. Now her kids Karim, 12,  Mays, 10, and Tim, 7, are fully integrated into everyday student life and are attending a French immersion middle school.
"In Syria I had my own office and a lot of clients," Alshami says. "I told myself that I would stay here [in Canada] a little bit and once my family in Syria told me it was safe then I would go back. But Syria was never safe since, so I've never been back."
Karim, who was seven years old when he first arrived, spent only a month in ESL classes at Thorncliffe Park Public School and was considered a fast learner.
Most incoming Syrian refugees will encounter the same challenges Alshami and her family faced upon arrival.
"With the ESL teachers, they were really kind and flexible with what you say and I felt like it was really good and fun and when I left ESL I felt kind of emotional," Karim says.
Mays, then six years old, spent three months in ESL.
"When I came to Canada it was kind of difficult […] I had to go through ESL and it was a challenge," Mays adds. "It was a new language for me and even though in Syria I learned English too, in Canada it was harder."
Most incoming Syrian refugees will encounter the same challenges Alshami and her family faced upon arrival.
Children will have to adjust to their new schools and parents will likely not have their credentials recognized, forcing some to return to post-secondary institutions.
Challenges facing local schools
According to the Government of Canada, 6,300 Syrian refugees have arrived in Canada and another 5,307 have been finalized but have yet to travel to the country.
The government did not reach their 10,000 person year-end target, which has given schools some breathing room to prepare.
Despite some worries about the number of potential students entering Ontario schools, Toronto District School Board (TDSB) spokesperson Shari Schwartz-Maltz says their infrastructure to welcome new students is solid.
"We have ESL teachers, we have programs for newcomers for both adults and children. We have the resources because we are already doing it," she says. "Now, not in the numbers that people are predicting with Syrian refugees, but it's not something we are not used to."
One challenge the school board faces is not knowing exactly where Syrian refugee students will be resettling.
"We don't know where the families will be living and how many there will be so that presents all sorts of challenges," Schwartz-Maltz says.
"We have ESL teachers, we have programs for newcomers for both adults and children."
She continues, "In cases when there are two kids, three kids at a school, we have itinerant ESL school instructors that visit the schools and they do some one-on-one work with the kids. "
A number of TDSB schools already have dedicated ESL classrooms. For students Grade 4 and up with little to no English, the TDSB offers a Literacy Enrichment Academic Program (LEAP) where intensive ESL is provided.
For adults, the TDSB has adult centres for ESL support and five adult high schools where newcomers can fill gaps in their education.
Planning for the future
Alshami attends Overlea LINC, one of those adult centres. Her goal is to improve her language skills and hopefully to return to college or university.
"I'd like to study here. I will start to go to college when my English is good enough. I would like to go back to university and hopefully back to law school."
Karim is proud of his mother for taking the initiative to continue her education here in Canada.
"I think it is really good of her because other parents might have given up or taken lower paying jobs […] I'm not saying [that's] bad," Karim says. "My mum is working hard she is working on her vocabulary and working her way up."
When asked if she would return to Syria if the war ended, Alshami didn't think so.
"To be honest, if Syria was safe now and if people were to tell me to come back, I would say no. I feel now relaxed and I feel peaceful with myself here. I don't have work now, but once I start to speak well then I will go to college again.
"And plus my kids really like it here."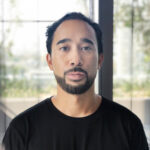 Mark is an entrepreneur, freelance writer and former journalist. He currently works as a brand consultant.