On Sunday, a group of peaceful demonstrators from various cultural and ethnic backgrounds blocked a train on the CN Railway tracks in Toronto as a sign of solidarity with Wet'suwet'en land defenders in British Columbia.
The action, organized by Rising Tide Toronto, was meant to raise awareness and demand the release of the Indigenous land defenders and journalists who were arrested on Nov. 19, when the RCMP moved in to enforce a Coastal Gaslink injunction into a site known as Coyote Camp that was being blockaded. Wet'suwet'en land defenders and their allies have been blocking access to their unceded territory, where energy company Coastal Gaslink wants to drill under the Wedzin Kwa (Morice River).
Sunday's action in Toronto saw around 100 people peacefully hold the line as police watched on. Indigenous land defenders from various nations including Six Nations, Aamjiwnaang First Nation and Wet'suwet'en gave powerful, rallying speeches while allies occupied the territory among cries of "SHUT DOWN CANADA" for about three hours. Sage burned as the beat of the drum filled the air. Food was provided. Celebration and resistance mixed peacefully.
The significance of the multicultural, multi-ethnic spirit of the demonstration was not lost on Eve Saint, a Wet'suwet'en land defender whose sister was arrested in the latest RCMP offensive (and daughter of Wet'suwet'en hereditary Chief Woos).
Immigrant settlers, she says, have a duty to learn of Canada's dark history and of Indigenous people's ongoing resistance against assimilation.
"They have used violence against us. They have killed us with diseases. They have overpowered us with guns and put us on reserves….In the past year, they're digging up graves of children who are Indigenous, thousands upon thousands," she told New Canadian Media at Sunday's Toronto blockade.
"This is an example of what this justice system is about. It's not about you or me or about a lot of people here. Why are we going to allow this? We have to push back."
An Indigenous demonstrator stands on top of a train that was blocked at a CN Railway crossing on Barlett Avenue in Toronto, near Dupont and Geary, on Nov. 21 for three hours. He is waving a Palestine and Mohawk flag. (Fernando Arce/New Canadian Media)

"RCMP, Stand Down." On Nov. 19, the RCMP moved into a site known as Coyote Camp to enforce a Coastal Gaslink court injunction against the land defenders. 15 arrests were made, including 13 land defenders and two journalists. On Nov. 22, the president of the Canadian Association of Journalists, Brent Jolly, wrote a letter demanding that federal Public Safety Minister Marco Mendicino intervene. "The arrests of Amber Bracken and Michael Toledano are just the latest instances of Canadian police detaining journalists who are simply trying to do their job," Jolly wrote. "The RCMP must be held accountable for their repeated violations of the rights of media in Canada. As the minister responsible for their oversight, we demand that you take immediate steps to investigate and correct the RCMP's actions and to ensure that going forward, journalists' right to report will be protected in this country." (Fernando Arce/New Canadian Media)

"Stop Coastal Gaslink's Invasion On Indigenous Lands." Demonstrators want investors including RBC Bank to stop investing in CGL's contentious project. (Fernando Arce/New Canadian Media)

Demonstrators massed alongside the train. (Fernando Arce/New Canadian Media)

Event organizers laid down sacred medicine atop flags and asked police to stay away out of respect. Indigenous people hold many plants as sacred medicine, including sage, which is burned at the beginning and throughout many ceremonies to cleanse, and tobacco, which is often given as an offering out of respect or mutual agreement. (Fernando Arce/New Canadian Media)

Sacred medicine was laid atop orange flags reading, "Every Child Matters." The orange T-shirt (and the colour orange, generally) has become a symbol of Indigenous resistance, respect and remembrance following the tragic discovery in May of hidden mass graves throughout former Residential Schools.

Demonstrator smudges. (Fernando Arce/New Canadian Media)

Sage burned during Sunday's peaceful blockade. (Fernando Arce/New Canadian Media)

Mohawk Warrior Flag waves behind ceremonial burning sage. (Fernando Arce/New Canadian Media)

Demonstrator burning ceremonial sage. (Fernando Arce/New Canadian Media)

Officers were asked to stay behind the medicine line. Here, a police officer steps over the sacred medicine. He later surveyed the scene, taking photographs of demonstrators. (Fernando Arce/New Canadian Media)

Indigenous demonstrators playing the drum. The drum is considered sacred and is played in ceremonies. (Fernando Arce/New Canadian Media)

Eve Saint is pregnant with her second child and had her first-born with her on a stroller as well. She said she was happy to see families with their children there because, she said, "We need to prepare them for a tough fight ahead, for both the climate and against abusive police … Every action we take, every action we do, we stand up to that. We stand up to the killings at the hand of the RCMP…We stand up to them ripping our children away from us at the hospital!…I know a lot of parents don't want to bring children into this world, especially children of colour, Indigenous, Black – they're scared for their children. But we need more children like them to help this world. We got to equip them to use their voice. Equip them to be powerful!" (Fernando Arce/New Canadian Media)

The Two Row Wampum flag seen flown here beside Eve Saint represents Sovereignty. "This belt symbolizes the agreement and conditions under which the Haudenosaunee welcomed the newcomers to this land," – Oneida Indian Nation. Eve thanked all the Indigenous relatives that showed up, including warriors from Tiny House Warriors, who are standing up against a Trans Mountain project. "This is what power looks like!" (Fernando Arce/New Canadian Media)

Shiloh Hill, Eve Saint's partner, said asking to sit with the government has only been met with guns. "They just do what they did to us on February 7 (2020): they send their soldiers of colonialism in with guns, pointed at my partner (Eve Saint) who is pregnant. Pointed at my daughter." (Fernando Arce/New Canadian Media)

Though the demonstration ended peacefully, police remained watchful as they protected CN's Rail. (Fernando Arce/New Canadian Media)

"Land Back." That's a popular slogan – or, rather, more like a war-cry of Indigenous people and their allies. Another one is: "No Justice. No Peace." (Fernando Arce/New Canadian Media)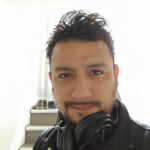 Fernando Arce is a Toronto-based independent journalist originally from Ecuador. He is a co-founder and editor of The Grind, a free local news and arts print publication, as well as an NCM-CAJ member and mentor. He writes in English and Spanish, and has reported from various locations across Canada, Ecuador and Venezuela. While his work in journalism is dedicated to democratizing information and making it accessible across the board, he spends most of his free time hiking with his three huskies: Aquiles, Picasso and Iris. He has a BA in Political Science from York University and an MA in Journalism from Western University.