Pasted atop a collage of newspaper clippings about racism, is the image of a young Black boy wearing an orange prison jumpsuit. A white barcode is drawn on his forehead. His eyes are all white, no pupils. 
"The white eyes represent the Eurocentric society and consequential 'white' cultural superiority we see everywhere," says Ibrahim, 15, of his piece of art, which he has titled, "Hell on Earth." It's part of the Royal Ontario Museum's "My Pandemic Story" exhibit, running free to the public until March 27, 2022, in Toronto, Ont. ROM asked NCM to only use the artists' first names.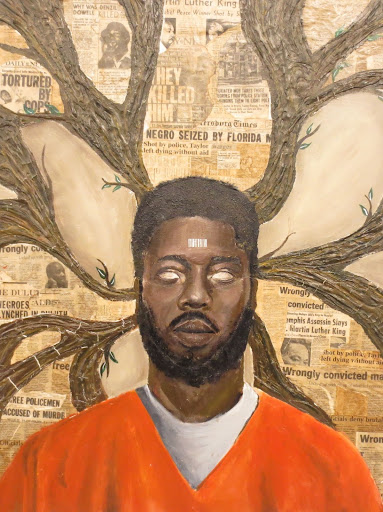 "Many people say that the eyes are the window to the soul, but the person in my art has no eyes, which means nobody cares about this man's soul, but also that he is anonymous and is just another victim."
A worse pandemic
After almost two years of COVID-19, ROM curators asked Canadian youth in Ontario to express their lives throughout the pandemic through art. The curators received 2,300 submissions, from which "My Pandemic Story" was crafted.
Some of the main concerns expressed by children and youth ages four to 18 were isolation, fear of being infected, and uncertainty about the future and sadness. 
But hate and racism, some of the young artists expressed through their art, had become an even worse pandemic.
"During the pandemic, racism against all minorities including Blacks, Muslims, Asians, and Indigenous peoples, has become a more significant concern," says Ibrahim, who wants to be a lawyer when he grows up. 
According to ROM curator Justin Jennings, the approach to the youth was simple: "We want to learn from you."
The artworks displayed various techniques and came from as far as Thunder Bay up north, Lancaster to the east and Windsor to the south of the province.
While only 60 of the works are currently featured in the ROM's Michael Lee-Chin Crystal gallery, the rest of pieces can be seen through the Digital Submission Gallery. The short-list was selected in a way that "demonstrated the vast array of emotions and experiences" throughout this pandemic, Jennings explains. 
Lived experiences
The interactive exhibition allows members of the public to navigate screens with their feet through panels on the floor rather than their hands. People are also encouraged to write about their experiences on a wall.
"We can appreciate many emotions through these pieces of art. We want to help them deal with struggles and reflect about issues like Black Lives Matter or climate change," says Jennings. "When you walk around this exhibition, you see a little bit of yourself."
The Black Lives Matter wall in this exhibition also includes the work of Abegail, from Scarborough, who painted "Mighty Melanin Magic" — a brown face with black hair and beard depicting "the pure beauty of Black culture, men, and women," she says.
Syrus Marcus Ware, an artist and a founding member of Black Lives Matter Toronto, worked as an external advisor for the exhibition.
He told NCM there were a lot of submissions that spoke to anti-Asian and anti-Black hate and racism but also to Black Lives Matter, which is encouraging.
"There were pieces that thought through the lived experience of racism. I was so moved by these works of art that spoke to the core issues facing society today," Ware says.
Similarly, Katherine, 18, who grew up in a predominantly Asian community in Richmond Hill, says the constant news of Asian citizens being targeted and attacked drove her to the conclusion that "Hate is a Virus." That's also the title of her artwork, which depicts a girl wearing a mask with the same phrase.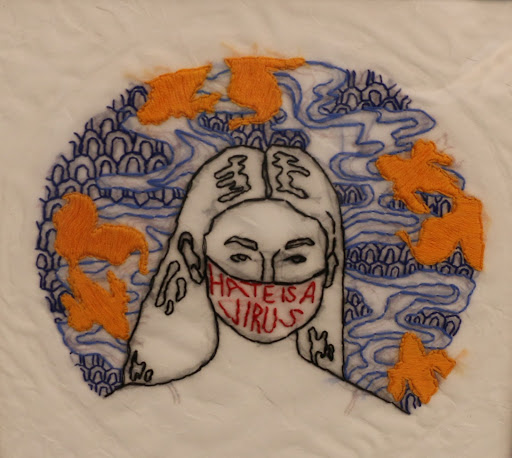 "The devastating repetition of incidents began to create fear in my mind and made me start to worry for my relatives who are forced to face the pandemic and these acts alone," said Katherine, a Malaysian-Chinese descendant who's been inspired "to speak up and take action for change."
For the Bangladesh descendant Salsabil, 18, the pandemic provided a time to reflect on identity, which is expressed through their work simply titled, "Boy."
"This pandemic made me have several gender identity crises and think mostly about how I see myself as a boy wearing a girl's body," Salsabil explains.
'Close, yet so far'
When four separate panels come together, an image of a hand that is reaching for something becomes visible. ROM curators chose the piece, titled "Ambiguity," to represent the exhibit. 
The artist, Choigoh (Hannah), 18, a Mississauga resident with a South Korean background, explains the piece expresses the dilemma about the "impossible touch" — that is, "to be so close, yet so far; safe, but not safe; vaccinations, but no vaccination."
"By purposely distributing my hand across four layers, I am using deception to show an ambiguous disconnection," the young artist explains.
Ware, who is also a former coordinator of the Art Gallery of Ontario's youth program, defined these artworks as "sophisticated, beautiful and strong pieces." 
Yet, he stresses that a lot of work remains to be done to stamp out white supremacy and end racism. 
For Jennings, the exhibit speaks "not just about what happened, but what will happen, what is the next step as we come back together as a society."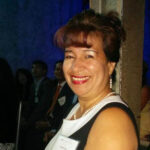 Isabel Inclan has worked as a journalist for more than 20 years, in both Mexico and Canada. She began working as a foreign correspondent in Canada in 1999 for Mexican media. She has been a New Canadian Media contributor since 2018. Her main areas of interest are politics, migration, women, community, and cultural issues. In 2015, Isabel was honoured as one of the "10 most influential Hispanic Canadians." She is a graduate of Masters in Communication and Culture at TMU-York University. She is a member of CAJ and a member of the BEMC´s Advisory Committee.