It is with awe and a heavy heart that 21-year-old Aganze Bihamba watches the massive national effort to bring in Syrian refugees. Bihamba, a former refugee himself, fled Congo and lived on the streets of Kenya for 14 years.
Much of his life has been spent in tattered clothes, sleeping in the streets or mud huts trying to find shelter from the scorching sun and pelting rain. In September, 2014 he arrived in Ottawa after being sponsored through the World University Service Canada student refugee program. He's amazed that the Canadian government is fast tracking the settlement of Syrians, but he can't help but wish he could harness some of that goodwill for his own cause.
While doors open for Syrians, they close for others.
Processing times
"I have three sisters living in Nairobi on their own, and I can't get them out." His sisters are 19, 17, 16 years old.  Bihamba's mother died of heart failure in February, while his dad abandoned them years ago. He needs at least $30,000 to sponsor his sisters to Canada, an impossible amount for a full-time student on OSAP (Ontario Student Assistance Program). Bihamba has reached out to churches and community groups for help, but has been told they are devoting efforts to settling Syrians or are unwilling to contend with the lengthy processing times involved in processing African refugees.
"You shouldn't discriminate," a demoralized Bihamba pleads. "If your life is in danger you need help. Don't ignore the Congolese — they're all running for their lives."
Pleas such as Bihamba's are being heard more frequently by the Canadian Council for Refugees.
"The attention to Syrian refugee families, make some fellow citizens feel they're being neglected," says Executive Director Janet Dench. She says the massive government effort settling Syrians is proof Canada can mobilize quickly to help refugees anywhere if there is political will. The federal government's Syrian refugee plan will cost more than  $1 billion.
In order to settle 25,000 Syrians in just a few short months, 500 visa officers have been mobilized. Some of them have been pulled out of retirement. Immigration officials say they have not diverted staff from other embassies to deal with the Syrians, but Dench says more resources need to be devoted to other visa offices, in particular those in Africa. Refugee applications there can take more than five years to process.
"That sends a message that people of African origins are less deserving than everyone else," says Dench.
"That sends a message that people of African origins are less deserving than everyone else."
Transportation costs
Another example is the federal government's recent decision to waive transportation costs for Syrian refugees, but not other groups. Transporting refugees to Canada can cost as much as $10,000 a family, a big amount for newcomers to pay back. CCR is actively lobbying the federal government to waive travel loans for all refugees.
The federal government is also increasing the incentives for private groups to sponsor Syrian refugees. Immigration, Refugees and Citizenship Canada (IRCC) has now opened its Blended Visa-Office Referred (BVOR) Program to 'Group of 5' sponsors. BVOR refugees are pre-screened and can arrive within a month of being selected by a group.
The refugees on the BVOR list are often considered more desperate cases. They're victims of torture or have serious medical issues. To move these cases quickly, the government provides six months of income assistance for BVOR refugees, meaning interested private groups only have to raise half the recommended amount required for settlement. Prior to September, only Sponsorship Agreement Holders (SAH) such as churches had access to the BVOR list.
Non-Syrian voices
Scott McLeod sits on the SAH Council. He says private groups who want to sponsor non-Syrian refugees on the BVOR list should get income support from the government.
"It's fair criticism to ask why can't we do it for anyone else."  McLeod says in his presentations to private groups, he tries to emphasize that all refugees regardless of where they are from deserve consideration — "but money could be the difference."
Mcleod says the chorus of non-Syrian voices asking for equal treatment is getting louder.
"These voices aren't angry, but they're pleading."
"Let's not be too narrow and expand beyond Syrians. Some groups have been waiting even longer and are even more desperate."
For Dench, Canada's response to the Syrian refugee shows that our country has the financial resources and human expertise to act quickly in the face of a crisis. Dench says it's obvious Canadians want to help, and now it's time to expand our scope. It's more than just Syrians who are fleeing violence and conflict.
"Let's not be too narrow and expand beyond Syrians. Some groups have been waiting even longer and are even more desperate."
There are are more than 13 million refugees worldwide, 25 per cent of that number are in Africa. Among them are Bihamba's sisters. Three orphaned teenagers.
Every month he sends them $150 USD. The amount ensures they get at least one meal a day and pays the rent on their small apartment. From halfway around the world, Bihamba provides shelter, but not safety. For that he needs help, for doors to open.
"I have hope, but it's fading."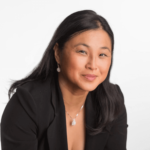 Judy is an award winning journalist with two decades of journalism experience who aims to be critical, yet compassionate in her reporting. She has reported extensively for CBC News on television and radio and has produced documentaries for CBC's flagship investigative program, The Fifth Estate. Judy has written for the Globe and Mail, the Toronto Star and the Ottawa Citizen. She has also been nominated for two Canadian Screen awards for breaking news and a National Magazine Award for an Ottawa Magazine expose of a child trafficking ring. She has reported extensively on the #MeToo movement and human rights cases, and filed LIVE breaking reports from disaster zones. She is also NCM's Chief Mentor.