Diyala Sulaiman, a 25-year-old Syrian woman, dreams of leaving the Iraqi refugee camp that she and her children have lived in for the past six years, hoping to move to Canada where she could live in dignity and without fear.
She wants Canada to grant her family asylum so she can live a better life in this country.
"It is hurtful when I see my dreams every day, but I cannot achieve them," Sulaiman said  in an interview by email.  "I am in a place where I am not respected. I hope I could go to Canada to search for my children's dignity."
Sulaiman reached out to New Canadian Media with the hope that telling her story would help her and her family in their bid to permanently leave the refugee camp and come to Canada.
Sulaiman is one of nearly 260,000 other Syrians who fled to Iraq after the Syrian revolution began in 2011.
Sulaiman escaped Syria in 2016 after battles broke out between The Islamic State of Iraq and Syria (ISIS) and other forces in Al-Hasakah, a city in northeastern Syria where she was born. 
Since the civil war started, about seven million Syrians have been forced to flee their country, another 6.9 million have been internally displaced, and more than 13.4 million people still need humanitarian assistance, the United Nations High Commissioner for Refugees says. 
A dream come true 
Sulaiman told New Canadian Media that her dream of studying engineering came true in 2014 when she was accepted to Al-Furat University, College of Engineering, in al-Hasakah. 
In the same year, she tied the knot with her husband, Dishwar Ali. It was her heyday. 
Despite growing panic about the war, Sulaiman concentrated on her studies, coming up with ideas of how to rebuild houses and buildings in a modern style.
But in her second year of studies, ISIS began advancing on the city with everyone hearing about the brutality of the group.  One night, explosions rocked her university, ravaging the campus.
"It was the first time I was scared and thought I could not study any longer. We thought it was the last day of our lives."
ISIS arrived in the city, raping some female students, and kidnapping and torturing some male students,, including one of her husband's cousins. After those horrors, her family was forced to leave for somewhere else. 
"I ended up escaping to Iraq rather than Turkey because the Turkish government is racist towards the Kurds as it disrespected many Kurds and my husband had already fled to Iraq."
The dream of rebuilding houses in a new style faded away. Instead the houses were reduced to rubble and Sulaiman's study was uncompleted. 
Stuck in a camp
Sulaiman reunited with her husband in a camp called Dara Shukran, some 21 kilometres west of Erbil, the capital of the Kurdistan Regional Government (KRG), where about 13,000 Syrian refugees live. 
The couple also registered
with the UNHCR, hoping to go to  Europe or North America. Sulaiman thought they would stay in the camp for a short time before leaving for a new life, but things did not go as hoped. 
They have now lived in the camp for six years and their children Mohamad, 5, and Lia, 2, were born there. 
The situation in Iraq deteriorated more and more and they regret their decision to flee there.  "We could not go back to Syria since it was no longer a safe country to live in," she said.  "We planned to go to Europe via sea by boat, although we had to put our life at risk." 
They are stuck. 
Living in limbo in poor conditions
After being displaced and leaving everything behind in their home country, poor living conditions in the camp are gradually ruining their lives.
Basic human rights, along with electricity, clean water, air conditioning and heating systems are their major issues. During the summer months, the temperature is usually more than 45C in Iraq.
"The electricity was cut at 5 a.m. My children get up and start screaming." 
Despite near-freezing temperatures in the winter, they do not have a heating system or natural gas. 
Another significant problem is the poor quality of the education system in the camps.
"I am worried about the future of my children because schooling in the camp is too weak," she told NCM. 
Yet she cannot live outside the camp to have more freedom of choice and work because they can't afford to rent accommodations.
Facing discrimination 
Sulaiman says the majority of Syrian refugees in Iraq have difficulty finding jobs because they do not have a vocational certificate.
Even if they could find jobs outside the camp, employers take advantage of Syrian workers by paying less than standard wages, or even not paying at all. 
Sulaiman said her husband worked for someone outside the camp for more than 80 days, but he did not get paid and he couldn't go to court because he is Syrian.
"We really badly needed the money because I was pregnant with my son. I had to visit a doctor but I could not."
They are also not respected when the local people know they are Syrian refugees. "We have been deprived of our minimum rights to learn and live better."
Calling on Canada to help
Sulaiman is desperate. Their lives are in limbo and conditions get worse and worse everyday..
Through NCM, she is calling on the Canadian government to grant her family asylum before they become homeless and their lives become even more at risk in a place that's unsafe and unsecure.
"I wish the Canadian government would accept us because it is the best safe place to live as humans and have rights to study, work, and have dignity. "
Sulaiman is tech-savvy and she can speak three languages: Kurdish, Arabic, and English and she is learning French. She has not given up her dream to be an engineer and would love to come to Canada to complete her studies and prove her abilities.
"If I arrive in Canada, I will tell who I am and show my abilities and become a good engineer."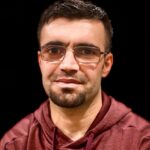 Diary Marif is an Iraqi Kurdish journalist based in Vancouver, Canada. His writing has appeared in the Awene weekly, Livin, and on KNNC TV as a documentary researcher by the name Diary Khalid. Diary earned a master's degree in History from Pune University, in India, in 2013. He moved to Vancouver in 2017, where he has been focusing on nonfiction writing. He can be found on Twitter: @diary_khalid.