More than 80 per cent of Black, Indigenous, and People of Colour working in the advertising and marketing industries have experienced microaggression in the workplace, and 30 per cent have reported negative mental health impacts from workplace experiences. These are just some of many disturbing findings of a recent survey on the impact of racism in Canada's creative industries. 
The study, called "Visible & Vocal," was undertaken by People of Colour in Advertising and Marketing (POCAM), an industry organization founded in May 2020 to empower BIPOC professionals so that they can succeed in a systematically white working environment. Its results were presented during an online session on Feb. 4.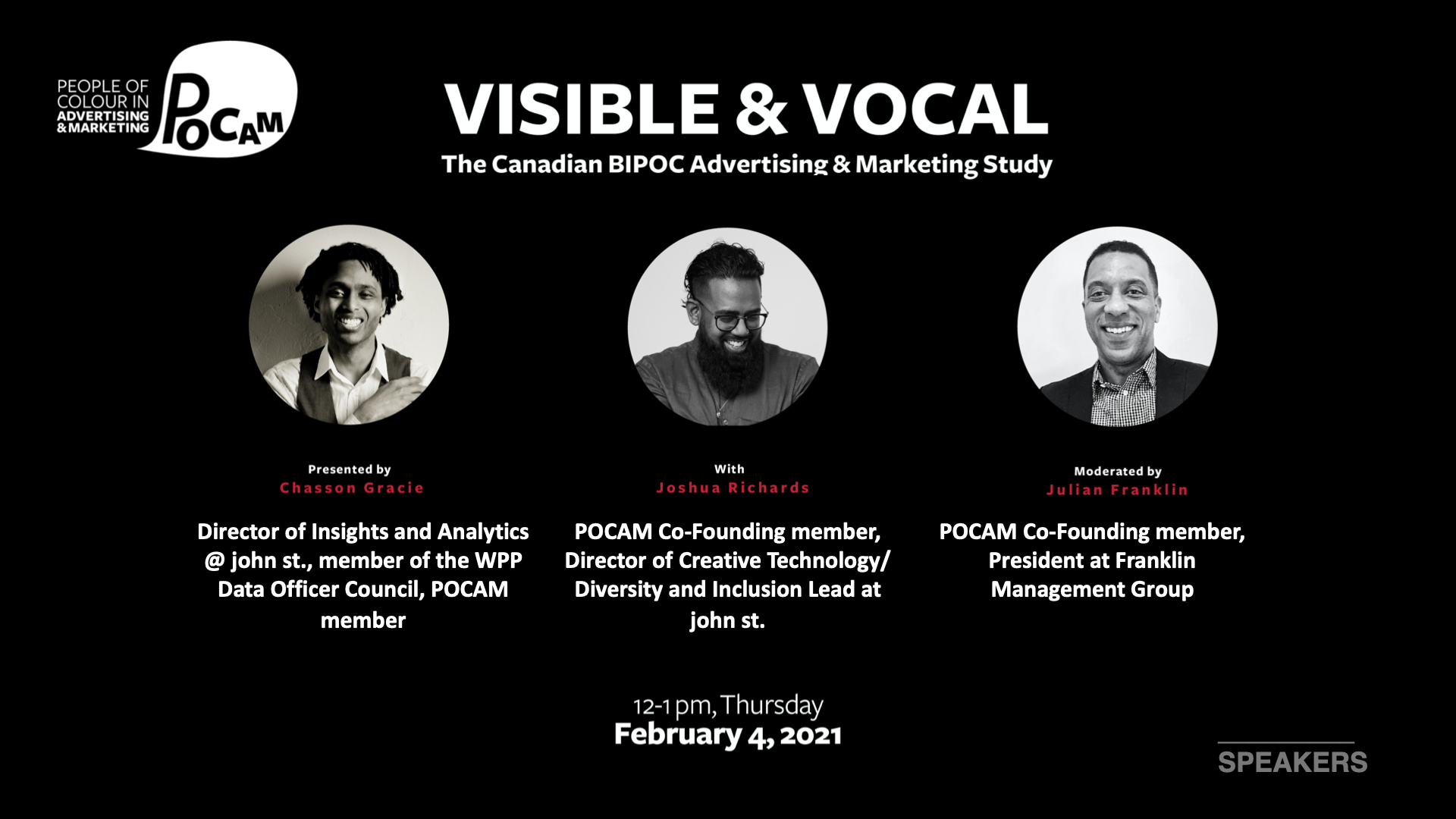 Conducted online between Nov. 11 and Dec. 1, 2020, the survey was taken by 309 respondents, 48 per cent of whom work at creative agencies, 17 per cent in client companies, and the remainder in media and production agencies. To qualify as a respondent, one had to be a Canadian resident and belong to a race, ethnicity, or classification other than White or Caucasian.  
Overall, only 12 per cent of the BIPOC professionals in creative industries felt that race relations in the country were good. 
Microaggression in day-to-day work
Microaggression denotes hurtful remarks, questions, or actions directed to a BIPOC person, although without any harm intended, and it is, sadly, a daily reality at work—not only for first-generation immigrants. In fact, nearly a half of the surveyed professionals were either second- or third-generation Canadians, while 52 per cent were born abroad.
As one of the respondents put it in an open-ended question in the survey, "I have to code switch to be more like them…I do not bring myself to work, I bring what is expected of me to work.  I do not have the same level of confidence to say/do things as my white colleagues." 
BIPOC under-represented in leadership positions
The fact that BIPOC are highly under-represented in senior leadership positions in the industry is both a cause and symptom of negative workplace experience.  While 53 per cent of the respondents have lived in Canada for over a decade, 56 per cent have been in junior and mid-level positions for less than 10 years—suggesting that BIPOC talent feel compelled to leave the companies they work for.
Another disappointing finding is the lack of leadership to guide BIPOC talent at the workplace.  Lack of visibility of people like themselves in senior positions seems to act like a deterrent for members of BIPOC communities to continue to work in the industry. As many as 78 per cent mentioned that they had no mentors/sponsors, leading to alienation and forced assimilation in order to succeed. "This speaks to the inherent systemic bias," authors of the study noted. 
While mentors are meant to help develop and improve skills, a sponsor is needed to help navigate the system, corporate culture and company politics, lack of familiarity of which might keep a person from advancing their career.  
Higher education among BIPOC
Ironically, BIPOC talent over-index on education: 83 per cent hold a Bachelor's degree or higher, and 61 per cent come from a middle-class or higher socio-economic background. This testifies to the extra hours of work that Black, Indigenous, and People of Colour need to put in to achieve success.  
The study also included respondents from the LGBTQ community. BIPOC professionals who self-identified as LGBTQ were less likely to have experienced microaggression, but more likely to have experienced racial harassment compared to heterosexual BIPOC. Overall, BIPOC LGBTQ persons agreed to a lesser degree that their company was committed to diversity and inclusion efforts. 
Key Implications of the Visible & Vocal study
The study has three key implications, authors said. First, employers must take microaggressions faced by BIPOC talent and its impact on their mental health seriously.  Although 66 per cent of the respondents from the agencies felt that their employer was taking positive steps, inclusion of BIPOC in senior executive positions was needed. 
Second, BIPOC professionals need mentors and sponsors to guide talent and nurture careers. And third, companies need to be held accountable for the absence of Black, Indigenous, and People of Colour in executive roles.  
POCAM is determined to push for the change it wants to see. 
"We are building our Steering Committee and organizing to have many hands leading work across the breadth of initiatives we aim to put in motion this coming year, Justin Senior, Director, Sales and Marketing at SAMA Advertising and a co-founding member of POCAM who also serves on the Steering Committee, told NCM. "We are looking at several areas including but not limited to formalizing as a non-profit, Call for Equity amplification, developing working groups to lead future initiatives."
The authors of the study also made some recommendations around shifts that the marketing industry needs to make to become more diverse and inclusive. With the changing demographics of the country, there is an urgent need for inclusion of BIPOC audiences and consumers, who are currently often ignored.  While solving business problems, BIPOC perspectives must be considered both on the client and on the agency side to increase creative output.  
Future plans to track progress
POCAM has also identified a few focus areas for future editions of the study. One is a deeper examination of talent from East Asian backgrounds. Another is exploring why Black and South Asian respondents seem more skeptical than people of other ethnic backgrounds about promises made around diversity and inclusion.  In terms of outreach, a potential area of improvement was ensuring better participation from the Indigenous community.  
The results of the study will also influence POCAM's own plans. Apart from making efforts to be a more vocal advocate and watchdog in the industry, the organization will facilitate the mentorship that respondents are looking for and continue to hold employers accountable for their actions.   
The organization has already galvanized 71 agencies and clients to sign the Call for Equity, a group commitment to equity in the industry. 
Justin Senior is hopeful of the progress that is to come. Other plans for the future include releasing a self-reporting tool that will require signatory companies to track their progress toward the goals outlined in the Call to Equity pledge.
"Sustaining this conversation keeps the pressure on their leadership to do more and unveil their results," he says. "Several CEOs have begun to share aspects of their growth experience. For progress to take place, transparency will continue to be a major theme as we build out future phases of the Call."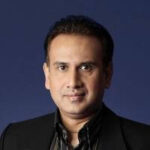 Abhijeet Ray is an advertising and media sales specialist, who has been a columnist on his areas of specialization in marketing magazines overseas. He has worked with multinational advertising agencies in India and South East Asia such as JWT, Lowe, Ogilvy, and is currently the Vice President, Media and PR at Ethnicity Multicultural Marketing Inc. Abhijeet has taught Advertising Management at Centennial College, and is an active member of the NCM-CAJ Collective.