Elsie James (83) pulled into Fernie, British Columbia, with her family when she was seven. The rain-drenched moon raised its Aladdin's lamp to the stars, conjuring magical shadows into being. The next morning, crimson streaks were smeared across the skyline, mountain topping mountain. Entranced by a magnificent view of the shimmering mountaintops, James — a prairie girl by birth — announced to her mother that she would live among crags when she grew up.
Sure enough, we find her among the mountains, symbols or images of other reality, 74 years later at home in High River, Alberta and, for months at a time, in Nepal —  a poor land-locked state between Tibet and India —  which features eight of the world's 10 tallest mountains.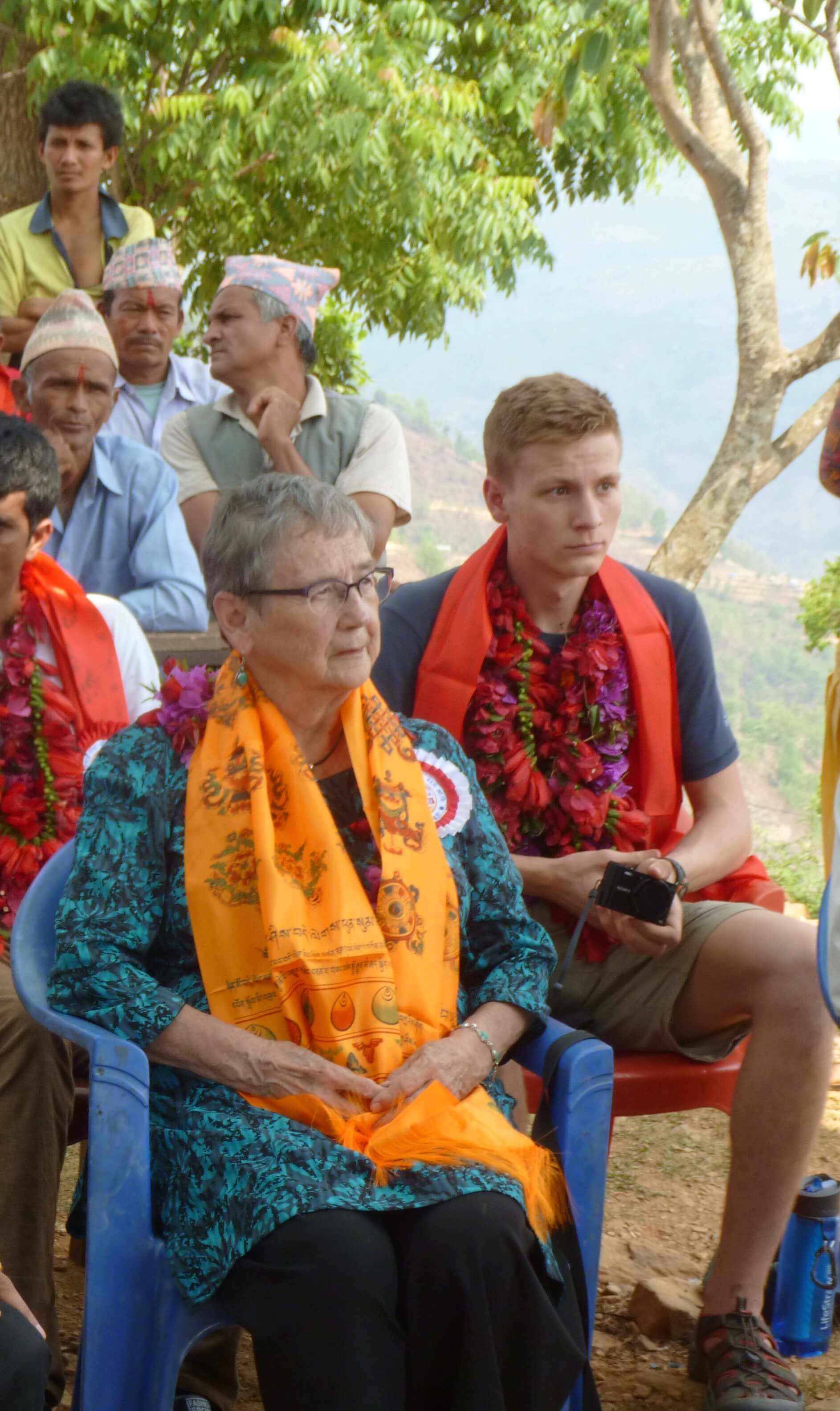 "I've been hypnotized by mountain ranges ever since that morning in Fernie, so, when I retired after three decades in banking, I trekked to Mount Everest, Nepal, in 1995," James said on the phone from her Alberta home. "My metaphysical connection with mountains and the Nepali people led to a second career short on financial compensation, but long on self-fulfillment."
International charities have been working in Nepal since 1951. Elsie James of Calgary, Medical Mercy Canada (MMC)'s Nepal Country Manager, has been making two trips there every year for a total of five months annually, usually in the spring and fall, the timing depending on needs at the other end.
First encounter with Nepal
Her first official trip to Nepal was for an NGO called PartnerShip Canada in 1996; James was there full-time until early 2000, except for brief visits to Canada. She continued to work with village schools and supported her activities by bringing tour and trekking groups to Nepal after PartnerShip downed shutters until 2007, when Medical Mercy Canada, a registered Canadian charity, adopted her projects, taking them under their wing.
James began working with Kanti Children's Hospital in Kathmandu 2008. She organized a fund-raising trek to the Everest Base Camp on her 75th birthday. New plumbing, electrical wiring, the installation of a new kitchen, painting the building inside and out, and replacing the leaking roof, were needed at the hospital's Shelter House. This is where family caregivers stay while helping their hospitalized children.  Everyone on the trek did fundraising in their communities, and a portion of the trek fee also went to the Shelter House Fund.  The trek, called "Trek 4 Kanti Kids" (aka Granny's Grunt), raised approximately $29,000.  The work was completed in 2011.
MMC also has an emergency fund that helps families unable to pay for extended treatment, blood transfusions and special diagnostic tests.  The Shelter House is managed by a Nepali NGO, Social Action Volunteers-Nepal (SAV-Nepal). In 2015, SAV's annual reports showed 6,801 occupied "bed- nights" in the Shelter House Dormitory and 146 children financially helped to treatment and diagnostic services.
Between 2005 and 2014, they were improving sanitation at village schools, organizing annual medical or dental clinics in remote villages, and operating a mobile medical clinic that employed four Nepali health workers who made the rounds to four remote locations where villagers lacked access to health posts or hospitals.  The free clinics were served by Nepali and foreign volunteers.
The last, large medical/dental camp was in 2012. Like its predecessors, it included workshops, teaching villagers the importance of clean water, water treatment options, sanitation and hygiene. By 2012, travel and food costs within Nepal had become too expensive for large mobile clinics to continue to be viable.
Road access to centrally-located District Hospitals had also improved, enabling transportation of patients from villages to District Hospitals for medical care.  "We are now concentrating more on health education and prevention than active treatment," says James.
Providing education and water
Beginning in 2006, MMC trained and paid four village youths in Tipling Village Development Council (VDC) to act as Classroom Assistants in three schools, to help the overworked teachers.  The Tipling villages are in a high valley just south of the Tibet border in northern Nepal.  The attendance of teachers and students had been irregular, and the villages unable to solve the problem.  One teacher had three grades with a total of 105 students in ages ranging from 5 to 14 — and was expected to teach them all.  Attendance and parental support of the schools improved with the provision of help for the teachers. "We supported this project for five years until the situation improved, and then moved on with the local government taking more responsibility," says James.
MMC did its first major water project, bringing water to taps serving 84 homes in Khare Village Development Council, Dhading District, in 2013. Three reservoirs were built, and an electric pump raised the water from a spring 500 feet into a storage tank above the village.  Gravity-fed pipelines from the reservoirs distributed the water to 14 tap stands conveniently located to clusters of homes in the local villages.
This was a joint project funded by MMC and a partner, the Bethany Baptist Church in Puyallup, Washington. Before this, the village women carried water cans from the spring in baskets on their backs, 500 vertical feet to their homes over a rough, steep trail. This was a project that made a sustainable difference to everyone in the villages served —  especially the women who no longer had to carry water to their families at least twice each day.
School for the deaf
That same year of 2013, MMC joined hands with the founders of  the Swabalambi Primary School for Deaf Children in Dhading District.  The school opened in 2012 in borrowed quarters, an unfinished farm house, but needed to move from there. There was no educational facility available to children with profound hearing loss anywhere in the District.  One was sorely needed.
Today, the school is in new quarters on land donated by a local farmer.  A partnership of several donor agencies, including MMC, the local community and municipal government, made this dream come true.  The school now has three floors —  incomplete, but functional.  Its 64 students live full-time at the school while becoming proficient in Nepali sign language and standard curriculum courses. Its 64 students live full-time at the school while becoming proficient in Nepali sign language. There are plans for parents' sign-language workshops and vocational training for students not wanting to pursue academics.
Much of Nepal, including its capital city Kathmandu, was savaged by earthquakes in 2015. Says James, "The April 25 and May 12 earthquakes of 7.8 & 7.3 magnitudes on the Richter scale, did not physically affect the whole country.  About 14 of 75 districts were affected, with the brunt falling on seven districts, including Dhading, where we were working. There were more than 400 aftershocks measuring 4.5 or more since the initial quakes."
MMC reacted immediately after the quakes.  Emergency supplies were gathered and delivered to devastated villages in its service area, putting other projects on hold temporarily.  Then, in the following 10 months, with the help of many donors, including Canadian Nepali organizations, nine villages' schools were rebuilt and ready for occupancy for the new school year, beginning April 2016.
Families hope to vacate their temporary shelters in resettlement camps before another monsoon starts in mid-June, but their future is still a question mark and recovery a long, dark, winding road into the unknown.
Calgary Nepalis
A school at Muralibanjyag, the first of nine to be built by MMC, was completed in November 2015 in partnership with the Calgary Nepali Community Association (CNCA). They did not respond to e-mails sent by New Canadian Media.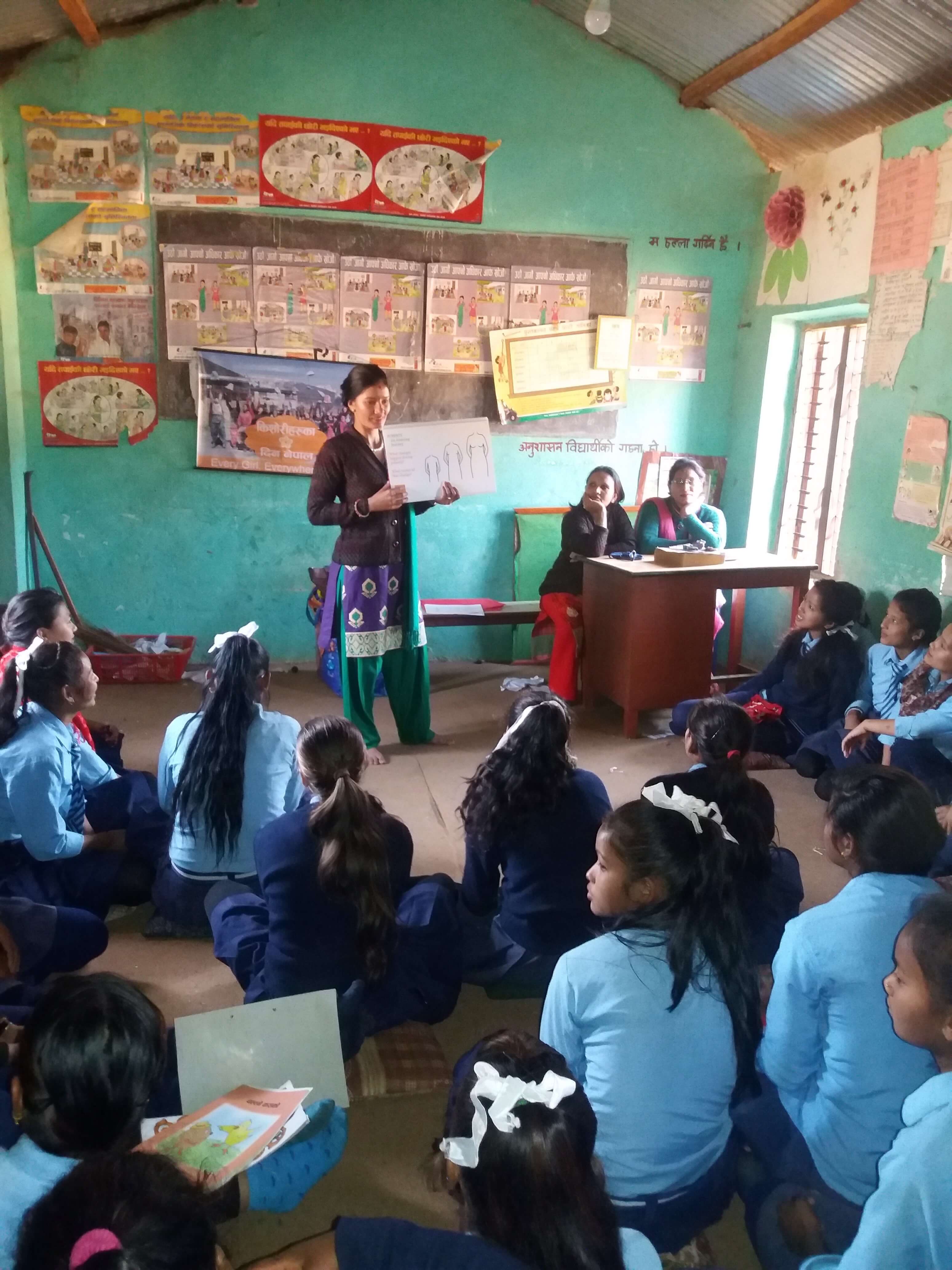 Another school was inaugurated in Dhading 10 May 2016, in transitory sunshine and clear skies. District, VDC, and political party leaders thanked the sponsors, organizers, volunteers and construction team. The last three speakers had, however, to shout to be heard over thunder and lightning. This project was also in partnership with the CNCA.
Ramesh Dhamala, district president of the Nepali Congress Party, unveiled a donor plaque with James.
Mules were the only carriers that could access many places MMC worked, till recently. That changed with the introduction of jeepable roads.
(At right, micro-enterprise trainer Bimla Dhakal teaching menstrual health education at a typical countryside school in the Himalayan foothills.)
MMC inaugurated the Single Women's Hostel in Dhading Besi in partnership with the local chapter of  Women for Human Rights, Single Women's Branch , in May 2014.  The hostel provides a temporary dormitory for women in transition, and vocational training rooms. (Micro-enterprise Trainer, Bimala Dhakal, teaching the girls menstrual health education at a typical countryside school in the Himalayan foothills, picture at right)
"Currently, we are sponsoring a start-up program jointly funded with a US NGO, 'Project for a Village,' for a micro-enterprise group that is producing menstrual hygiene kits to be distributed in conjunction with an education program for girls in Grades 5 through 10 in the District's government schools," continues James: "This program was founded by 'Days for Girls' and is being expanded into Nepal."
The Karuna Girls' School and Women's College in Lumbini, Buddha's birthplace, was a project that was brought to MMC by Trevor Ironside of Calgary, who was sponsoring it, and raising money to establish the school in partnership with a Canadian Engaged Buddhism Association (CEBA). MMC adopted the program.  Ironside is now president of its Board and MMC still very involved in the project.  "Trevor is the one who manages this one," continues James: " It is a great project and they are now hoping to expand on property they have acquired, to build a hospital and nurse training program in conjunction with the school one day."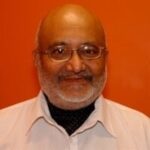 Ashoke Dasgupta is a freelance journalist and former editor of Compassionate Friend, Beauty Without Cruelty-India's magazine. He won a UNDP - Goethe Institute Award for Environmental Journalism in Nepal 1995, and the Canadian Ethnic Media Association's Best News/Feature Awards for 2004 and 2006. He got a scholarship to study journalism at Sheridan College Toronto in 2007, graduating with high honours. He has done internships at the Winnipeg  Free Press and CBC Radio, and been published in the Winnipeg Free Press, the Calgary Herald and the Toronto Star.