What happens when a community educator, organizer and activist gets tired of not being heard by Members of Parliament? She runs against them.
Andrea Vasquez-Jimenez ran for the New Democratic Party in the 2018 provincial election for Toronto's York-Centre riding, finishing in second. She's now vying to become the MP for York-Centre in the October 21 federal election.
"Because of the Liberal and Conservative governments' choices, inequalities continue growing and life keeps getting harder for us everyday people. Liberals have promised many things; however, those promises are constantly broken whether it be regarding electoral reform, indigenous reconciliation, climate justice, pharma care, childcare and others," Vasquez-Jimenez said in an interview with New Canadian Media. 
Vasquez-Jimenez is Afro-Latina and was born in Toronto to parents who immigrated to Canada from Columbia. She's completing her Master's in Social Justice Education at the Ontario Institute for Studies in Education (OISE), at the University of Toronto.
NDP and the community
Vasquez-Jimenez used to work at the Toronto District School Board as a Student Equity Program Advisor. She worked alongside students, educators, staff, and community members to push for transformative shifts in school's culture to ensure healthy and equitable spaces. According to her bio, she wanted to "challenge and seek to dismantle racism, anti-Black racism, anti-Semitism, Islamophobia, sexism, sizism, ableism, classism, homophobia, transphobia, ageism, xenophobia and more."
In this upcoming election, "we do not have to choose between bad or worse; we can choose better. We can get different results if we choose differently and vote for an NDP government that is in it for all of us. We can choose a government that has a vision for a fair, just and sustainable Canada that leaves no one behind. It's not just a dream it's a plan."
This Toronto district was a Liberal bastion for a half-century (1962-2011) until Conservative Mark Adler won. Liberals reclaimed the riding in 2015 following Michael Levitt's victory.
The constituency has a large Hispanic population. The riding is home to the Centre for Spanish-speaking People, a community centre that helps Latin American newcomers. Levitt knows that well.
He's hosted and participated in events like a reception for Hispanic Heritage Month (October) and the School for Civics. It's a political, civic workshop organized by the Hispanic Canadian Heritage Council.
Vasquez-Jimenez riding high
One week before the elections, Vasquez-Jiminez feels confident that she's won favour among the voters of her riding, especially Latin-Canadians. Last year, she participated in the School for Civics.
"I am at the forefront because I represent an alternative to the problems that citizens face every day," she said. Adding that even the number of members in the NDP association in her riding has increased.
The NDP's climate action plan tops Vasquez-Jimenez's list of priorities. "We will end fossil fuel subsidies. We will ensure that the big corporations, the big polluters and the super-wealthy pay their fair share. In addition to stopping tax evasion, we will be creating new, just and progressive ways to create revenue. For example, the Parliamentary Budget Officer even stated that with our 'super wealth tax', which is a 1 per cent on fortunes of over $20 million, it will bring in a revenue of $70 billion in the first 10 years. These are revenues, among others, that will be reinvested back into our communities and create and expand our public services for all of us." 
Vasquez-Jimenez explained that her party put forward a bold $15 billion climate-change plan that will create 300,000 new jobs. The plan provides support to workers and communities transitioning towards a carbon-free economy.
Vasquez-Jiminez, the only identified Afro-Latin NDP candidate, wants to inspire others to participate in politics. Her message to women: "make a difference, fight for communities where no one's excluded."
Some of the NDP's campaign promises include: to ensure a minimum wage of $15, place a cap on cellphone and internet bills, commit $10 billion over four years to create half a million new childcare spaces, commit $5 billion in the next year-and-a-half to start building and create 500,000 affordable housing units, cool the real estate market by tackling money laundering and place a 15 per cent foreign-buyer tax to curb speculation in the housing market.
Trouble on the campaign trail
Even though she's optimistic about her chances, she's aware of the risk of disinformation spread by local and foreign opposition. Vasquez-Jiminez affirms that Canada isn't exempt from foreign interference in federal elections.
On October 13, Vasquez-Jimenez published on her Facebook account a clarification regarding the recent attack on her campaign linking her to Firas (Hussaini) Al Najim, a pro-Palestinian activist known for his attacks against the Jewish state.
"Over the past few weeks, it has come to our attention on the existence of a campaign of disinformation alleging connections between the York Centre NDP campaign and Firas (Hussaini) Al Najim. We have diligently searched our campaign records and can confirm that Firas (Hussaini) Al Najim is not connected in any way with our York Centre NDP campaign or Riding Association.
"We can also confirm that Firas (Hussaini) Al Najim was not part of our 2018 provincial campaign, and there is no personal association between Firas (Hussaini) Al Najim and Andrea Vásquez Jiménez," she wrote.
Vasquez-Jimenez added that the NDP is "alert" of fake news and the best action against it is "to respond fast to clarify any misinformation."
Vasquez-Jimenez's candidacy is an example of the advancements of Latin Americans in politics. The Liberal Party is supporting candidate Pablo Rodríguez, an immigrant from Argentina, and Julie Dzerowicz, who's of Mexican descent.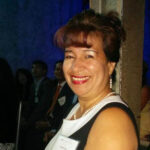 Isabel Inclan has worked as a journalist for more than 20 years, in both Mexico and Canada. She began working as a foreign correspondent in Canada in 1999 for Mexican media. She has been a New Canadian Media contributor since 2018. Her main areas of interest are politics, migration, women, community, and cultural issues. In 2015, Isabel was honoured as one of the "10 most influential Hispanic Canadians." She is a graduate of Masters in Communication and Culture at TMU-York University. She is a member of CAJ and a member of the BEMC´s Advisory Committee.