Lex Jackson, a 35-year-old transgender artist from Mexico, is looking for a way to stay in Canada. 
His application for refugee status has been stalled for four years. In addition, Jackson was diagnosed with Dissociative Identity Disorder (DID) and lives with eight identities as a result of a traumatic childhood.
"As immigrants, we are often asked to integrate into a society that does not understand our stories or the pain that we carry in," said Jackson, speaking in plural for all of his identities. 
Jackson is one of the 1.7 million migrants and undocumented people in Canada who lost their right to stay in Canada or are in a precarious situation that led them to be exploited or threatened with deportation, according to advocates.
Starting May 6, the Migrant Rights Network Ontario has opened an art exhibition aimed at highlighting the plight of undocumented people in Canada, and pressuring the federal government to make a "historic decision" at an upcoming cabinet meeting. The exhibition features a wall quilt created by 152 fabric arts and more than 100 drawings from children who are separated from their parents.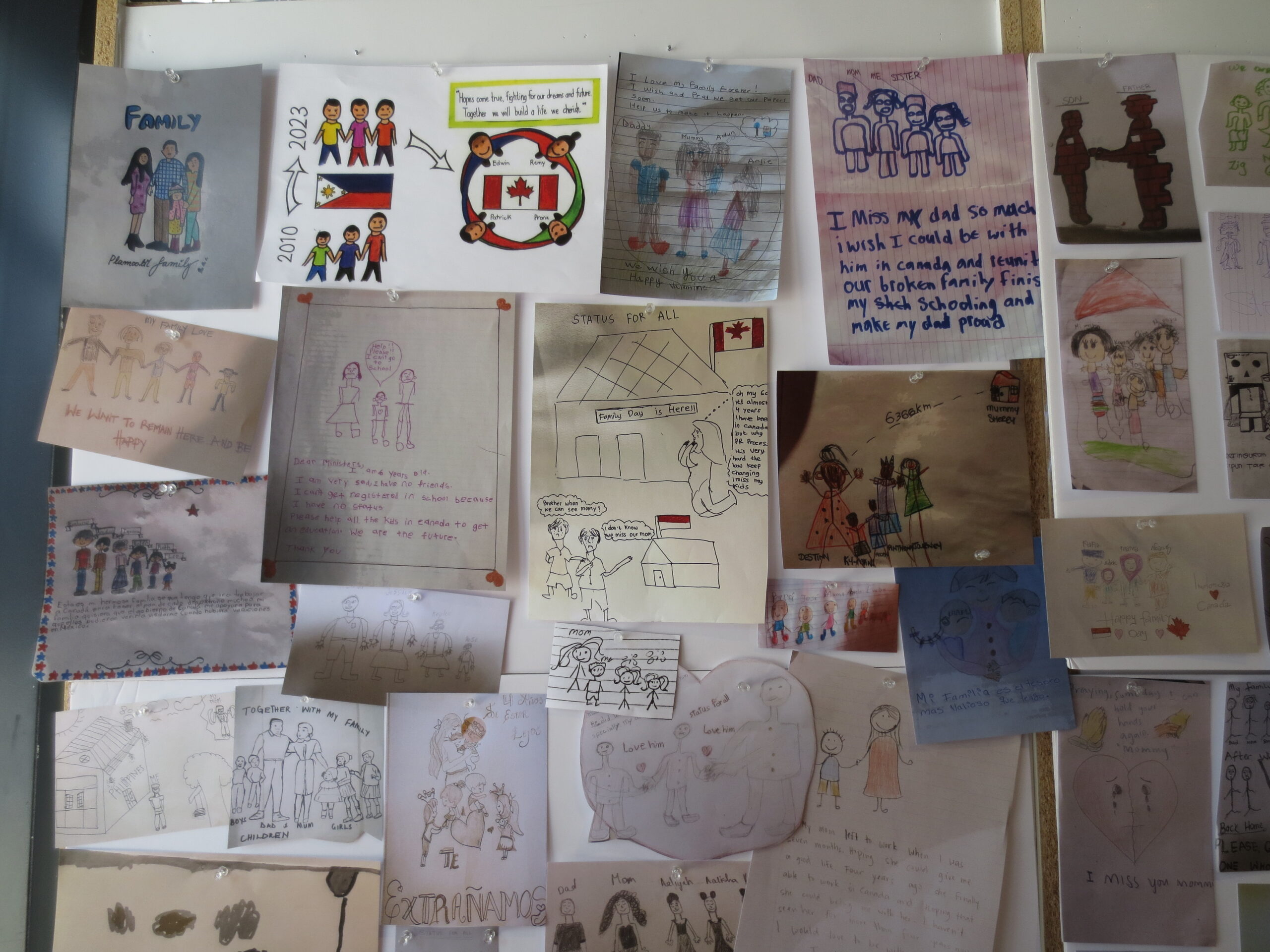 "I miss my dad so much. I wish I could be with him in Canada and reunite our broken family, finish my schooling, and make my dad proud," reads one of the drawings. Another from an Indonesian child says, "Mommy I miss you so much. I want to join you in Canada and to be beside you."
Migrants from organizations like Migrant Workers Alliance for Change (MWAC), No One is Illegal, FCJ Refugee Center, and Caregiver Connections Education and Support, participated in the exhibition, among others.
Highlighting migrant exploitation 
Sarom Rho, an organizer with MWAC, told New Canadian Media that this month Prime Minister Justin Trudeau will meet with his cabinet ministers, and they have a "historic opportunity" to correct "a wrong" in the immigration system and regularize all undocumented people "without exclusion and delay."
The federal government could create an "uncapped regularization program that grants permanent resident status," Rho said. "They can delay it, but each day of delay means more abuse, exploitation, family separation, and denial of basic rights and protections.,"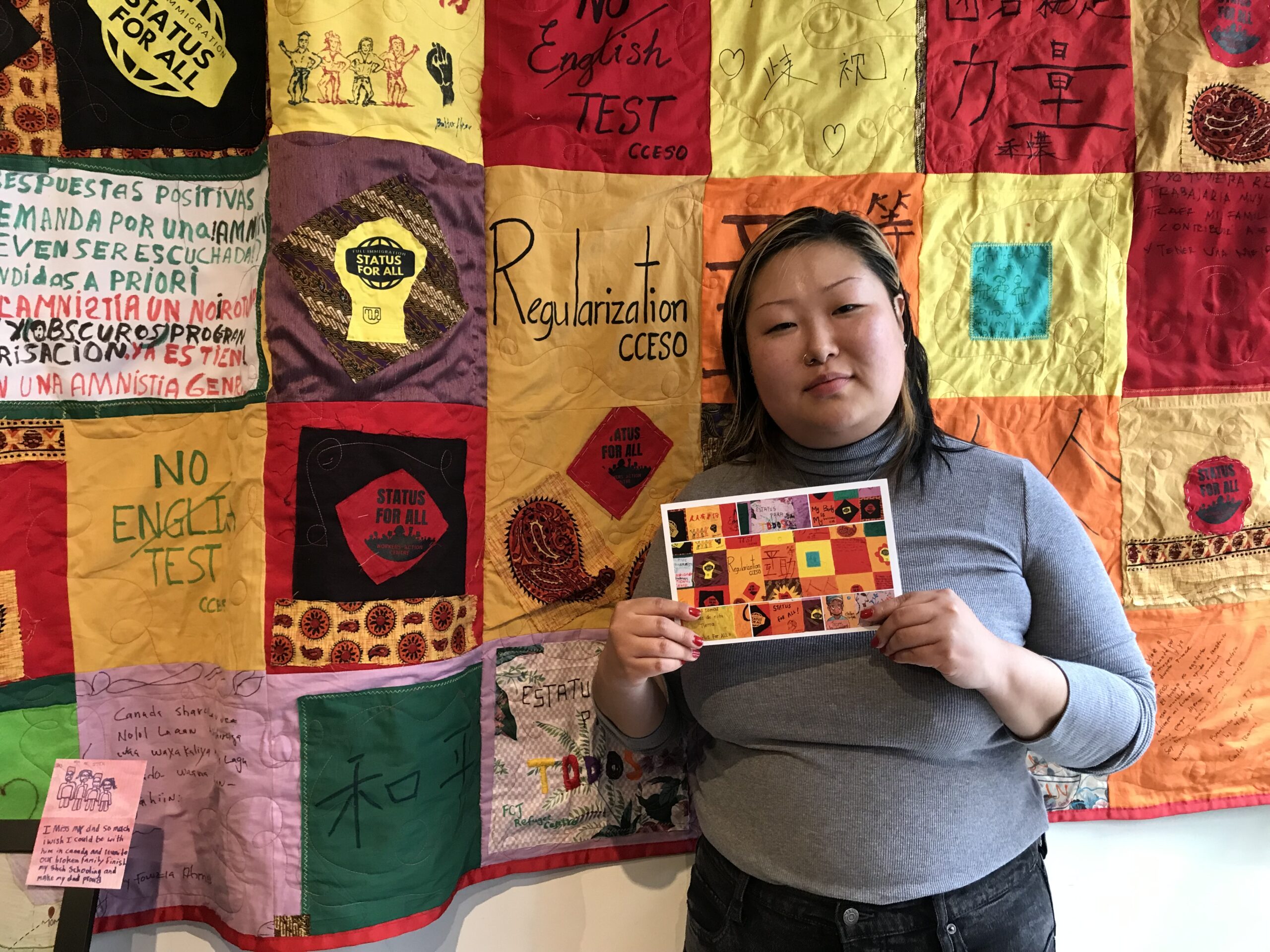 MWAC's advocates state that one in 23 people in Canada are denied permanent resident status and they can be deported any day. 
"They also are denied access to health care and are facing massive abuse and exploitation from their employers in this country," said Rho. 
It is very easy to lose residency status in Canada, according to Rho, but "very difficult, nearly impossible, to get it back."
"You lose status if you can't pay tens of thousands in tuition fees for international students or if you are a migrant farm worker working 16 hours a day and you complain, the employers have the power to deport you," Rho said. "When care workers speak up against abuse from their employers who they live with, they can lose their status."
Martha Ocampo, of Caregiver Connections Education and Support (CCES), recalled that at the end of the last century, advocates were asking for status for immigrants working as care workers or in construction, and the request is still in place.
"I am sad to say that after all these years, different governments come and go and we still fighting for status for immigrants," Ocampo said. "During the pandemic, it was so crystallized. For months we were essential workers, and yet here we are demanding status for all."
Art is a source of strength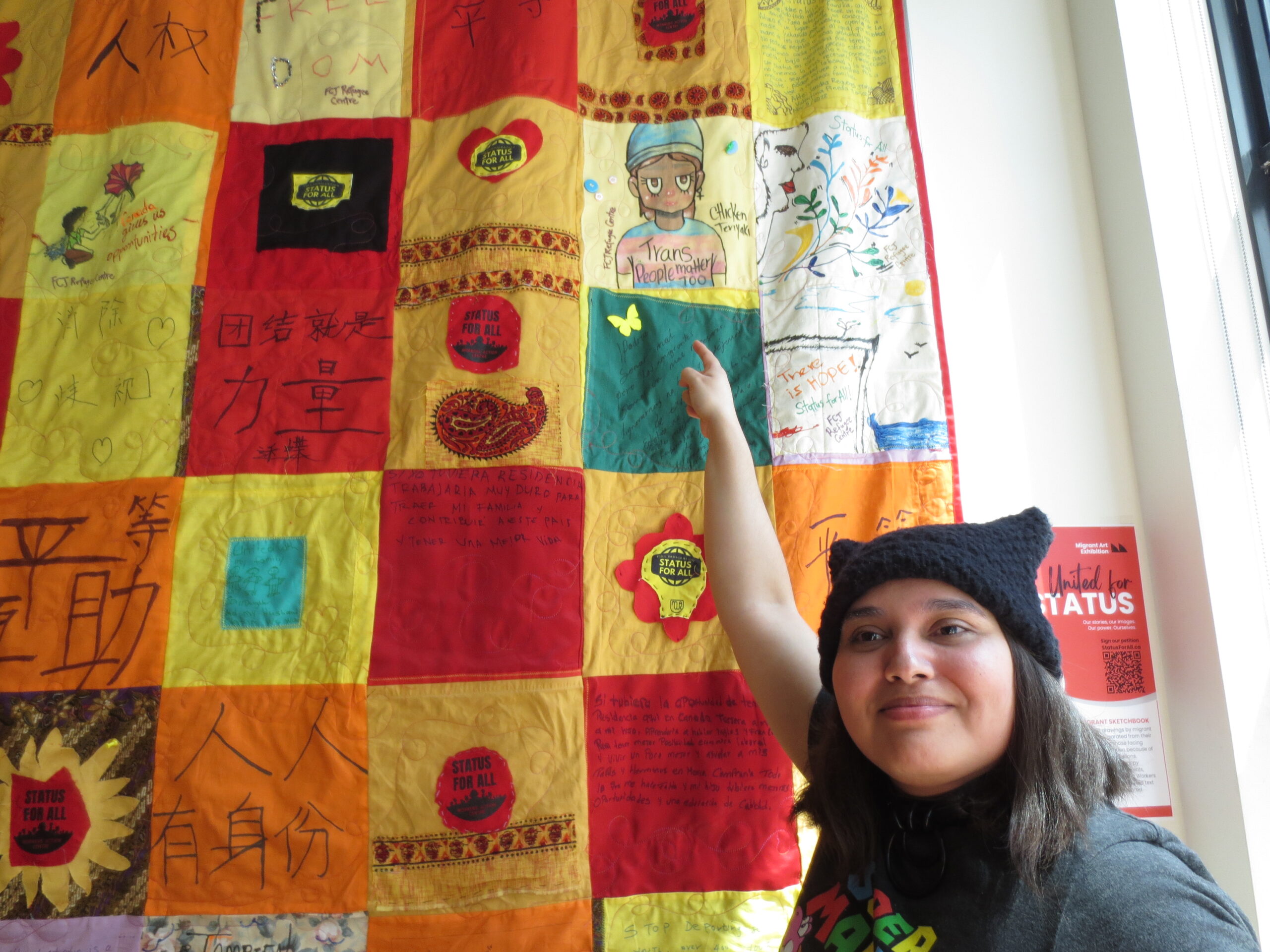 Jackson, who dropped out of high school due to depression, stress, and insomnia, told NCM that for him, art is a "powerful tool that can break borders and allow us to express our inner emotions in a way that is not always possible with words."  
His fabric art is part of the quilt and shows a person bearing the legend "Trans people matter too."
"Art and migration are intrinsically linked since both reflect the complexity and beauty of human life. Art gives us a purpose and a sense to keep fighting day by day," Jackson said.
In his immigration process, Jackson has been helped by the FCJ Refugee Centre which he calls his second family. He is preparing for a hearing on June 13.
Gathered in the Blackhurst Cultural Centre of Toronto, migrant advocates and people with precarious status said that the collective and colourful quilt is a community organizing to fight for "basic humanity" because immigration status uncertainty is "devastating," as co-organizer Syed Hussan said.
Rho emphasized that Trudeau and the 38 cabinet ministers have the opportunity "to do the right thing and ensure an uncapped regularization program that grants permanent resident status and not temporary exploitative permits."
At the end of the event, last Saturday, migrants joined their voices to shout, "United we fight and when we fight, we win."
"We are stronger than we seem, and our spirit will never be broken," Jackson said.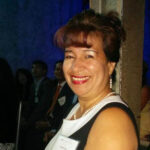 Isabel Inclan has worked as a journalist for more than 20 years, in both Mexico and Canada. She began working as a foreign correspondent in Canada in 1999 for Mexican media. She has been a New Canadian Media contributor since 2018. Her main areas of interest are politics, migration, women, community, and cultural issues. In 2015, Isabel was honoured as one of the "10 most influential Hispanic Canadians." She is a graduate of Masters in Communication and Culture at TMU-York University. She is a member of CAJ and a member of the BEMC´s Advisory Committee.