While the pandemic continues to wreak havoc, the mental health crisis among immigrants has increased. Experts suggest more education is vital if immigrant communities are to become less vulnerable to this particular illness. 
Mudassara Anwar, Supervisor of the Mental Health Team at Punjabi Community Health Services in Brampton, shared the story of a client who died of a heart attack after lapsing back into addiction. The client was an immigrant whose struggles to settle in Canada were multiplied by social isolation during COVID-19. 
"Human touch is the best remedy for mental health issues and the clients who need therapeutic relationships are badly affected," said Anwar.
Anwar stated that the client had a history of alcohol dependence, sexual abuse, and a troubled marriage. With restraining orders placed on him, he could only meet his children twice a month in a public place, under supervision. Due to the pandemic, he lost what little contact he had. He was unable to hug his children and virtual meetings were not the same. He soon developed anxiety and resorted to alcohol abuse. 
Anwar added, "Before the pandemic, he was showing improvement, working on his addiction and mental health issues but couldn't handle the isolation that the pandemic brought with it."
According to various studies, human touch signals safety, trust, and calms cardiovascular stress. 20 seconds of physical affection such as hugging is enough to trigger the release of oxytocin, the love hormone.
Mental health issues affecting new and settled immigrants equally
Besides relationship issues, job loss or financial crises are the main factors causing mental health issues, mostly among heads of households.  
In Mississauga, Summayah Poonah, Head of Operations at Naseeha, a mental health hotline, stated that women are more likely to seek support. She explained that financial stress for men manifests in unhealthy behaviour which affects their families.
According to stats by Naseeha, the highest number of calls received between March and August 2020 were for psychological and relationship support, and anxiety.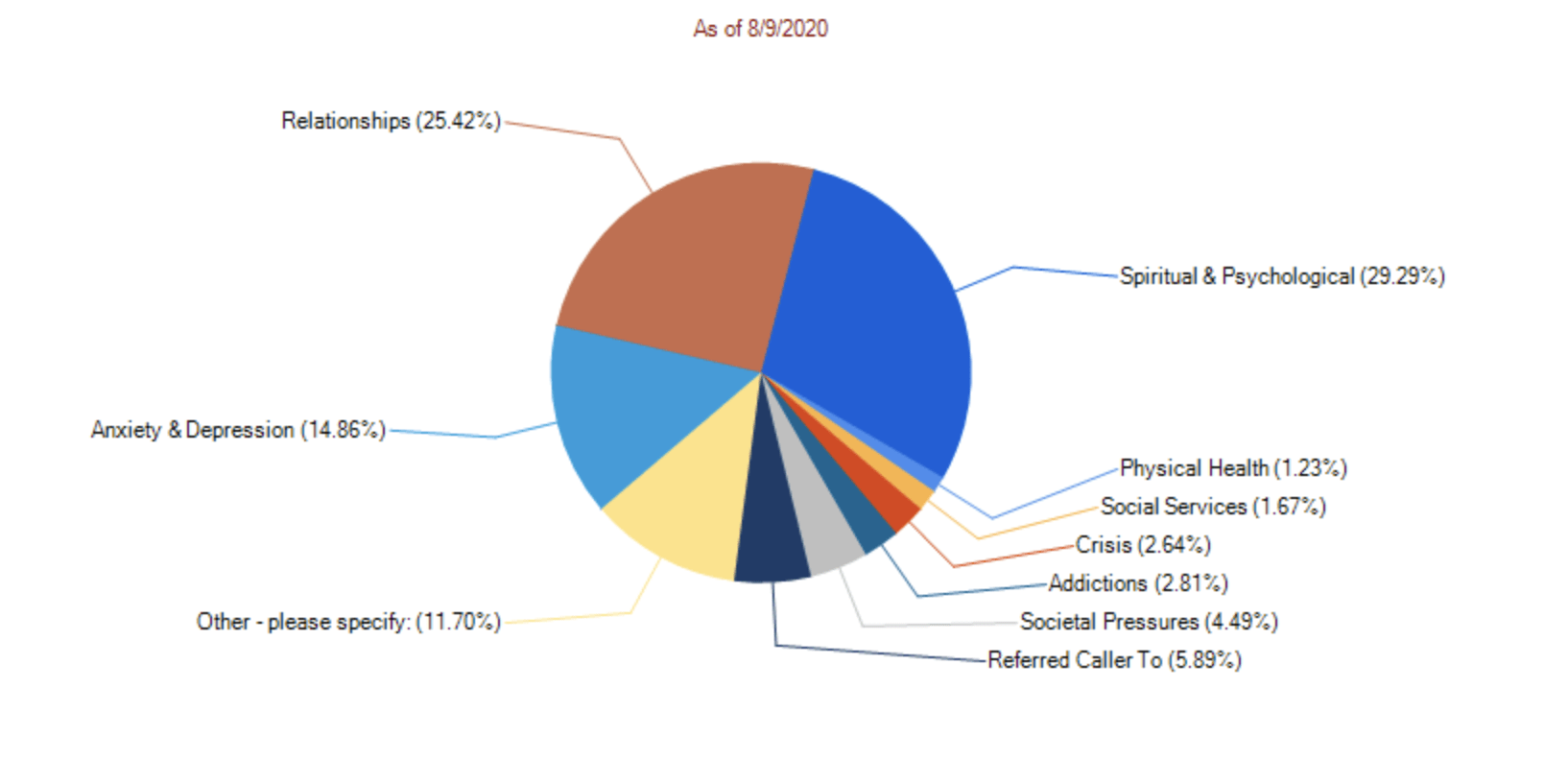 According to Stats Canada, employment among recent and established immigrants during February to April fell more than it did for the Canadian born. Thus, leading to higher levels of anxiety in that demographic.
Counsellors like Shamyle Khan at Naseeha Youth Helpline deal with diverse clients. The stigma of mental health is generally greater among immigrants, compounded by instances of child abuse, domestic violence, suicide, and addiction. Isolation is a trigger, particularly among youth.
"Taking away the support of social interaction or getting out of the house for eight hours a day, was actually a shift in their environment and amplified underlying relationship [issues] with the parent," said Khan.
Rise in suicidal thoughts
Peel region was the worst hit during COVID-19, resulting in its rise of mental health emergencies.
Anwar stated their department normally deals with 10-15 clients a day, but when the pandemic reached its peak in May, that number rose to 30 or more. 
A service that has seen a spike in clients is virtual therapy. This can be a challenge but for Naseeha, however virtual communication and webinars are the best tools to serve the rising number of cases.
Khan believes that helpline support is efficient, "Some issues need one-time interaction and others can be tackled at the initial stages of reminders and following protocols to step back before indulging in severe or complex behaviours," said Khan.
Sakeenah Homes, who offer shelters for Muslim women, has also witnessed a spike in demand. They've seen a steep rise from 30 – 40 calls a month to 350 – 400 calls since March. 
Zena Chaudhry, CEO of Sakeenah Homes, stated the biggest challenge was not being able to take all the calls coming in. 
"For every call that is picked up there are five other calls that were waiting to be picked up," said Chaudhry.
With social distancing within shelters an issue, Nazish Tayab, Manager Housing at Sakeenah Homes, appreciated the Motel and Hotel program, where the clients were accommodated and quarantined. The organization has collaborated with hotels and motels where clients with immediate needs are sent on a temporary basis.
However, quarantine poses its own risks. She shared the story of a permanent resident who was physically abused by her husband and in-laws. Before COVID-19 she decided to move to the U.S. With borders shutting down, she was asked to turn back. She arrived at Sakeenah Homes for shelter but was instead referred to a motel, but she refused to be alone. She eventually ended up staying with her mother. 
Experts stress the need for continued awareness and education. 
With Brampton having the highest number and limited capacity, resources, and funding, outreach to the community in terms of education and information is vital. While the pandemic curve may flatten, the mental health crisis may go on much longer. The Canadian Mental Health Association-CAMH is reporting a rise in suicidal thoughts during the pandemic.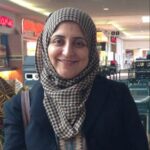 Tazeen is based in Mississauga and is a reporter with the New Canadian Media. Back in Pakistan where she comes from, she was a senior producer and editorial head in reputable news channels. She holds a master's degree in Media and Communication and a certificate in TV program production from Radio Netherlands Training Center. She is also the recipient of NCM's Top Story of 2022 award for her story a "A victim of torture, blogger continues fight for human rights in Pakistan"