The spark of revolution that was ignited in Tunisia in January 2011 quickly spread to other Arab countries, but exploded into conflagrations of violence and instability, notably in Syria and Egypt. As such, for most countries of the Middle East, hopes of democratic reform in the near future faded.
In stark contrast, in Tunisia itself, the birthplace of the 'Arab Spring' – as the new movement was dubbed – the candle flame of a pluralistic democracy burns steadily, even four years later, although it flickers sometimes in the winds of economic, social and security challenges.
This was the outline of a portrait of Tunisia that three experts presented to an audience of about 200, at the Global Centre for Pluralism in Ottawa Thursday night.
A lone success story
"Tunisia is the only success story of the Arab Spring," said John McNee, Secretary General of the Global Centre for Pluralism as he introduced the two guest speakers – Mehdi Jomaa, interim Prime Minister of Tunisia during the country's time of transition from dictatorship to democracy (2014-2015) and Dr. Marwan Muasher, former Foreign Minister of Jordan and currently vice president of studies at the Carnegie Endowment for International Peace.
Moderating the panel was Dr. Bessma Momani, senior fellow at the Centre for International Governance Innovation in Waterloo, Ont.
"The key to our success was our willingness to generate dialogue and consensus," said Jomaa, emphasizing that negotiations between secular and religious elements resulted in a secular constitution that even acknowledges the right of people to hold no religious beliefs if they choose to do so.
"Tunisia is a start-up democracy. We need the collaboration of the international community."
"We should be proud of what we have achieved, but we should also be vigilant," he cautioned, referring to the economic and social challenges including high unemployment that still plague the country. He added that recent terrorist attacks in his country are a hindrance to creating new opportunities for employment.
"The movement towards democracy takes time," he said. "It can't be achieved in a short time, and Tunisia is a start-up democracy. We need the collaboration of the international community."
Nonetheless, the nation's remarkable achievements must be noted, Muasher said.
"Tunisians are far too modest about what they have been able to achieve in three years," Muasher stated. "Within that time, they have been able to agree to a constitution in which all people, including women, have rights.
In fact, this year's Nobel Peace Prize was awarded to the Tunisian National Dialogue Quartet, a group of four organizations including unionists, employers, lawyers and human rights activists that played a key role in the country's efforts to build a pluralistic democracy.
Lessons for the world
Highlighting some lessons that Tunisia has taught the world, Muasher explained that Tunisians have shown early on that the battle for the future can't be fought between religious and secular parties. It has to be fought for an accommodation of all views.
Also, in order to keep power, governments have to share power, Muasher said.
"To get people to accept diversity will take generations."
Muasher contended that these lessons were lost on both Islamist and non-Islamist parties in Egypt; also on ISIS in Syria whose "barbaric, exclusionist model" has kept the country in turmoil.
He concurred with Jomaa that the process of democratization in Tunisia would take time. "To get people to accept diversity will take generations," he said. "No transformation process took only four years."
He argued that the battle must be for pluralism in all its dimensions including political, religious, cultural and gender.
Need for education reform
"The Arab world needs to reshape its education system, which is so extremely exclusionist and omits pluralistic values," Muasher said. "There is an unwritten understanding between religious and secular forces that nobody can question authority, and this needs to change."
Muasher added that it might take two generations for the education system to accomplish this.
"One positive aspect of the revolution is that the era of fear is over."
Though Muasher emphasized that the process of Tunisia's nascent democracy must be "homegrown and not imposed from outside," he pointed out that the country is not on the radar of the international community to the extent that it should be.
One area in which the country could use more support is in reforming the education system, he said, adding that it is not so much a question of building more schools, but of retraining teachers and giving them the skills to promote critical thinking.
"One positive aspect of the revolution is that the era of fear is over," he concluded. "People are now less afraid to question authority."
Reinforcing Muasher's statement on promoting critical thinking skills, moderator Momani said: "The Arab Spring is not yet over. Those young people who took to the streets are fundamentally different from previous generations. They are questioning authority and religion. We have to support their transition to critical thinking."
Momani spoke of the important role of social media and communications technology in the movement that's happening in Tunisia, where as Jomaa pointed out to New Canadian Media, there is no government control of the press.
"The genie is out of the bottle and won't go back into it. Arab youth are talking online and in chat rooms. A social and cultural revolution is happening."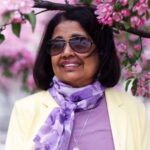 Ottawa-based writer/journalist, editor, blogger, communications professional seeking freelance opportunities in political and travel writing.