For a long time the Latin American community has felt widely overlooked in Canada, according to Liberal candidate Michael Levitt, who is running in the Toronto riding York Centre.
The Liberal candidate, who has one of the largest Latin American populations in the Greater Toronto Area (GTA) in his riding, says this may now be changing, especially after the recent Pan Am Games helped spotlight the rich community that exists.
Levitt referred to the Liberal party leader's announcement earlier this year to lift visa requirements for Mexican visitors to Canada as one way to build in-roads with Canada's Hispanic community.
He says lifting the bans that were put in place in 2009 is one of many "immigration initiatives" related to family reunification that the Liberals have promised.
The Latin American community has felt widely overlooked in Canada.
Levitt recalls one conversation he had with an Ecuadorian-Canadian living in his riding. The man spoke of the difficulty his family in Ecuador had when trying to meet the requirements necessary to come to Canada for a visit.
"He said that the feeling [he had] was by the time they got all of this done, it wasn't going to be worth it, it would be too much paperwork," says Levitt. The constituent's family felt it would just be easier if he visited Ecuador instead.
"We have to embrace [Canada's Latin American community]," Levitt explains. "We need to work with Latin America to develop trade, to develop closer relationships."
Latin Americans and Canadian politics
The 2011 National Household Survey placed people of Latin, Central and South American origins at just over 1 per cent of the Canadian population, with over 540,000 people spread around the country. The largest of these communities are located in the Greater Toronto Area (GTA), Vancouver and Montreal.
Through an informal survey of listeners of the radio show "Radio Voces Latinas", which airs on CHHA 1610 AM in Toronto, New Canadian Media found that for many Canadians of Latin American heritage, their main concern was having a more established place in the Canadian political agenda.
Cesar Palacio, councillor for Ward 17 Davenport, is the first person of Hispanic heritage to be elected to Toronto's city council. He was born in Ecuador and arrived in Canada with his parents in 1972. Today, he is serving his fourth term in the position.
A passionate defenders of the power of democracy among the Latin American community, he says Latinos can only hope to become a larger part of the political agenda if they get involved.
"It's very important [for] our community, which in spite of not being so numerous is growing faster than other communities in Canada, to be conscious that we have an opportunity through vote," says Palacio.
Latinos can only hope to become a larger part of the political agenda if they get involved.
Palacio is concerned about apathy in the community, though Statistics Canada reported that 66 per cent of eligible people of Hispanic heritage voted in 2000. He advises the ones not interested in voting, to "think ahead."
"We need to move from our personal issues to the community issues. If we think as a community, we'll have more things," he states.
But one radio show listener who was surveyed sees things differently.
"In many of our countries in Latin America [it] is mandatory to vote and I don't think that's right," says Peru-born Alberto. "Some people now complain about Harper, but I heard the same about Chrétien a few years ago. If someone says, 'I don't want to vote,' that's okay to me. To me all politicians are the same."
Getting Latinos to the polls
"If we want to be part of the system, and to make ourselves noticeable as a community out there, we need to do it," Claudio Ruiz told New Canadian Media.
Ruiz is the executive director for the Centre for Spanish Speaking Peoples (CSSP) in Toronto. The organization is one of several that worked together to launch the campaign "Tu Voto Vale, Tu Voto Decide" (Your Vote Counts, Your Vote Decides) in order to motivate Hispanic-Canadian citizens to vote.
"Our vote is the capital we have in the political system," he continues. "If we don't exercise our right to vote, our privilege to vote, our voices will not be listened to and the issues in our community will not be considered by the government when they begin to formulate plans in their platforms."
"Our vote is the capital we have in the political system."
Ruiz says the "Tu Voto Vale" program allows community members to access information by phone, Internet or in person information about how to vote and where to vote.
"We had people here at the centre, and many told us that, once they became Canadians, they never received any mail regarding elections," Ruiz explains, pointing out that new citizens must check mark a special field on their citizenship paperwork asking to receive the information via mail to their homes.
"All those opinions made us take measures to motivate people to vote, and at least eliminate the barriers to those people who didn't vote because [of] external reasons."
---
Journalist Priya Ramanujam mentored the writer of this article, through the New Canadian Media mentorship program.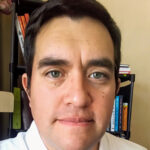 Raúl A. Pinto is a Chilean journalist with a decade of experience in Canada, working for radio, television, print, and digital media. During his career, he has interviewed a variety of people, from undocumented migrants to the Prime Minister of Canada, as well as movie stars, writers, artists, business people, politicians and others, with coverage almost exclusively directed to the migrant community. He has been nominated twice for Journalist of the Year at the Canadian Latin Awards, and won in 2019. He is married to Sandra and is the father of Ana and Lucas.