Despite a widespread belief among immigrants that there exists an unofficial restriction on the numbers of Black immigrants accepted into Canada, Immigration Refugees and Citizenship Canada (IRCC) has denied that such a cap exists.
Speakers at a recent annual meeting of African Communities of Manitoba Incorporated (ACOMI) in Winnipeg discussed the challenges facing Black people trying to immigrate to Canada. 
Dr. Lana Adeleye-Olusae, a member of Manitoba's Immigration Advisory Council (IAC) presented a report of the IAC at the ACOMI gathering in May. This report, obtained from surveys, cluster-reports and submissions from across 14 town hall sessions held in various parts of Manitoba, including in Brandon and Winnipeg, noted that "there is a perception that immigrants from racialized countries are not prioritized in the same way as immigrants from non-racialized countries.''
IRCC spokesperson Isabelle Dubois acknowledged the existence of systemic racism in the country and how, for instance, physical barriers exist to visa application services for Black applicants. However she insisted that IRCC does not set immigration quotas or targets based on race.
"IRCC does not collect race-based data on its applicants, nor does it set quotas or targets based on race," Dubois said in an email.  "The number of permanent residents Canada welcomes each year is based on the multiyear Immigration Levels Plan. The Department is committed to ensuring zero-tolerance for racism or discrimination of any kind and has committed to reviewing, monitoring, and proactively addressing unconscious bias, systemic racism and discrimination within its policies, programs, and client service delivery".
Dubois did not detail how IRCC plans to monitor for biases within the immigration system without collecting any race-based data about its applicants. 
Speaking at the ACOMI gathering, Florence Okwudili, board chair of the Coalition of Manitoba Cultural Communities for Families, discussed the 1.3 million permanent and temporary resident application backlog as of Feb. 1 that has been blamed on the COVID-19 pandemic. 
"[The] Nigerian population in Manitoba far outnumbers that of other African countries and yet applications still have to go through the Accra, Ghana Processing Centre and get stuck for a minimum of 2 years," Okwudili said. "Maybe it is time for Canada to consider opening up a [visa] processing centre in Nigeria." 
Okwudili and her family migrated to Canada in 2001 through the Manitoba Provincial Nominee Program, and had their applications processed in Ghana. Back then, the Accra visa processing centre had a backlog of applicants running two to three years. Twenty-two years later, she says, nothing has changed. 
"Some applicants even have to wait up to five years," Okwudili said. "I am sure that you will agree with me that a 22 year old policy would need to be reviewed to be relevant in our current situation."
Editor's note: An earlier version of this article incorrectly attributed a quote to Dr. Lana Adeleye-Olusae that came from a report and was not stated by him. The article has been updated with a correction on June 8.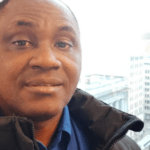 Emmanuel Nwaneri is a journalist with about 27 years of writing, travel and journalism experience in Nigeria, South Africa and Australia. He moved to Johannesburg in South Africa where he spent 10 years as a writer, journalism tutor and commentator. His time in South Africa afforded him the chance to observe the fast-changing dynamics of a country popularly-known as "a rainbow nation." He relocated to Winnipeg with his family in 2018 where he has since found interest in the Customer Service industry. He has published Once Upon A Woman and is working on a second work of fiction.