Holding a dark coffee with his left-hand, Harem Jamal tells stories of his childhood and its dark days while his right hand grips photos that capture some of those early experiences.
The tragedies started early in life for Iraqi-Kurdish Jamal, now an artist whose latest exhibition in Burnaby casts the spotlight on the life of refugees and immigrants and the sorrow of their childhood experiences. 
Thirty-five years ago, on March 16, 1988, Saddam Hussein's military used chemical weapons in the Iraqi Kurdish town of Halabja, 240 km northeast of the capital Baghdad and just 14 km from Iranian borders. As a result, around 5,000 civilians were killed and many wounded severely.
Born just two years before this genocidal act, Jamal and his family were able to sneak into Iran, but some of his relatives and neighbours died in the attack. 
Jamal touches on this event in his 23-piece exhibit called "Seeking Safety" at the Deer Lake Gallery in Burnaby, B.C. launched Feb. 18.
His art portrays the lives of immigrant and refugee children, based on his own experiences and observations. As a kid, Jamal lived in Iranian refugee camps where he became a child labourer working in a brick factory.
Once his family knew they would have no better future in Iran, they returned to Iraq in 1999. There, Jamal met and supported Syrian refugee children by talking and drawing with them, nurturing a love of art. 
Processing trauma through art
Jamal left their home country for the United States as a visitor and crossed the border into Vancouver as a permanent resident of Canada. He now works with refugees in Vancouver. The art, he said, helps to alleviate his own trauma while also sharing the lives of refugees with Canadians. 
 "My painting is not only about myself, but also the stories of thousands of people who are faced with leaving behind their loved ones due to unwanted war, being victims, and seeking a safe place," Jamal said. 
According to the 2016 census, there are 16,315 Kurds living in Canada who have immigrated from Iraq, Iran, Syria, and Turkey. 
Although it's been more than five years since Jamal moved to Vancouver, thousands of miles away from his home country, the memories of his childhood still haunt him. Pain and trauma weigh heavily in his thoughts.
"I sometimes move back to my childhood. It's a flashback of what I was going through. I can't forget those sorrowful days," he says. "Wars robbed me of my childhood forever and my life was filled with uncertainty and fear. I did not practice my childhood; that is why I still like to play as a child with other children." 
Jamie Evrard, a Canadian artist who attended the gallery said she was interested to learn about immigrants like Jamal through art because he shares some of that sorrow.
"It is important that immigrants share their arts, skills and stories so we can all come to know each other," Evrard said. "It is through this kind of communication that we Canadians can begin to understand the lives and thoughts of people who came from far away and had lives that we otherwise cannot imagine."
She said it was tragic what Jamal went through, but found his story inspiring. 
"They experience gratitude for living here that we sometimes take for granted," she said.
Feet, socks, and shoes are the main subjects of Jamal's art. His exhibit features many immigrant children's bare feet in the gallery. This was inspired by his observance of refugee children, like himself, who made tremendous cross-border journeys without proper shoes and socks.   
"My feet took me to Iran and took me through the Canadian border," Jamal explained. "I worked, played games, and ran on many cold days with the help of my bare feet. I dreamed of having a pair of colourful socks to hide my wounds and blisters; that is why I brought here the socks of refugee children." 
Jamal's 'Seeking Safety' exhibit will remain at the Burnaby gallery until Saturday, March 18.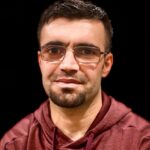 Diary Marif is an Iraqi Kurdish journalist based in Vancouver, Canada. His writing has appeared in the Awene weekly, Livin, and on KNNC TV as a documentary researcher by the name Diary Khalid. Diary earned a master's degree in History from Pune University, in India, in 2013. He moved to Vancouver in 2017, where he has been focusing on nonfiction writing. He can be found on Twitter: @diary_khalid.