Alina Pryzbyl, a recent graduate from Toronto's George Brown College, spends sleepless nights wondering whether the next knock on her door would end her dreams of becoming a New Canadian.
She is not alone.
Like thousands of other international students in Canada, COVID-19 is threatening Pryzbyl's path to citizenship and she faces deportation if the current rules are not changed.
She came from Poland to attend George Brown College in Toronto where she enrolled in the Assaulted Women's and Children's Counsellor/Advocate Program. (AWCCA) at George Brown College in 2018.
Demanding Permanent Residency Requirements for Graduates 
Before lockdown restrictions, Pryzbl was finishing her program and working at a restaurant. As she gradually lost her income she worried her temporary status would not allow her to have access to income support.
"I graduated into a completely unstable job market… Millions of people lost their jobs as a result of a lockdown, but we know that we, as migrant students, face even bigger challenges. We are still expected to find a full time permanent and qualified job to be able to get enough points to apply for permanent residency…So many of us can't and as a result, we face becoming undocumented or being forced to leave," she said.
Pryzbyl shared her predicament at one of two rallies recently held in the GTA. These rallies were organised by Migrant Student United, a group organised under the umbrella of the Migrant Workers Alliance for Change. 
One of the rallies was held outside the office of Deputy PM Chrystia Freeland. They called for changes to immigration rules governing international students during COVID-19, including permanent residency status for all international students.
In an interview with NCM, Sarom Rho, an organizer with the Migrant Workers Alliance for Change who leads the Migrant Students United campaign said that the requirements for graduates to gain permanent residency in Canada are too high, and economic disruption from the COVID-19 crisis has made it almost impossible to meet for thousands of international students.
Post-graduate work permits are not currently renewable and this puts graduates who've been laid off or unable to find work during the pandemic at a greater risk.
"We are calling upon the federal government to make work permits renewable as thousands of international students risk deportation," she added.
International Students Calling for Change
Under the current rules, unemployed graduates face deportation if they do not complete continuous, high-wage work before their permits expire. Hundreds of international students are spending sleepless nights wondering if they will be able to afford tuition and satisfy the requirements that would lead to permanent residency in Canada.
At the height of COVID-19, the federal government temporarily removed the regulation that limited international students from working more than 20 hours per week while classes were in session.
In April, Canada's immigration minister Marco Mendicino put out this statement: "Immigrants, temporary foreign workers and international students are making important contributions as frontline workers in health care and other essential service sectors."
However, that temporary removal of the regulation ended on August 31, and there is uncertainty about what comes next.
Migrant students are calling on the federal and provincial government to:
Fix rules around work: Make post-graduate work permits renewable so former students can complete requirements for Permanent Residency (PR) in the COVID-19 job market; Remove time-limits and industry restrictions on work.

Give real access to PR: Lower points requirements for PR (CRS)

Count work that is part-time, in-school, in any occupation, including with gaps towards PR; and ensure full and permanent immigration status for all migrants.

Lower tuition and ensure full services

Ensure migrant students pay domestic tuition; Full access to all services including healthcare, housing, jobs, scholarships, pandemic emergency benefits, and in-school support; Immediate access to Social Insurance Numbers

Unite families: Allow families to travel, ensure work permits for family members
What is worrying so many international students is that COVID-19 has made it harder to find well-paying jobs in their field of specialty and to cover their tuition and other living expenses, they are forced to work at low-wage jobs for over the stipulated 20 hours.
"We have heard from so many students about the exploitation they face at the hands of employers who often demand thousands of dollars in exchange for LMIA (Labour Market Impact Assessment) -exempt offer of employment that will lead to permanent residency. The only way the government can eliminate the racism and exploitation international students face is by giving them PR status," says Rho.
Growing International Student Population
Canada is now the world's third-leading destination of international students, with a staggering 642,000 international students.
According to Immigration, Refugees and Citizenship Canada (IRCC) data, Canada's international student population grew by 13 per cent in 2019 compared to the previous year. Overall, 404,000 international students saw their study permits take effect in 2019.
Meanwhile Migrant Students United is hopeful that the Trudeau government will address this issue in the next few weeks.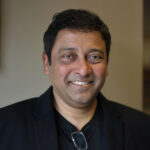 Pradip Rodrigues began his career as a journalist at The Times of India, Mumbai. Since moving to Canada in 2000, he has written for several media outlets both here and in India on a variety of issues. Prior to joining NCM, he was at CanIndia newspaper for eight years.