For most of the Syrian refugees arriving in Canada this month, their first challenge will be to find affordable housing as they transition into a new life in the country.
Dominic Amann, an IT project manager, plans to offer two bedrooms in his home along with free food to a family of four or five members with the assistance of Wesley United Churches in Hamilton, Ontario.
Amman was born in England and came to Canada 25 years ago. As a child, he saw his father receive refugees from Uganda and Kenya during the 1970's expulsion. He is Roman Catholic and wife is Jewish.
The offer was made possible with extended resources from his network of friends, such as food, clothing and even employment for the refugee family. Amman is also willing to let them stay for longer than the standard 12 months if necessary.
"I am flexible," Amann says. "We have to see what the need is, as well as my ability to continue as it cannot be unlimited."
Impact on low-income rental housing
Building developers are not worried that offering free or discounted rental units to Syrian refugees might impact the affordable housing market.
"Twenty-five thousand refugees translates into seven to eight thousand households from Barrie all the way to Victoria," says Bob Dhillon, president and CEO of Mainstreet Equity Corp, a rental apartment provider in Calgary. "It's a drop in the ocean. I don't think it's going to impact in any sense."
Dhillon has offered 200 rental units in different cities for three months, either free or prorated (where three months' rent is proportionally distributed over 12 months).
Many Canadians are struggling to find affordable housing. This is particularly true in Ontario, where a 2014 report from the Ontario Non-Profit Housing Association suggests that the average family waits for rent-geared-to-income housing for 2.3 years.
The province suffers from chronic homelessness, something the Ontario government has committed to eradicating in the next 10 years.
"It's a drop in the ocean, I don't think it's going to impact in any sense."
Despite these large numbers, Daljit Thind, owner of THIND Properties Ltd., a new home builders company in Vancouver, agrees with Dhillon. He says offers made to refugees are on a humanitarian basis.
"Free or subsidized rentals offered to refugees is totally separate from low-income rental market," he says.
Thind is offering a number of fully furnished townhouses to Syrian refugees in Vancouver without charging rent for few months.
For Amann, he says it would be harder for him to offer free or sponsored housing to homeless people in Canada because of the risks associated with it.
"[People who are] homeless in that situation are due to things like mental illness or addiction and can pose some level of risk to my family," he says. "I know people coming as refugees have more external support from government and agencies."
The government's role in housing
Debbie Douglas, executive director at Ontario Council for Agencies Serving Immigrants, says the government has not made any special arrangements for Syrian refugees in terms of housing.
Like any other refugee group, only government-sponsored refugees get a housing supplement for a year; privately sponsored refugee are supported by their sponsors.
"Even the social housing stock in Ontario is not being used for refugees," she says.
However, with corporate donations, the government is looking to create a housing fund — separate from social housing — to help refugees transition to permanent housing.
"I know that CN [Canadian National Railway Company] has given a $5 million donation that the government is looking to create a sort of housing fund [with]," Douglas explains.
The government has not made any special arrangements for Syrian refugees in terms of housing.
In a news report, Heng Chau, the housing co-ordinator for Maison Sophia, a reception house for refugees in Ottawa's ByWard Market area, says that most refugees manage to pay their rent by scrimping on other expenses.
The report adds that government-sponsored refugees – families of four with two adults and two children – receive approximately $2,600 assistance a month from the federal government during their first year in Canada, to cover food, housing, transportation and child-tax benefits.
According to Canadian Mortgage and Housing Corporation report, the vacancy rate amongst rental units in 35 of the country's largest cities has increased to 3.3 per cent from 2.8 per cent in 2014, which means the arriving refugees should be easily accommodated in Canada's housing market.
The report further adds that in October 2015, the average rent for a two-bedroom unit in new and existing buildings in those 35 cities was $960 a month.
Settlement process needs time
Some critics suggest that the hunt for affordable housing will get harder as more refugees arrive, while others believe that refugees who have lived in camps and tents often are comfortable in smaller living spaces or shared housing.
As Thind suggests for the town houses he is offering, "They have four bedrooms and can accommodate two families easily."
With a language barrier, finding cheap affordable housing in the long-run for these refugees could be a challenge. However, Douglas says that while they get help from settlement counsellors, they are expected to move out on their own too, just like the other 100,000 or so immigrants who settle in Ontario every year.
"With access to language training and employment support, they will able to find entry level jobs in the beginning to support themselves," she concludes.
---
Journalist Priya Ramanujam mentored the writer of this article through the NCM Mentoring Program.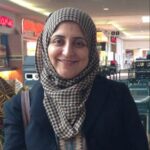 Tazeen is based in Mississauga and is a reporter with the New Canadian Media. Back in Pakistan where she comes from, she was a senior producer and editorial head in reputable news channels. She holds a master's degree in Media and Communication and a certificate in TV program production from Radio Netherlands Training Center. She is also the recipient of NCM's Top Story of 2022 award for her story a "A victim of torture, blogger continues fight for human rights in Pakistan"