Twenty years ago, Aaron Berhane was working as editor-in-chief of the Setit Newspaper in Eritrea when a radio announcement changed his life forever.
On September 18, 2001, the state announced it had suspended all media organizations from publishing and broadcasting. Berhane was just completing an article for the next day's paper that would not be read.
Journalism in Eritrea came to an end that day. Within a few hours, 1,500 media workers across the country had their jobs taken from them. 
Most of them were imprisoned by the government, but Berhane managed to flee from Eritrea to Sudan and from there to Kenya.
He came to Canada in 2002 with the help of the United Nations High Commissioner for Refugees (UNHCR) and PEN İnternational. He currently works for Writers in Exile, an organization for journalists and writers from different parts of the world, supported by Pen Canada.
Berhane is currently writing a memoir about his experiences, which will include the political events that marked his time in Eritrea. His book is expected to be finished by next year. He recently spoke with New Canadian Media about his life in Canada and his work as a journalist in exile.
Tell me more about yourself and how you came to Canada.
I am an Eritrean-Canadian journalist who was born in Asmara, Eritrea. As one of the first graduates of the University of Asmara's Journalism and Mass Communication program, I co-founded and became editor-in-chief of Setit, the largest and first independent newspaper in Eritrea.
Unfortunately, the government was not able to tolerate the criticism of my newspaper as we constantly challenged its policies, calling for the implementation of the constitution, and exposed the corrupt nature of the army generals.
Finally, the regime closed down my newspaper in September 2001, and rushed to arrest me, but didn't succeed. After hiding myself for three months inside Asmara, I managed to flee to Sudan, then to Kenya. 
Through the United Nations High Commissioner for Refugees (UNHCR), International PEN helped me to find political asylum in Canada at the end of 2002. I had to leave my wife and my kids in Eritrea. I managed to reunite with my family in 2010 after eight years of separation. Now, I live in Toronto with my wife and three children.
Has there been any change in Eritrea after you left?
The political situation in Eritrea is awful, probably worse than the political situation in North Korea. The whole country is an open prison. Anyone who is under the age of 50 is not allowed to travel outside the country except few individuals who work for the government overtly or covertly. All youth are forced to fulfill the duty of national service for an indefinite time and with very little pay starting at the age of 17 or 18. 
The country is run without a constitution, and the president can do whatever he dreams any night. There are more prison camps than schools in the country. People get arrested for no apparent reason and they don't have the right to hire a lawyer or defend themselves at a fair court. 
The economy of the country hit rock bottom and the country is in a free fall motion. Since 2001's crack down of the independent press, there hasn't been freedom of speech or expression. 
The journalists who were arrested then haven't been brought to see a fair justice yet. According to several sources, about half of them are believed to have died in prison, and very little is known about the welfare of the rest. That's why many people flee the country to save themselves and the lives of their loved ones.
About one-third of the population live in exile.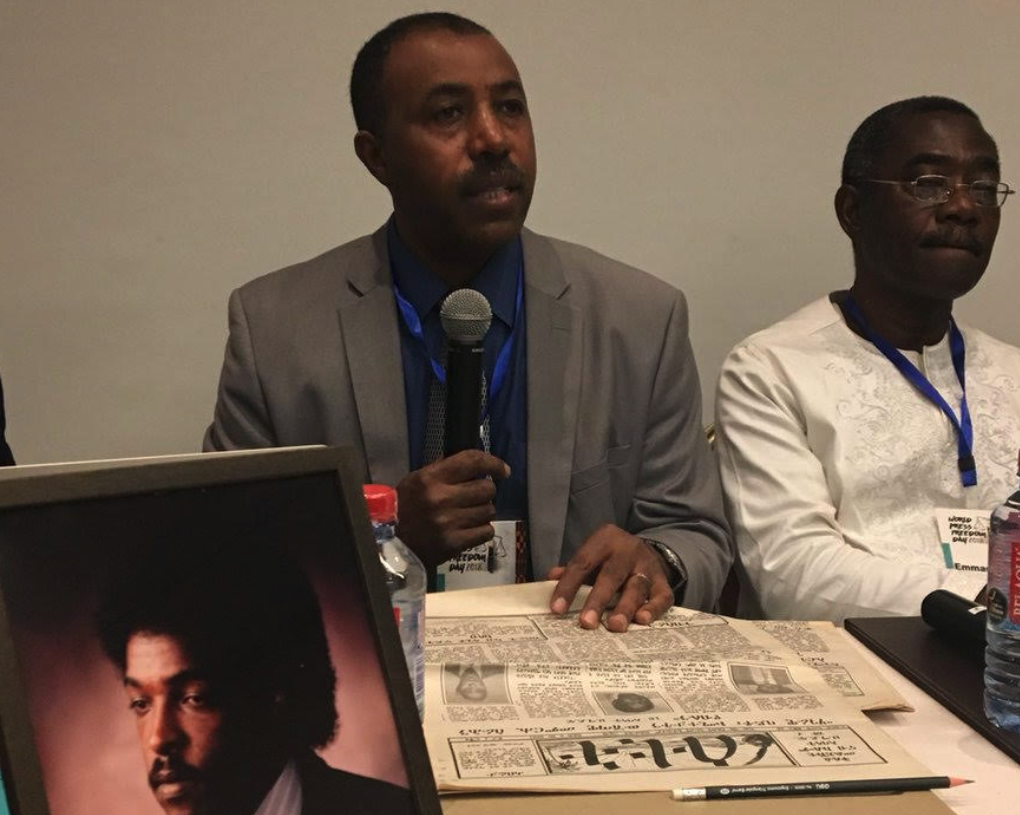 Berhane speaks at a World Press Freedom Day in Accra, Ghana in 2018. In the foreground is a photo of his younger self. (supplied)
How did you become involved with Writers in Exile?
I had contact with the executive director of PEN Canada, Isobel Harry while I was in Saskatchewan. So, once I moved to Toronto in 2003, I visited PEN Canada's office and Isobel invited me to join the writers in exile group that PEN Canada created. It was a new group though many of its members have been in Canada for some time. I learned a lot from the members of writers in exile who experienced different challenges. I benefited from the opportunities PEN Canada had created for Writers in exile to find a placement in educational institutions. I was awarded the PEN-Lecturer-in Residence position at George Brown College in Toronto in 2004 which was an excellent experience for me.
How many members do you have?
We have about 50 in our list that we reach via email. Though many of them don't attend our regular meetings because of the inconvenience of their schedule, they like to be in touch.
What kind of work do you do together?
As a group, we meet once a month to discuss our activities: the progress we are making in our settlement process, finding a job, writing or the challenges we face settling in. We try to learn from one another and inspire one another to boost our spirit. We discuss how we can help other writers who are in prison in the countries we left behind.
We have volunteers who assist our members in improving their speaking and writing English. So far, we managed to match 13 of our members with those coaches/mentors and they are enjoying it. 
We also offer a storytelling workshop run by an award-winning screenwriter.
How has Covid-19 affected the group?
COVID-19 has disrupted our life and created lots of inconvenience. We used to meet at Romero House and eat supper together and laugh together and discuss whatever issue or agenda we had face to face. Now, we meet via zoom. 
What are the challenges of being a refugee journalist?  
Being a refugee is tough for anyone as you get dislocated in the new place that you may not speak the language or you are not familiar with the culture. You feel like you are in the middle of the ocean and with no compass in hand that can direct you to the right direction. For a refugee journalist, it could be even worse. The trauma of being uprooted from our homelands, from the audiences we had, from the language that we mastered, was overwhelming. Particularly if you are a refugee journalist who still lives under the fear from the dictatorial government that you fled from- it's painful. It could take us longer to integrate and establish ourselves as writers in Canada or other host countries.
What type of journalism have you taken on?
I founded a bilingual monthly paper called Meftih in 2004 which is published in Tigrigna and English to serve the Eritrean community in Canada. So, to some extent, I am still trying to keep doing what I was doing back home – writing.
Tell us about your forthcoming book.
 It's a memoir about co-founding Eritrea's first independent newspaper: the harassment I and my colleagues faced when doing our work; the closure of the paper and the difficulties my family faced. I'm trying to capture the birth and death of our independent press and my resettlement experience in Canada.
The interview has been condensed and edited for clarity.
___________________________________________________________
This story has been produced under NCM's mentoring program. Mentor: Amira Elghawaby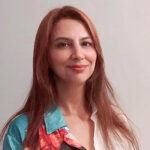 Arzu Yildiz graduated from Istanbul Bilgi University in TV Journalism Department and has worked as a journalist, editor and senior reporter. She has written critical pieces of investigative journalism about unresolved murder cases in the Southeast against Kurdish businessmen and illegal weapons supply to Syria. She has four books published and writes for New Canadian Media.