Grandparents can be gems to have as part of any family unit. Regardless of their day-to-day contributions, their mere presence can have a positive effect on all those around them.
Within a family household, this could range from eliminating loneliness, creating bonds or conveying culture through generations. But for many immigrants, in a practical sense, grandparents play a unique role in offsetting the financial burden of childcare.
For Ritu Ganesh, the cost of daycare was more than what they could afford. The fact that her 18-month-old daughter would not eat or even talk to anyone because of how unhappy she was at the daycare, only added to her distress.
"Having my mother over for a visit and later my mother-in-law who moved with us in Canada, was like stirring happiness in the family. I did not have to pay for the daycare anymore which would take more than half of what our monthly mortgage was," Ganesh recalls.
The family had been in the midst of a financial crunch following their decision to buy a house so work had become imperative. When Ganesh's mother arrived in Canada, however she was able to look after her daughter.
The number of grandparents across the country is growing at a significantly faster rate than the general population. With the ageing population of Canada, grandparents are playing a critical role in their family's lives as caregiver, mentors, and spiritual guides.
Benefits on Both Sides
Many immigrants are bound by their culture to take the financial responsibilities of their parents despite living in separate countries. When such parents move in with their sons or daughters, it can also help cut expenses related to monthly remittances.
Living with a child's family is a preferred rushessay choice for many elderly parents as they don't have to go through the empty nest syndrome.
However, it requires a lot of effort and courage for grandparents to settle down in a new place. In addition they must overcome the nostalgia they experience while living in Canada.
"Life is quite happening back home. I miss all the cultural festivities and the fun we used to have with my relatives," mentions Sumitha Ganesh who is living here with her son's family. It is because of this nostalgia that Ganesh travels back home every year to reunite with all that she yearns for.
More grandparents in immigrant households
For immigrants still attempting to adapt to their new "Canadian lives", the multi-generational family system becomes a means of solace. More than 1 in 5 recent immigrants (21%) lived with their grandchildren in 2011, compared with three per cent of the Canadian-born population in the same age group.
In single-parent households, the demand put on the sole income earner, can become overwhelming at times. The trials of migrating to a new country are magnified compared to when both parents are present.
Azra Riffat has been taking care of her family, including her mother, as the sole breadwinner. As a mother of two teenage sons supporting her ailing mother, it was increasingly difficult just to stay afloat. She took up evening and night jobs because her mother could not stay alone at home during the day.
"With my job we were just making our ends meet but thanks to the disability allowances of my mother which helped us as it contributed to our monthly rental expense," recalls Azra. She further adds that her trials could have been reduced if the government allowed some compensation for caregivers of disabled citizens which is the case in many European countries like the UK.
For immigrants in particular, it is crucial to have the moral and emotional support of family as they begin their lives in a new country.
Emotional costs
However, having an elderly parent in the home can also be stressful on younger generations. Old age comes with its own impediments in terms of health, requiring continuing care and emotional support.
Ashok and Meera* got married at a later stage in their lives and do not have children. Ashok's mother, who is a dementia patient, lives with the couple as opposed to a retirement home. The family, in spite of their good financial standing, is also able to save on what would have been additional costs. Ashok adds that taking care of elderly parents teaches compassion and patience, which in turn creates a more emotionally grounded society.
"I decided to take care of my mother not because we cannot afford the fortune which old home facilities cost, but because there is love and care to show when you are living together as family," he explains.
The couple feels happy to have their mother staying with them. "There is no loneliness at home and I enjoy her company," says Meera. Although at times Meera feels that her movement is somewhat restricted, they are able to find time to vacation and get away through the help of Ashok's sister.
The reality of multi-generational households is more complex compared to conventional family units. However, for many immigrants, the benefits of having these family members around far outweighs the negatives.
Parenthood is a journey of countless sacrifices as well as phenomenal devotion. Yet despite these untiring efforts, it seems that even in their old age, these parents may still have more to offer. In their support of the next generation, they become a source of relief for the entire family. While their children care for them an endless life cycle is continued in their new Canadian homes.
*Names changed for confidentiality.
---
This piece is part of the "Ethnic Women as Active Participants in Ontario" series.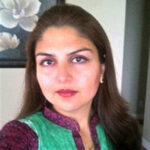 Asfia Yasir writes for New Canadian Media through the mentorship program. A banker by profession, she has a Masters degree in Public Administration from Karachi University and lived and worked in Dubai before she moved to Canada. Yasir continues her passion for writing in her spare time.