During an election, ethnic media is a double-edged sword. 
On one hand, they provide an outlet for parties to target their messaging towards immigrant groups. 
Recognizing the interests and issues that affect Canada's largest minority groups, political parties can develop policies and ideas that relate to a specific community and have them translated into Punjabi, Chinese, Tagalog or Vietnamese. 
But herein lies the second edge of the sword.  
In a day and age where all media can become mainstream, ethnic media has changed the landscape for what parties say and how they say it in these mediums. 
While in mainstream media this campaign, parties have kept a tight lid on their messaging, barriers such as language limitations have resulted in less effective message management in ethnic media.    
[P]

arties have had a difficult time keeping track of the messages proliferating from candidates and supporters in [ethnic media].
Thus, parties have had a difficult time keeping track of the messages proliferating from candidates and supporters in this medium. 
This lack of oversight from the party is likely one reason why former-Conservative candidate for Mississauga-Malton, Punjabi Post editor Jagdish Grewal felt comfortable using his paper as an outlet for his comments that fell outside the careful Conservative messaging on homosexuality.   
Grewal was removed from the Conservative slate shortly after a statement he made in an article in the Punjabi Post asking, "Is it wrong for a homosexual to become a normal person?" went public. 
While instances like the Grewal issue has been limited, there is evidence that the Conservative party deliberately uses ethnic media in a way that has similar undertones. 
This past week, the Conservative party struck out again with ethnic media, defending an attack ad they released about Justin Trudeau in Chinese and Punjabi media. 
In this series of ads in a Chinese-language newspaper the Conservatives allege that Trudeau would legalize brothels and drugs in Canada. Yet, in this case, instead of a retraction, Prime Minister Harper defended the decision to run the ad. 
These two examples show how complex the role of ethnic media has become in electoral politics. 
The good, the bad and the ugly
The good
The main benefit of ethnic media during election campaigns is their democratizing effect. They continue to make elections accessible to people who would normally not be involved or have an opportunity to learn about politics. It is this access to information that allows communities to have discussions, rallies, and debates about the political issues of the day.
The bad
Particularly when it comes to the Conservatives this week, the politics around ethnic media during election campaigns has become manipulative at best and nefarious at worst, taking unfair advantage of those that, for language or accessibility reasons, cannot tap into alternative sources of elections information. 
These stories and advertisements in ethnic media will only be entertained by certain sections of the community. Second and third generation immigrants, who may rely more on mainstream media outlets or are less interested in news translated into their mother tongues are not the main audience of ethnic media. 
Often the target is those that are more comfortable in mother tongues and those connected to their ethnic communities that engage with this media. And language barriers limit who can legitimately access the news in ethnic papers. 
[T]he Conservative party has hidden behind the limited readership of these media outlets.
The ugly
The lack of oversight and public accountability has allowed parties to think that they can do anything with ethnic media. 
To suggest that a Liberal government would open brothels "on every street corner in Canada" borders on libelous. 
Yet, the Conservative party has hidden behind the limited readership of these media outlets, becoming less democratic in the long run by identifying a platform position of the Liberals that they had not articulated.   
This differs from issues the niqab controversy, because niqab messaging was consistent from the Conservative party across both mainstream and ethnic media.  
Democratizing ethnic media is an important function of social media.
Recent attack ads targeted the social conservative elements of ethnic communities in Richmond and South Vancouver in B.C., and Richmond Hill and Markham in Ontario. However, this appeal to conservative sentiments was based in fallacy, rather than legitimate party platforms or positions. 
In this way, the Conservative's attack ads were insulting to the communities they target. In an interview to the CBC, Rattan Mall, editor of the Indo-Canadian Voice newspaper, said "It is quite insulting to the community that the Conservative party might think that people can be manipulated." 
'We cannot trust everything we read'
Just like with any media outlet, audiences of ethnic media must push these outlets to adhere to a standard for reporting, which includes the type of ads they accept from political parties. 
Individuals should be encouraged to engage with various news media, even if they are all ethnic media sources, to get a varied and nuanced view of the political messages targeting the community.
Also, wherever possible readers should use social media to call attention to unethical reporting standards. Democratizing ethnic media is an important function of social media as it allows the mainstream to be made aware of the misinformation perpetuated by the parties through ethnic media. 
Finally, Canadians have to use good judgment to make up our minds. As shown in the final days of this election, the sad truth is that we cannot trust everything we read.
---
Anita Singh is a founding partner of Tahlan, Jorden & Singh Consulting Group and a Research Fellow at the Centre for Foreign Policy Studies at Dalhousie University. Her research examines the role of diaspora groups and their influence on foreign policy (particularly the Indo-Canadian community) and Canada-India relations.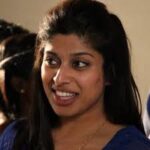 Anita Singh is on the board of directors for the Council of Agencies Serving South Asians (CASSA), an umbrella organization with the goal of empowering the South Asian community. CASSA is committed to the elimination of all forms of discrimination from Canadian society.