Canada's Minister for Immigration, John McCallum, made a startling announcement in Brampton. on Tuesday, about welcoming a whopping 305,000 permanent residents by the end of 2016. This is a 7.4 per cent increase from the 2015 admission target.
All this comes during a time of rising unemployment — namely, 7.2 per cent. Youth unemployment hovers at 13 per cent and the projected economic growth in 2016 is expected to just exceed one per cent.
So, against this gloomy economic backdrop, the announcement of record high immigrant and refugee numbers leaves many, including me, wondering if there should be some co-relation between economic growth and immigration.
While economic immigrants are made up of highly-skilled workers and caregivers, who may not be highly skilled but will still make up the majority of newcomers, McCallum's number will include 60,000 sponsored spouses, parents and children as well as 20,000 parents and grandparents by the end of the year.
Historically, Canada has admitted between 251,600 to 262,200 immigrants every year, a number that was seen as striking the right balance between population and economic growth.
Going forward, it's clear that the Liberals will be shifting the focus away from the economic class and placing a greater emphasis on bringing in more family-class immigrants, seniors and refugees.
Skilled workers forced to take survival jobs
University of Toronto economist Peter Dungan points out in a Globe & Mail article that if Canada were to double the number of economic-class migrants only, average entry wages for all immigrants would rise by between five and six per cent.
I am not sure how bringing in immigrants with lower skill sets will help either the country or these newcomers in a rapidly evolving Canadian economy. Will a significant number of them be condemned to working at minimum wage?
I immigrated to Canada in 2000 under the now-defunct points system under a category of Writer/Journalist. Lawyers at that time encouraged people like me to find a "good job" on the understanding that after a short struggle, we would land well-paying employment.
Reality struck when I got to Canada and heard heartbreaking stories about men and women who held good jobs back in the old countries, only to be crushed and broken after being forced into survival jobs in order to put food on the table.
I am not sure how bringing in immigrants with lower skill sets will help either the country or these newcomers.
I've met dozens of former doctors, engineers and accountants working in factories or other dead-end jobs simply because their credentials weren't recognized. No one would give them "Canadian experience". For many educated immigrants, toiling in warehouses or driving taxis was all they got.
Then Harper's Conservatives came along in 2006 and Immigration Minister Jason Kenney drastically overhauled the immigration system, bringing in skilled refugees and calibrating immigration to support the country's specific economic needs.
I am sure that if I applied for immigration under the revised system brought in by the Conservatives, I might not have been eligible to immigrate to Canada. That would've been fair, because, looking back, letting hundreds of immigrants into the country like myself when there were no real jobs now looks like a case of false advertising.
Concerns over competition and economic burdens
When I speak with new Canadians who've struggled to find their professional footing in Canada about more immigrants, seniors and refugees being accepted as permanent residents, they aren't very thrilled by the news. Unless, of course, they're sponsoring family or senior parents.
A couple of weeks ago, I found out that an acquaintance who spoke out against bringing in more seniors had herself sponsored her parents ten years earlier to Canada.
In previous estimates, a set of grandparents can cost the system $400,000. Statistics have pegged sponsored parents and grandparents as receiving, on average, $6,262 in Old Age Security (OAS) and Guaranteed Income Supplement (GIS) payments plus $1,381 in other government transfers each year.
For many educated immigrants, toiling in warehouses or driving taxis was all they got.
Many Canadians, new and old, who are struggling to keep or find jobs are wary about having to compete with new waves of job seekers. One parent I spoke to thought it might be a good idea to reduce immigration numbers until the economy improved. She was also opposed to foreign student workers because they're often willing to work for less than minimum wage.
And in any case, a large percentage of the almost 350,000 international students currently studying in the country have every intention of becoming permanent residents. For many South Asians and Asians in particular, coming to Canada as an international student is just another way to immigrate.
Many immigrant parents with university-going children stay awake at night, worrying that their children may not find jobs once they graduate. How are they supposed to feel optimistic about Canada bringing in more immigrants who will likely compete with them as well as their children for a limited number of jobs?
Considering this, economic indicators should also be factored in when setting annual immigration quotas.
Bringing newcomers into a broken system
I often wonder how practical it is to have a large number of immigrants come in without taking into account the state of the economy. While I get it that Canada needs immigration in order to keep its economic engine running, I worry that the immigrants and refugees now being admitted into the country could end up being a burden on the system.
How can an immigrant contribute to the economic success of the country if he or she is not working at their full potential or is not working at all? That will be the likely fate of so many new immigrants in the years to come.
Meanwhile, it is the over-burdened taxpayer who is obliged to pitch in at a time when their own job security is shaky.
---
Pradip Rodrigues is currently the editor of Can-India, a weekly newspaper and website catering to the South Asian diaspora in the GTA. He immigrated to Canada in 2000 and currently lives with his wife and young son in Mississauga. Prior to coming to Canada, he was the Assistant Editor at Bombay Times, then the city section of the Times of India.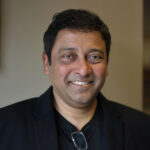 Pradip Rodrigues began his career as a journalist at The Times of India, Mumbai. Since moving to Canada in 2000, he has written for several media outlets both here and in India on a variety of issues. Prior to joining NCM, he was at CanIndia newspaper for eight years.